Jackson Lake Dam releases
Some 5,250 cubic feet of water is being released from the Jackson Lake Dam every second, about 22 times the volume of water coming in. As a result the lake level is dropping up to 5 inches per day.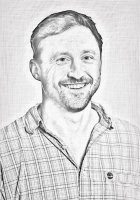 Mike has reported on the Greater Yellowstone Ecosystem's wildlife, wildlands and the agencies that manage them since 2012. A native Minnesotan, he arrived in the West to study environmental journalism at the University of Colorado.
As featured on
When longtime Signal Mountain Marina manager Bill Wood returned to his administrative cabin …