Some community members are shocked and disgusted by what they call an inappropriate joke that was posted on the Jackson Police Department's Facebook page.
They're demanding accountability and believe the "blotter item" highlights a misogynist culture at the department.
"A recent blotter entry referenced the sexual assault of a child in a flippant and disrespectful way," Act Now JH said in a statement sent to local government officials Wednesday.
The post was in what the department calls its daily police blotter, a collection of some of the calls for service it publishes on Facebook and its website.
"On August 13, 2020, at 12:26 p.m., we responded to a report of an underage female having sex with an adult," Lt. Roger Schultz wrote. "We will be investigating the case to determine if a crime has been committed and if we can prove that crime. You would think having sex with an underage juvenile would always be a crime. Not necessarily. There are a number of factors involved in deciding whether to file charges to include the age of those involved. Fortunately, determining the age difference of those involved doesn't involve complex math, so we should be able to figure it out without too much trouble. Just as long as we have coffee and donuts (the ones with the little sprinkles on top) to get us through."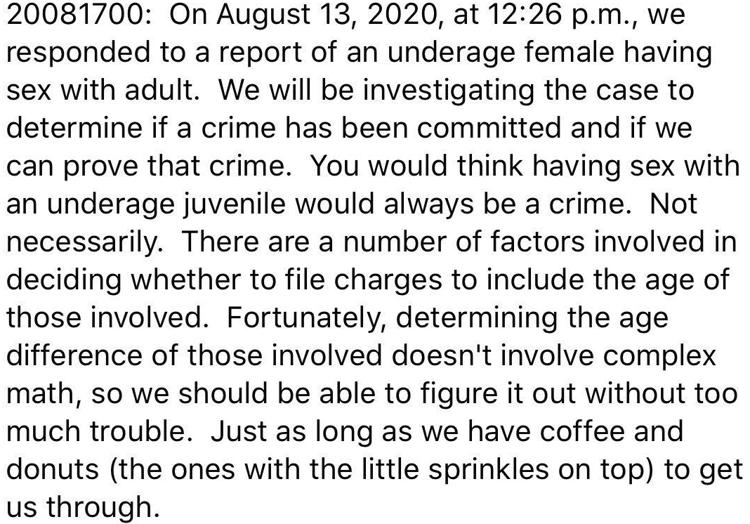 The post made rounds on social media Monday, and by Tuesday afternoon the department had issued an apology on its Facebook page.
"We apologize for that content and we have removed it," the press release stated. "Like everyone we sometimes make mistakes. We learn from those and strive to do better."
In a phone interview with the Jackson Hole Daily on Wednesday, Sgt. Michelle Weber, who is the interim police chief, said she's genuinely sorry.
"We've adjusted our social media policy, and we will be taking out the commentary." Weber said. "There should be checks and balances in every aspect of law enforcement."
Weber said Schultz has since apologized to the alleged victim.
"To not have contacted her would have been unacceptable," Weber said.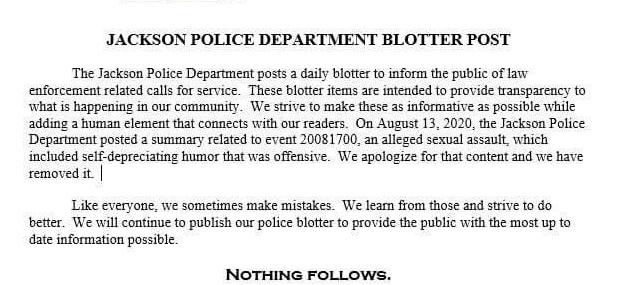 In its letter sent to Weber, Mayor Pete Muldoon, the Jackson Town Council and the Teton County Board of County Commissioners, Act Now JH said the department's apology failed to acknowledge the bigger harm the post caused for the alleged victim and other survivors of sexual assault.
"The apology states that the blotter exists to provide transparency to what is happening in our community," Act Now JH wrote. "In reality it serves as a way for law enforcement to ridicule citizens who find themselves in trouble, and make light of serious and dangerous situations."
The group is demanding an inquiry into how police handle sexual assault cases. It also wants proof that such cases are being handled appropriately and with sensitivity.
"This incident should not be seen as a mistake," the letter said, "but rather the outcome of a culture that finds this behavior funny and acceptable. Our community has a right to physical and mental safety when seeking help for sexual assault and domestic abuse, regardless of age or gender. Until we create a world with life-affirming institutions, we intend to hold our current institutions to account."
Muldoon said the Facebook post was inexcusable and should make everyone question the culture of policing.
"What I know is that traumatized victims of sexual assault and domestic violence need absolute assurance that a call for assistance is responded to by professionals who will treat their situation seriously and who have the background and the empathy to understand how to help them," Muldoon told the Daily on Wednesday. "The Facebook post, which trivialized and made light of the alleged rape of a child, should make anyone very concerned that the culture of our police department is not compatible with providing that kind of assistance. I don't have a quick answer on how to solve that problem.
"But if the culture is a problem, more training will not be the solution. It's clear that we need to take a very hard look at a system of policing that has been in place for many decades, and ask ourselves if it still meets the expectations of our residents in 2020."