A coalition of Jackson Hole citizens have joined forces to fund traffic enforcement on Highway 390, aiming to stop wildlife-vehicle collisions on the West Bank byway where another moose was killed this weekend.
Paul Hansen, the Jackson Hole News&Guide's "Common Ground" columnist, spearheaded the new initiative to fund Teton County Sheriff patrols on 390 — also known as Moose-Wilson Road and, colloquially, the Village Road — with private donations. Community members can contribute earmarked funds to the Jackson Hole Wildlife Foundation, which will be invoiced by the county to pay overtime for the deputies on patrol.
"It's not every day you get something done in a week that'll make a difference," said Hansen, a Melody Ranch resident who spent 40 years working in conservation. "Usually you've got planning, reports and all that other BS before anything gets done. This time people said, 'We're going to put our money where our mouth is.' "
Enforcement of speed limits on the road has been lax because the Teton County Sheriff's Office and Wyoming Highway Patrol, technically responsible for enforcement on the road, both have limited resources and other roads in the county to patrol.
The goal is to change that, and slow the rate of collisions that have killed a number of Jackson Hole's charismatic megafauna: 12 moose, 17 deer and nine elk since 2016, according to the Wyoming Department of Transportation.
At least two of those moose died on the road this past summer after being hit by motorists, spurring West Bankers and, later, the Teton County Board of County Commissioners to ask WYDOT, which has jurisdiction over the road, to lower the speed limit — or at least study doing so.
Some residents worried that another moose killed this weekend south of Lake Creek was a calf orphaned when its mother was killed in the area this summer.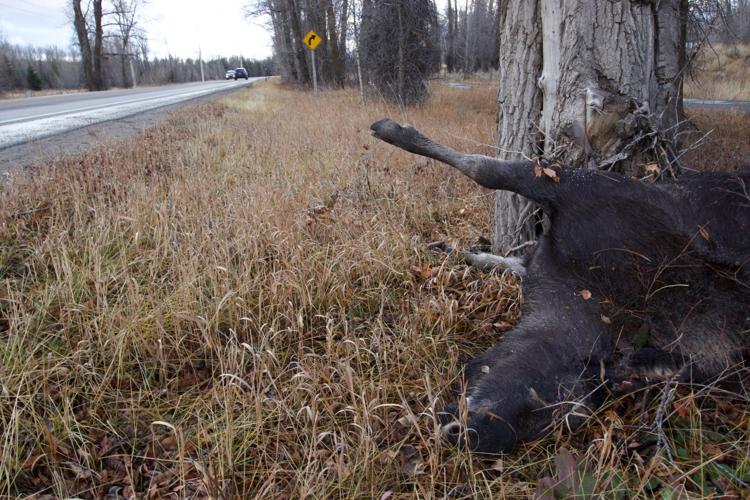 The speed limit on the southern portion of the road is 35 mph at night, and 45 mph during the day. On the northern portion of the highway, where the road opens up to vistas of the Snake River Ranch, the speed limit is 55 mph.
Wildlife advocates were not deterred by WYDOT's decision.
Hansen said Thursday that the group had raised over $5,000 in two days, with the goal of funding 10 hours of patrols a week for 10 weeks. The money raised so far is enough to pay for special patrols through November.
When commissioners discuss a budget amendment later this year, Hansen said he intends to ask them to fund a new county deputy position to focus solely on speed enforcement throughout the county. Enforcing speed limits on 390 would be a part of that.
In the meantime, drivers should expect more police presence along the West Bank highway.
Deputies will not be required to sign up for patrols. Instead, officers will sign up as they're willing and able to do so, and be paid overtime.
Sheriff Matt Carr said deputies have started doing so. They were present over the weekend on 390.
"The goal here is to make stops for people who are exceeding the speed limit," Carr told the Jackson Hole Daily. "Whether [the deputies] will be issuing citations or not, they'll be using their discretion. At the very least, they'll be issuing written warnings."
Deputies will be collecting speed data on patrol and, Carr said, will be more likely to pull drivers over if they're going 10 or 15 mph over the speed limit.
Patrols will be common at twilight, as day and night shifts transition.
"I think it's an important endeavor, certainly to protect our wildlife and for the safety of the community," Carr said. "We're going to work hard for them and we'll see what happens."
Renee Seidler, executive director of the Jackson Hole Wildlife Foundation, said she thought the program was a "fantastic idea."
"It's a very important step in the right direction," she said. "Increasing law enforcement on Wyoming 390 is one of the pieces of the puzzle for solving the wildlife-vehicle collision issue."
The other pieces, in her mind, include revamping signage on the road to make the speed limits more clear for motorists, and redesigning the road to make it harder to drive fast.
In the near term, she said, that could be done by installing things like rumble strips.
Longer term, Seidler said, solutions could involve alterations like chicanes and roundabouts — but those would require a much greater investment.
For now, West Bank resident Heidi Leeds, who cut a check to the Wildlife Foundation for the program, was hopeful.
"I'm hoping that we can change behavior in the short term and really provide a little bit of safety for drivers and the wildlife during migration season until we can take it to the next step and hopefully institute other changes that would really facilitate a safe corridor," Leeds said. "We're going to keep plugging at it. We're going to keep working on it."
Those interested can support the program by making tax-deductible donations to the Jackson Hole Wildlife Foundation at P.O. Box 8042, Jackson, WY 83002. Make sure to designate checks "for the purpose of the Speed Limit Enforcement Fund." Those who would like to donate online can do so at JHWildlife.org — just include a note specifying the donation's purpose.