Jackson Hole Airport is doubling down on its effort to get ahead of a groundwater pollution problem linked to aviation firefighting foam that has leached into the earth during training missions.
At issue are compounds called perfluoroalkyl substances, or PFAS, which have been detected in residential well water drawn from the Snake River Aquifer down-gradient of the commercial airport in Grand Teton National Park.
Previously, the airport offered free testing for the nearest 45 homes, finding detectable PFAS in the vast majority of them, and conducted some additional testing on an as-requested basis.
This week, the airport's board of directors decided in a meeting to vastly expand the search area, authorizing the expense of 144 additional tests that environmental consultants say will help better define the scope of the plume of so-called "forever chemicals" migrating underground.
"If we're going to make a mistake, we're going to over-test rather than under-test," Bob McLaurin told his fellow board members. "I understand this is a long-term problem, and we don't know where it's going to end up, but given the nature of where the airport is — the national park — I would prefer to err on the side of more testing than less."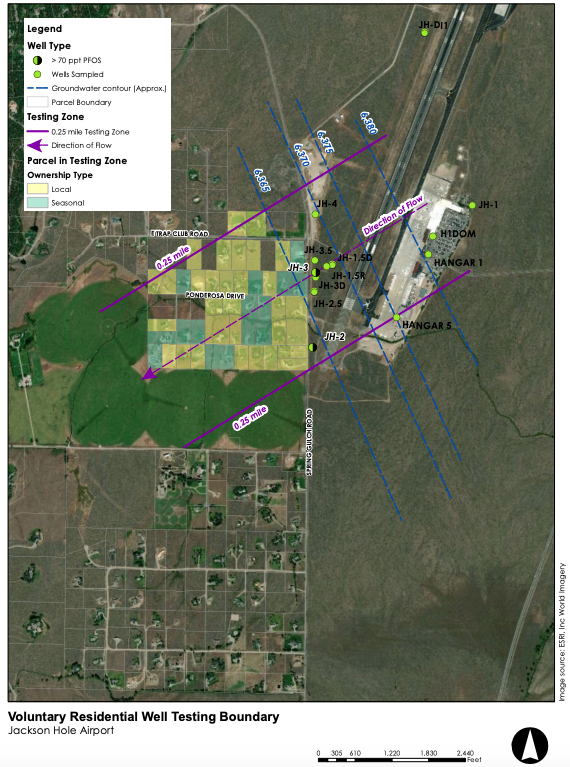 The expanded search for the chemicals doesn't come cheap, with the voluntary testing costing up to $188,000. Board members also authorized a number of other PFAS-related expenses: $21,000 for continued monitoring of well water off the airport site, $54,000 for semiannual groundwater monitoring on airport grounds and $53,000 for a "pump-and-treat" engineering study to be conducted by Jackson Hole Airport's on-contract environmental consultant, Mead and Hunt.
An additional $30,000 was approved for water filtration systems and drinking water if more residential wells test above the U.S. Environmental Protection Agency's health advisory levels. Forty-five filtration systems have already been purchased and installed at nearby residences that depend on well water.
There was some discussion Wednesday of runaway costs related to addressing the PFAS issue.
"We in July said that the worst-case scenario was going to be $128,000," airport board member John Eastman said. "I was — I still am — in favor of addressing this, obviously. But now, based on these remediations and different phases and the plans that are in front of us, we're over $2 million.
"Let's make sure we're staging this in a way that we have the opportunity to put on the brake at some point," he said, "and we're not making representations that are going to end up obligating us, open ended, with water and filters and so forth down the road."
The type of firefighting foam that led to the issue is required by the Federal Aviation Administration.
Airport Director Jim Elwood said the airport's $16 million in Coronavirus Aid, Relief and Economic Security Act funds could be used to cover some of the PFAS expenses.
The EPA does not yet regulate PFAS, though the federal agency is developing an action plan for the substances, which are found in such everyday items as Teflon and are considered an emerging health hazard.
Animal studies suggest that PFAS —sometimes called "forever chemicals" because of their tenacity in the environment and living tissue — can cause developmental issues in infants during pregnancy, and have been linked to cancer, liver, thyroid and immune system issues.
When Jackson Hole Airport first went looking for the chemicals under its own property last winter, the groundwater tested at a maximum of 382 parts per trillion — more than five times the EPA's recommended limit. Residential tap water from nearby homes, however, almost all tested below the threshold, with just one home barely exceeding the limit.
Jackson Hole Airport has been proactive about addressing perfluoroalkyl substance pollution compared with other airports, its board members say.
"It's not a high agenda item, relative to aeronautics," Jerry Blann said. "Nobody is prioritizing it like we are."
The longtime board member said that moving forward on the issue was "very, very important," and that the next phase of testing should be as broad as the board can make it.
"I think this airport has always taken the high road as far as environmental leadership across the board," Blann said, "and I think we should continue to do that."