Flames danced in the darkness behind Dave Wilkins' head Sunday as he told a crowd of displaced residents that they weren't going to be returning home on Sunday night.
Wilkins, the incident commander of the Swinging Bridge Fire, otherwise had mostly good news for the several dozen people who circled him in the parking lot of Munger Mountain Elementary School. The wildfire, last estimated at 80 acres, was zero percent contained, but a robust team of firefighters would be working through the night to knock down flames, build fire lines and get people home as quickly as possible.
"We made a lot of good progress," Wilkins told the residents, who had been evacuated from the Game Creek, Squaw Creek and Porcupine Creek subdivisions, as well as a smattering of homes along Old Henry's Road. "We did not have any structures lost here today. We were very successful with suppression efforts."
That didn't mean that firefighters had crossed the finish line.
"We do have hazards still on the fire, absolutely," said Wilkins, the North Zone Assistant Fire Management Officer for the Bridger-Teton National Forest. "We have power lines that were affected, we have rough terrain, and we still have open fire along the edge."
The flames in sight behind him, opposite the Snake River, made up one of those active fire lines where sagebrush was burning. Firefighters were keeping an eye on growth along that western flank, but their real priority was the sprawled subdivisions out of sight beyond the ridge. There are more than 100 lots between the three subdivisions, most in the 5- to 20-acre range.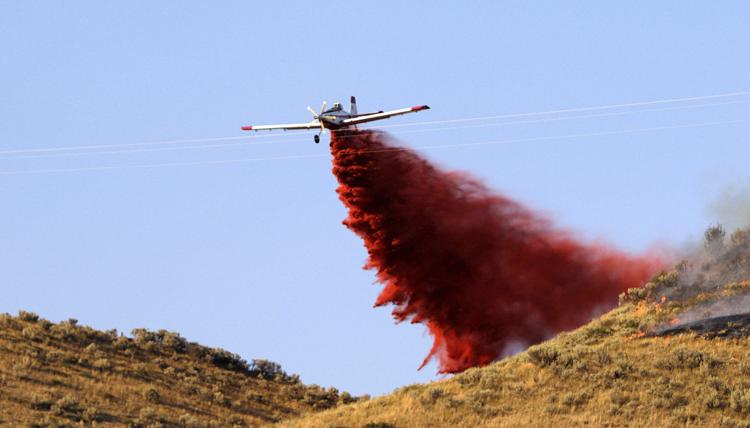 The fire's ignition point was on the Bridger-Teton National Forest, but specifically on a small chunk of the forest that is surrounded by private land.
By all accounts, the Swinging Bridge Fire grew quickly once reports came in of smoke in the air shortly before 5 p.m.
Matt Miller, a Porcupine Creek resident, heard word from a friend who lives up Game Creek that a fire had started — and it was headed his way. They went outside, saw smoke, and moved fast.
"I think we had the kids and my grandma out in like 5 minutes," Miller said.
By the time they got them down to the highway, much of the hillside that wasn't already blackened was ablaze.
Fast forward four hours and Miller and family were weighing what to do for the night, with 10 people, including visiting mother- and father-in-law, not having a place to sleep for the night. A nighttime drive to his sister's place in Daniel was the likely move.
The management response to the Swinging Bridge Fire was equally swift.
Lower Valley Energy quickly shut off power to the area because poles had been compromised by flames and the live wires would have posed a hazard to responders. There were at least 10 Teton County engines that responded in a "great cooperative response," Wilkins said, including crews from the Bridger-Teton National Forest, Grand Teton National Park, Jackson Hole Fire/EMS and Teton Village Fire District. An aerial attack consisted of a big tanker that dropped slurry, two smaller planes also dropping retardant and two helicopters slinging water buckets. A high-flying spotter plane helped coordinate the attack.
The past couple of days have been "red flag" conditions, which means high temperatures and high winds, conditions under which fire can spread quickly. Cooler temperatures and precipitation are in the forecast, which fire managers hope will aid their efforts.
PHOTO GALLERY: Swinging Bridge Fire
Firefighters battle the Swinging Bridge Fire that began on Sept. 6 a hillside just east of Highway 89 south of Jackson. Teton County Emergency Management ordered the evacuation of the Henry's Road, Game Creek, Squaw Creek and Porcupine Creek subdivisions. The fire was mostly contained by Monday morning and residents were allowed back to their homes.