As COVID-19 has accelerated into a global pandemic, the town and county voted unanimously Thursday to cancel a swath of large events set to take place over the next month.
Events that went through a public approval process — the 44th Annual World Championship Snowmobile Hill Climb, Octane Addictions' related snowmobile expo, the Jackson Hole Rendezvous festival and the Cornerstone Churches' Quarter Cookout — are all no goes.
"Not trying to ruin anyone's life, but I think some very good points were made," Teton County Board of County Commissioners Chair Natalia D. Macker said.
She spoke with the Jackson Hole Daily after a lengthy meeting where health officials and emergency responders all hammered a similar point home: To combat the virus that will ultimately arrive in Teton County, now is the time to start what's called "social distancing."
"The next couple of weeks are likely going to be tough," Macker said, "but there's the short view and the long view, and right now we're looking at the short term to hopefully have a better outcome in the long term."
Local officials beat Governor Mark Gordon to the punch. He discussed similar measures at a press conference later in the day.
"I am recommending we consider carefully whether large community gatherings and events of over 250 people should take place," he said. "By enacting mitigation measures, we can hopefully decrease the spread of the disease and most importantly not overwhelm our health care facilities."
Members of the public who spoke at the local meeting, event organizers included, all said they stood behind whatever decision electeds made. Ultimately, that decision was in favor of caution.
In choosing to cancel, electeds joined ranks with municipalities, national sports leagues and organizations closer to home that have put gatherings on hold. The goal is to increase distance between people and slow the spread of COVID-19 to avoid overwhelming hospitals, public health departments and first responders.
Creating distance between people is important, health officials stressed Thursday, because facing a dearth of testing, it's difficult to know how many people may have been infected. If people continue to gather in large groups, COVID-19 may spread, infect more people and inflate the caseload, stressing hospital resources past capacity.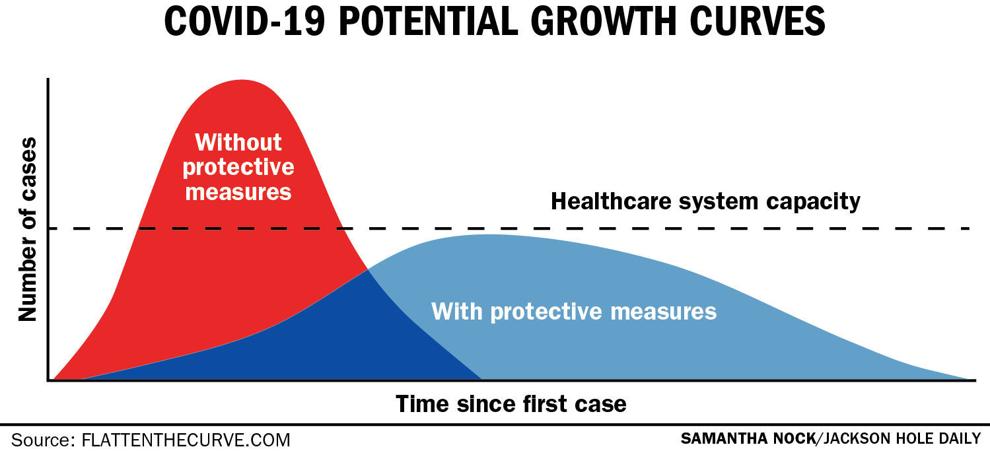 That scenario is illustrated by a chart with two curves, shown above, that has circulated widely online. On Thursday, Teton County Health Department Director Jodie Pond used it to explain their decision making.
The first curve shows what can happen if preemptive measures like social distancing are not taken at the start of an outbreak. The health care system can be pushed past capacity, endangering those who are infected, health care providers and others seeking care.
The second shows the ideal outcome if measures are taken. Spread can be slowed, giving hospitals a chance to handle cases over time, which, in turn, may keep them from getting overwhelmed.
Since St. John's Health is a smaller, rural hospital, it has limited capability to take in a flood of patients. St. John's Health CEO Dr. Paul Beaupre said the hospital has a two- to three-month supply of N95 masks, should the disease spread, and it has the capacity for between eight and 10 patients with severe lung problems.
"We could get into a [place] where we're making very difficult life decisions for people just because we don't have the equipment to care for all of them," he said.
First responders find themselves in a similar situation, in which a large outbreak could exceed their capacity. Jackson Fire/EMS Chief Brady Hansen told officials that his ambulance crews could handle one to three COVID-19 cases each day. Jackson Police Chief Todd Smith said the outbreak would be a "challenge" beyond his force's regular duties.
In the absence of a cure, local officials are trying to "get ahead of" or "flatten the curve" by promoting nonpharmaceutical interventions. At a personal level, those include washing your hands frequently, avoiding touching your face, staying at home when you're sick and telecommuting if you're able. Those who are sick and worried about having the coronavirus should call the hospital's designated line, rather than going to the emergency room, to avoid the risk of contaminating others. The number is 739-4898. Dial option 3 to reach the hotline.
Countywide, "flattening the curve" looks like enforcing social distancing strategies.
"Communities internationally and in the United States that are practicing social distancing are doing much better than communities that are not," Beaupre said. "Italy was unfortunately late in the game. They allowed the disease to penetrate into their community, and they missed the boat because they were late."
Even when widespread testing becomes available, social distancing is the only way to keep the disease from spreading. For most people who are under 65 and without chronic medical conditions, Beaupre said, recovery from COVID-19 essentially means recuperating at home.
Pond said the elderly and immunocompromised should in particular limit their interactions, particularly in public spaces.
"If I were a senior," she said, "I would have someone deliver food to me, so I don't have to go to the grocery store."
With all the changes in the community and talk of the pandemic reaching the Tetons, people have understandably been on edge. Beaupre said one result of the public interest and worry over the coronavirus has been a rampant flow of rumors.
He has heard whisperings of entire groups in town contracting the virus, and fielded a bevy of phone calls looking for answers. Due to the public health implications that would accompany a positive case, he said St. John's and the Health Department would report it as soon as they knew.
"We will let the community know, but we're not going to say who it is," he said. "Until the [newspaper] comes out and says there is a confirmed case in Jackson, there are none."
There has so far been one confirmed case of COVID-19 in Wyoming, a woman from Sheridan County.