GALLERY: Moose end 2019 with split weekend against Boulder
PHOTOS BY KATHRYN ZIESIG / NEWS&GUIDE
Moose hockey rounded out 2019 with a challenging couple of game against the Boulder Yellow Jackets. Despite their Friday night loss, they came back strong Saturday and beat Boulder 5-3.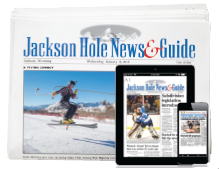 News&Guide's COVID-19 coverage provided free to the community
With the support of existing subscribers, web stories during this public health danger are free to all readers with a goal of supporting the maximal flow of current information that's verified and edited for publication. In times like these, journalism is crucial to its community. The News&Guide relies on its subscribers and advertisers to underwrite its news mission. Please support our mission: subscribe today.
Senior Center of Jackson Hole