GALLERY: "Cowboys Like Us: A Fairy Tale"
The Center for the Arts was a full house all three nights. Theatre patrons wore tiaras, sequins, and red snakeskin boots and when they took their seats, an explosion of Andrew Munz in pink satin told them they came to see something that wasn't going to happen.
Instead, Munz introduced his musical, Cowboys Like Us: A Fairy Tale. Originally based on his book by the same title, this seemingly off-the-cuff production was a very intelligent construction of theatrical homages, devices, and character construction.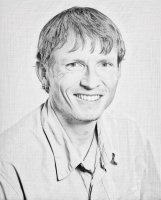 Brad Boner has worked as a photojournalist for 25 years and has directed the News&Guide's visuals since 2004. He lives on the west side of the Tetons with his wife, two kids, two grumpy cats and Rosie the red heeler.
As featured on
Audiences were served a classic bait and switch this weekend at "Homecoming Queen."