GALLERY: Defending the Constitution and the Future of American Elections
The Defending our Constitution and the Future of American Elections event at the Center for the Arts was an attempt at a bipartisan, but nonpolitical, conversation about elections and the U.S. Constitution, issues that have become intensely politicized since the Jan. 6 Capitol insurrection. U.S. Rep. Liz Cheney and Issue One founder Nick Penniman headlined the event, responding to written questions from the audience and the two moderators: former Republican Teton County commissioner Paul Vogelheim and Jackson Hole Democrat Paul Hansen.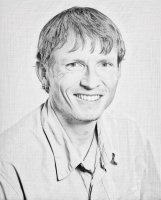 Brad Boner has worked as a photojournalist for 25 years and has directed the News&Guide's visuals since 2004. He lives on the west side of the Tetons with his wife, two kids, two grumpy cats and Rosie the red heeler.
As featured on
Faced with a question about whether a third party could reduce partisanship in the United St…