No one in Alpine has been going hungry for lack of a place to buy food, but the grocery situation in the town south of Jackson is about to improve in a big way.
The change will come later this month when Broulim's opens a new store nearly three times the size of the one it now operates in Alpine. In the whole long history of the town it will be the first full-size grocery.
Broulim's store director Harold Jones said he has felt the anticipation: "People are a little excited around here," he said last week as he oversaw the final construction.
And it's no surprise. The existing Broulim's is a building a bit over 13,000 square feet, operated by the small eastern-Idaho chain since it bought the independent Alpine Market in 2012. The new store, on Highway 89 just north of most of the town, will be about 37,000 square feet and offer a lot of things locals can now buy only by driving 33 miles south to the Broulim's in Afton or north 37 miles to Jackson, where Smith's Food and Drug, Albertsons and Whole Foods line the highway entering town.
"Compared to what people around here are used to, it's huge," Jones said of the new Broulim's.
"It's a great addition to our community," Alpine Mayor Kennis Lutz said. "It's spectacular."
An official grand opening is set for May 27, Jones said, but it's likely that eager grocery lovers will be able to visit after a "soft opening" likely to occur a bit less than a week ahead of that.
Growth in Alpine in the past few years has been pushed by people driven to cheaper real estate by high prices in Jackson and also more people from out of state finding Alpine without ever having lived in Jackson Hole. A 2000 estimate put the population at 550, and in 2019 the estimate was 924. Much growth has occurred outside the limits of the 640-acre town — official Alpine doesn't even include the busy Alpine Junction intersection or the Broulim's site. The trend is expected to continue, Jones said.
"There been a good, steady growth, and the potential here is huge," he said. "The other store is so small we can't offer all the things we need for our guests. We're thinking we'll do really well with the store."
That sentiment was shared by Mayor Lutz, who called growth in his town strong.
"We've got plenty of growth coming at us right now," Lutz said, "and it's going to get more so."
Broulim's business has increased not only as the town has grown but as a result of more tourism in the area, Jones said. Though he didn't have a good customer traffic count, he estimated that Alpine's tourism visitors have recently accounted for half of summer sales at the store.
Broulim's is a 10-store chain located mostly in eastern Idaho, founded by Charlie Broulim in Rigby in 1922. It grew slowly at first but more quickly in recent years, sometimes building new and sometimes buying existing markets and remodeling them.
It bought Hillman's in Driggs, Idaho, in 1998 and did a tear-down remodel. It's been negotiating with Victor, Idaho, planners to add a store there, though it's only a bit over 8 miles from the Driggs store. Other Broulim's are in Montpelier, St. Anthony, Rexburg, Shelley, Soda Springs and Ammon.
Broulim's operated a store in Jackson from August 1984 through the end of 1987. The space, in Grand Teton Mall where Corral West now does business, was about 15,000 square feet but was lost in a lease dispute. In Alpine, Broulim's will own the new store building and the land it sits on.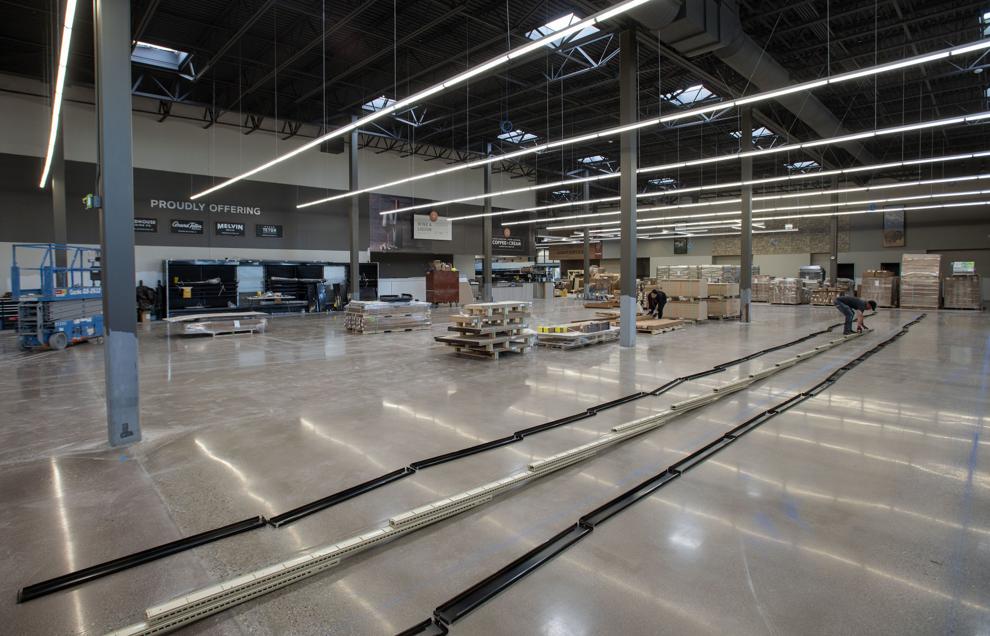 Customers are in for a surprise, both in the look and what is offered, Jones promised. Among the features:
• The front of the store will feature roll-up doors that allow a wide-open feel in summer, and an area to display plants and other outdoor items.
• The first thing customers encounter when they enter will be the produce section, "probably four times as big as we currently have, four, five times as big," Jones said. There will be many items not sold in the existing store, including a big enlargement of organic produce, he said.
• The store deli will be about four times as big, and there will be about 30 tables upstairs for customers, adjacent to a conference room available for public use.
• The store will have a full-service bakery, allowing it to create the doughnuts, eclairs and other pastries that Broulim's advertises as a special attraction.
• Also included will be a floral department (there isn't one in the current store), a liquor store, an ice cream bar and a pharmacy with a drive-thru window.
• The market will have about 100 parking spaces for cars, and another 14 oversize spots to accommodate RVs, trailers and other big vehicles.
• The store will offer online shopping and home delivery.
Broulim's has throughout its history been operated by a Latter-day Saints family that locked the doors on Sunday, but that hasn't been and won't be the case in Alpine: "This is the only Broulim's store open on Sundays," Jones said.
Work on the new grocery began late last summer. The general contractor is Bateman-Hall Inc. of Idaho Falls.
Broulim's will hold on to the Alpine Market property, leaving the gas station and convenience store as is and converting the market space to an Ace Hardware. Broulim's already operates three Ace Hardware locations in Idaho.
Jones has been in Alpine only a few months, transferring from the Afton store, where he worked four years and directed a big renovation. He's been with Broulim's for eight years and in the grocery business for about 43.
The new store will employ about a hundred people, up from the 35 to 40 needed for Alpine Market. Jones said he's been successful in attracting people but still needs 20 or so more before he opens.
Broulim's has about 800 total employees; since 2016 its full-time people have owned 49.5% of the business.
The new store will be called "Broulim's," not Alpine Market, though Jones said he expects the old name might survive and be used by Alpine residents.