Scott Terris invented a useful thingy when he was a teenager, but he went to one of those "we-help-inventors" firms that advertise on late-night television.
He didn't have the money the firm wanted to get his invention on the market. Six months later he saw it advertised in the Fingerhut catalog. He says now that he "made a lot of mistakes and it got stolen."
The device was a quickly envisioned and quickly made pusher to force-feed garbage disposals that were choking on the stuff put in them. He watched his grandmother trying to do the job with the closest implement and saw the disposal grab a fork and spit it out in a new shape.
He made a simple wooden pusher after looking at the situation: "I stared at it, I got a tape measure and I turned it on a lathe," he said last week.
But the way it works is that the invention you present to a company that offers help is that "then they say 'You owe me 20 grand or we keep your idea.'"
Three decades later Terris has his second invention. This time he did it right.
On the market for less than a month, the invention is a new take on the hole saw, an old concept for carpenters and other builders, but one that often has problems. The foremost problem is that when you use the barrel-shaped blade to cut a hole in something, it's supposed to lift the cut part back out and then empty. But often that cut-out plug is inside the bit so tightly that it won't come out.
Terris stuck a plug in the first of 20 holes he had to drill at a Teton Village job more than 15 years ago. With the plug stuck, he kept a crew of granite workers waiting while he drove to Jackson Lumber for a new blade. Not in the estimate for the job.
"It cost a lot of money" he said of the snafu.
But while driving home through Snake River canyon, thinking "I can do better, this is stupid," he had an idea. He pulled over the sketched it.
It took a long time before the idea finally made it to market, but now it's for sale online and beginning to find its way through the distributor network to retailers. The 13-piece kit with hole blades of various sizes is made by Disston, a tool manufacturer in Massachusetts in business since 1840.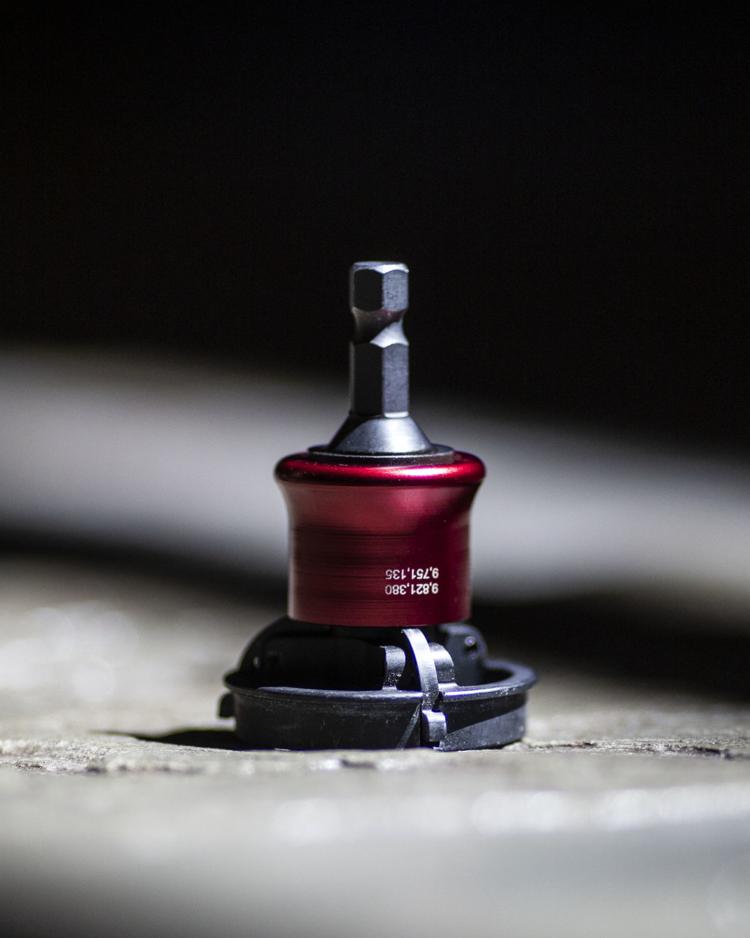 Terris credits the sale to the major maker to his longtime acquaintance and now partner Jody Tibbitts.
"I've used a lot of hole saws," Tibbitts said. "When I saw it I knew instantly it was going to be a smash hit. There's nothing like it. It's the hole saw of the future, for the world."
Disston calls the product the Blu Mol Xtreme Hole Saw. It's already for sale online and is expected to show up soon in hardware stores.
Terris' invention has several advantages: The blades release and reattach quickly, without a tool; when the blade is in place it's much more firmly anchored than usual; and, most important, when there's a core in the open-back barrel of the cutter the quick release kicks it out without struggle.
"The arbor knocks the plug out as you put it back on; it practically falls out," Tibbitts said. "It should have been the first hole saw invented."
Terris was born in Vermont, raised there, in Southern California and in Kelly, where an ancestor was an early cabin-dwelling settler. He set down here permanently in 1988, and has made his way as a finish carpenter. He lives in Star Valley, within a mile of Tibbitts.
The two met years ago when Terris worked some of the time for Jackson Hole Whitewater, owned and operated by Tibbitts' family. Tibbitts is a Jackson native with his own here-and-SoCal upbringing. He works for the rafting company and for Jackson Hole Wildlife Safaris, guiding but also as a kind of sales ambassador, traveling to trade shows.
Tibbitts' sales experience was what made Terris approach him.
"I feel comfortable with talking with people, no matter who you are, what you are," Tibbitts said. "If I like something, I'm going to tell you about it."
Tibbitts got his chance to tell people about the Terris hole saw idea at a trade show in Las Vegas about two years ago. People high up in toolmaking and selling saw an early version of the innovation and reacted as if something they'd known their whole lives was suddenly a completely new thing.
Terris credits Tibbitts — "He's the guy who sold this to Disston" — and two other people involved. One is Richard Jolley, a Washington state attorney who added his expertise and also startup money that got the Xtreme Hole Saw through its development.
As important, he said, was a designer and toolmaker in Preston, Idaho, a man named Austin Brackin, who Terris called "the greatest mind I ever met."
Brackin is one of those people who, as Terris put it, "school doesn't work for him." But shown Terris' early hole saw prototype and hearing the goal described, Brackin took it the next steps.
"I sat with him, said, 'This is what I want,' and within 10 minutes he had a working model on his computer," Terris said. "There's nothing he can't fix, can't build."
Tibbitts said Brackin is "in tune with every aspect of making things."
Terris said the expertise gained from Tibbitts, Brackin and Jolley pushed him from years of thinking about his idea to finally seeing it happen.
"Taking an idea in your mind and putting it on paper and getting prototypes and getting it on the market is a major project," he said. "It's expensive, it's difficult, everything in the world wants to keep you off the market. ... I couldn't have done it without these guys."
Terris and Tibbitts describe themselves as "working class guys" who left Jackson and commute nearly 50 miles to work in Jackson, part of the diaspora of people with local roots who couldn't afford Jackson anymore. Now, they think, the Xtreme Hole Saw will make life much easier.
Tibbitts said Disston offered a 20-year deal for the technology and right to sell the saw. He called the arrangement "a very lucrative deal."
Terris, with "35 long years" of carpentry behind him, sees his situation changing.
"We are sitting very well with the hole saw," he said. "I am hoping to be officially retired from construction by the end of this summer."