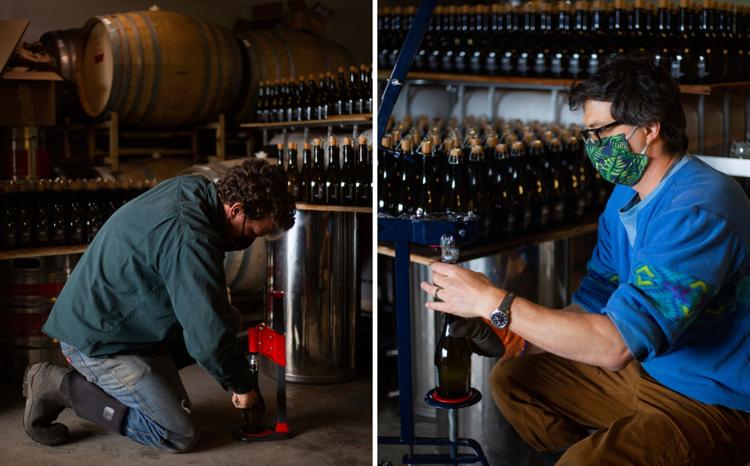 People commonly say that this thing or that "doesn't grow on trees," but the basis of the business of Farmstead does.
And for decades it not only grew on trees but fell on the ground and rotted or fed the pigs.
That's no longer the case for the apples that Orion Bellorado and Ian McGregor started gathering about two years ago to make the only commercial cider produced in Wyoming. Now the partners have taken a big step from selling their product to be resold on tap to going directly to the drinking public by bottling.
The first bottles went to liquor stores and other retailers two weeks ago, and now the businessmen are waiting to see how it goes.
"It's going to be a learning year," Bellorado said. "We don't know what demand is. ... It's a full unknown."
Sales on tap at several local bars have gone well in the past year, he said. And the cider is hitting shelves at the right time: "It's a nice summer drink," Bellorado said. "And we've had a lot of positive feedback."
For Bellorado and McGregor the cider business is part of a larger goal, exploring sustainable agriculture suitable for Wyoming's harsh climate, ag production that isn't cattle or grain.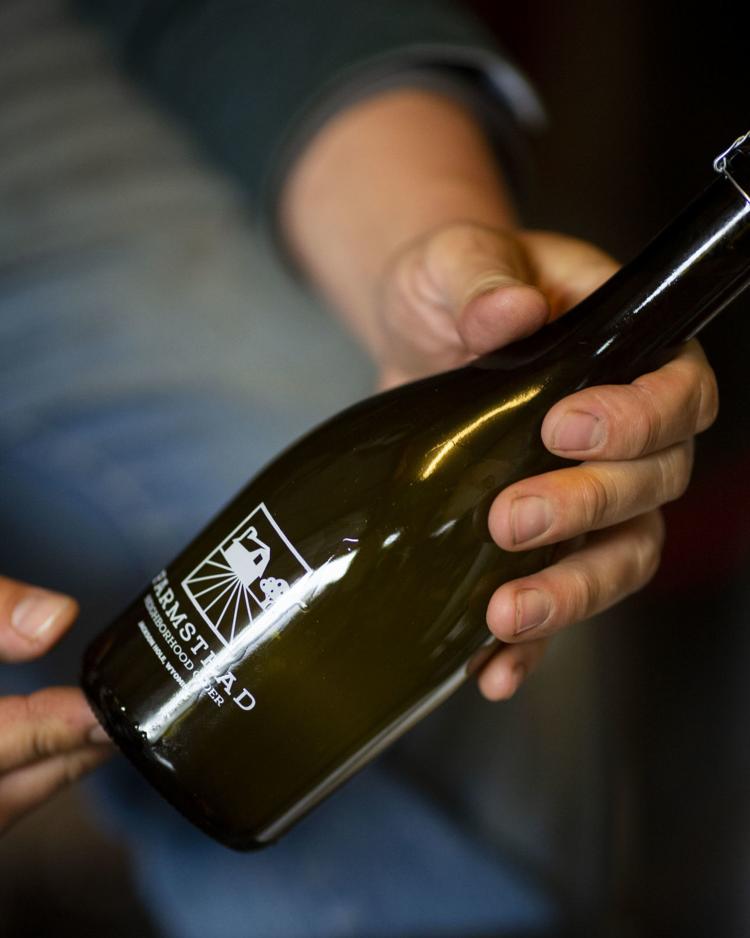 The idea of bottling had been one of those "we'll get to it" plans, but Bellorado said COVID provided time an incentive to get on with it, with bars shut down and taps dry.
"Having bars and restaurants closed was not the best business model," Bellorado said.
The partners jumped in with a purchase of 7,500 750-milliliter bottles, antique green. They're starting out with 1,500 bottles each of three varieties they have on hand: Rafter J, Kelly Street and Red Canyon Nan.
The names are inspired by the source of the apples — McGregor and Bellorado started with the idea of using fruit from trees that weren't much used after discovering some old orchards around Lander that still existed but were not much treasured.
The orchards were too small to compete in the world of Big Apple, and many were planted to grow cider apples but went to weed or were cut down during Prohibition.
One orchard near Lander — the one owned by the "Nan" of the Red Canyon Nan variety — had 130-year-old trees, but of the original thousand or more only about a hundred were still alive and producing fruit.
There are even apple trees planted long ago by early settlers in Jackson Hole, or sometimes single trees in backyards in the area. Farmstead, looking to the far future, has planted two new mini-orchards as an experiment: There's one of 20 trees and a second of 36 at the home of Bellorado's mother.
It's taking a long view: Bellorado said that even if those trees flourish it will take five to seven years before they have apples.
"This is a long-term project, a 100-year project," Bellorado said.
Every batch of cider is a kind of experiment, with the product depending on the apples, the climate and even weather during the time of flowering and fruiting. Also in play is how the apples are treated during production, which includes aging in oak barrels bought from wineries. It's like wine, Bellorado said, in that the process means the cider can taste "not even close" to what came before from the same terroir.
Because Farmstead ciders aren't treated with additives when bottled to stop fermentation, they's also like wine in that they will evolve as they age.
"This is something that's alive and changing," he said. "And that change is really important for us."
Farmstead ciders, so far, have been "light, dry, easy to drink," Bellorado said.
The cider runs about 7% alcohol.
Farmstead ciders in bottles are sold at Jackson Whole Grocer, Plaza Liquors, Westside Store liquor, and perhaps soon at Jackson Drug. They're also sold online and at Farmstead's shop south of town at Pub Place. Prices are set by the retailers but are likely to range from $13 to a bit more than $20 a bottle.