Elk Country Inn is welcoming guests to its big new building on Pearl Avenue while still putting final touches on the project, which is aimed at meeting competition that didn't used to exist in the Jackson lodging market.
The hotel business in town has changed, said Town Square Inns General Manager Steve Meadows, and his family has had to change with it.
"We have grown up," Meadows said last week. "And while we still serve the middle-market folks, now we have to get ready to address a different segment of the market."
That different segment, he said, is the Jackson Hole visitors who expect more than the old-style motel-style accommodations and are willing to pay for it. Elk Country Inn isn't going head to head with the Four Seasons in Teton Village or Amangani up on the butte or even Hotel Jackson across town. But Meadows said those are the types of upscale competition he faces.
Meadows said the idea to begin with was "to complete this property," and that it ended up being "the biggest project we've ever done."
The new building, begun about two years ago, replaced a much less imposing structure. The new building has a distinctly European face toward Pearl Avenue, castle-like, with a lot of stone and arches. Meadows said that look, and many other aspects of the building, are due to the fact that "my wife loved the old European look."
Wendy Meadows also directed the interior decorating, a mix of European, some Old West and a bit of alpine. The art on the walls throughout focuses on climbing scenes.
The design took advantage of a change in town rules a few years back that boosted the maximum height of buildings in the area from 38 to 45 feet. The building is about 22,000 square feet.
Referred to as "the Grand Building," it includes 20 rooms, one of them a big one called the Cloudveil Suite, which via the wonders of internet connections to regular guests was in demand before it was completed. There are also four single kings and 15 double queens.
"We've been in communication with our database of customers and there's been a lot of anticipation," Steve Meadows said. "People have responded really well."
Amenities are highlighted by a pool that's split by the back wall of the building, leaving half of it inside and half out, with a retractable garage-style clear door that can rise for nice days or close for cold weather. It's close to an exercise room and space where a contracted masseuse will eventually go to work. Next to the lobby there's a big room with tables and chairs, a place where guests can gather that can also be used for meetings.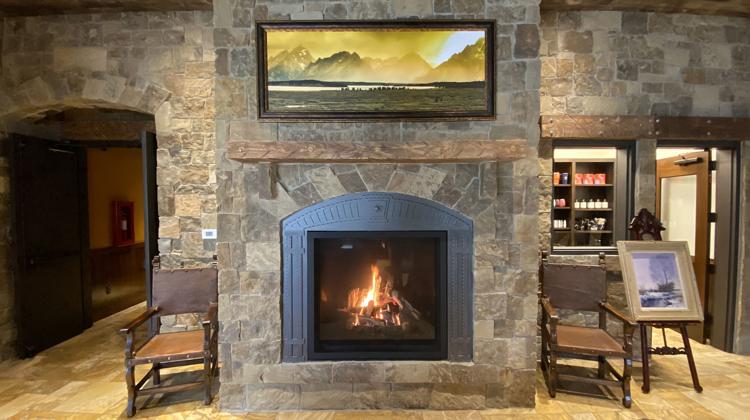 The first guests arrived the Friday of Labor Day weekend. Meadows had hoped to be ready for some summer business, but COVID delays made that impossible.
Despite that, Meadows said, the Elk Country and its sister hotels along Pearl — The Antler, Cowboy Village and 49er Inn and Suites — had a summer much better than anticipated when COVID shut down Jackson tourism in March without any clue when it might return.
As it was, visitors began to trickle back by June; July and August were healthy; and September and October have been stronger even than 2019.
Meadows attributed much of that to Grand Teton National Park and other outdoor activities. People who had been quarantined were eager for a healthy place, he said."We've been fortunate to have had the summer we've had," he said. "Incredibly blessed."
The new building was designed by Jackson architect Michelle Linville, who is best known for her work on custom homes. The general contractor was Continental Construction, of Alpine, headed by Deon Heiner. Heiner also did the remodeling and a new building for the 49er that was completed in February 2014.
Twenty new rooms at Elk Country are in addition to those in two other buildings, one with 30 rooms and one with 22. Elk Country also has 24 cabins. The four Town Square Inns properties have somewhere over 400 rooms, Meadows said, with a staff ranging from 50 to about 100, depending on the season.
The hotel group was begun in 1961 when Meadows' mother, Clarene Law, bought The Antler. She spent her parents' life savings to buy the hotel at Pearl and Cache from the Nethercott family. She had been in town just about three years, working as an auditor at The Wort. The Elk Country was added in the 1990s, when the family bought the Six Bar K from the Karns family.