A few years ago the idea that someone would shop for your groceries for you, then hand-deliver them to your door might have seemed like the most high-class form of luxury.
It might also have seemed like a high-class risk. We all know if you send your significant other with a grocery list, they will invariably forget the most important item on it.
But now this modern convenience is down to a science, and the options are numerous.
Even in Jackson, which is usually late to the metropolitan games, there are big players like Instacart and DoorDash, as well as a smattering of local startups looking to carve out a niche in this new world of grocery delivery.
To be fair, local company Mountains Of Groceries has served valley visitors for almost 15 years, and Instacart has been in business since 2012. But the pandemic has accelerated growth to new levels. In 2020, Instacart's sales increased by $15 billion and the company doubled its valuation to $39 billion with a $265 million funding round. Prompted by the pandemic, many people turned to no-contact delivery services as a safer alternative to in-store shopping. But early indications suggest the convenience is here to stay.
So what exactly are the options for grocery delivery here in Jackson?
Instacart is a website and an app, sort of like Uber, that links a grocery buyer to a contracted shopper. Those shoppers are independent gig workers who sign on to as many orders as they want on a given day, and they receive a starred rating based on factors like speed, communication and selection of replacement goods.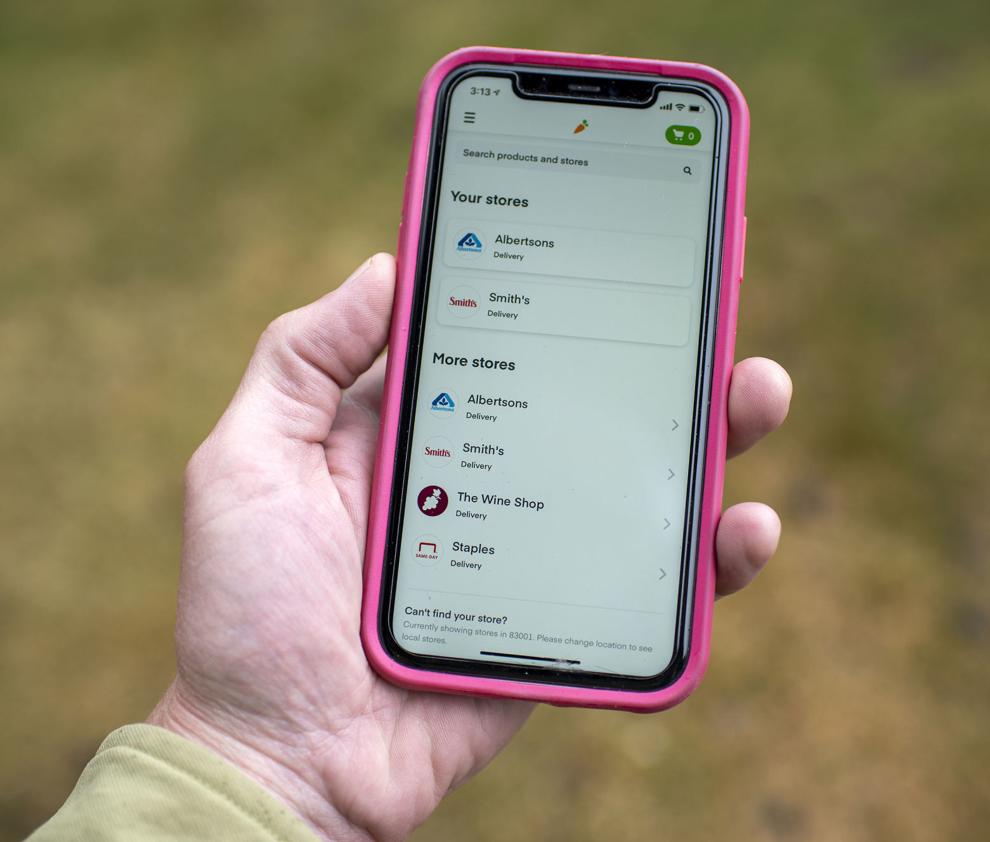 On that note, what exactly happens if that 2-pound, bone-in ham steak you requested is out of stock? In this, too, you have options. You can request "no substitutions," which means all out-of-stock items are refunded (and not delivered) or you can allow substitutions, giving the shopper some creative license to find the closest alternative.
The Instacart app also has a chat feature which allows for real-time communication between the buyer and the shopper, kind of like texting pictures to your spouse to make sure you're actually getting the right can of beans.
Once the order is complete, the Instacart shopper scans a company card and checks out like any other customer in the store. Local Albertsons and Smith's employees say they see the same shoppers on a daily basis, allowing them to greet each other by name.
And all that daily experience means most Instacart shoppers get quite familiar with the store layouts, making it easier to find items fast. In this industry, speed is money, because the quicker you're able to complete an order, the more you can take on in a day.
On the buyer front, the order is then delivered to your door, unless you elect to pick up at the store. Home delivery starts at $3.99, plus a service fee and a suggested tip for the shopper. Product prices are typically slightly higher on the Instacart app than they are in the store, which is one way the company makes its money.
Smith's and Albertsons also offer their own pickup options allowing customers to do all of their shopping online, then pick up through a "DriveUp & Go'' station. Unlike third-party apps, these orders are fulfilled by grocery store employees. This service is also free on orders of $35 or more.
It's unclear exactly when Instacart "moved" to Jackson, since it's less of a choice by the company and more locals who decide to work for the third-party grocery delivery service. One Albertsons employee who spoke under condition of anonymity said she's even seen vacationers fulfill a few Instacart orders while they're in town just to offset some of their expenses.
But the vast majority of visitors are using services rather than providing them.
Like other mountain towns, Jackson sees its fair share of short-term visitors, and they've come to expect an even greater level of service when it comes to grocery delivery.
For over a decade, Ashley Wold with Mountains of Groceries has been meeting this need, bringing fresh goods into visitors' rentals so their fridges are fully stocked before they even walk in the door.
"We have a great base of clients who support us year after year," Wold said, adding that with COVID-19 even the off-season months have been busy.
When Wold first started the delivery business in 2006 she was working out of the back of her Toyota Tacoma. Then she upgraded to a Tundra, then a van, and now the business has two vans, four employees and serves an average of 30 families each day.
Over the years she has partnered with local hotels and property management companies to help new clients find Mountains of Groceries and built up established relationships with the local grocers.
"All of the grocery stores are wonderful to work with and really are the frontline workers who have helped the community get through this," she said.
Wold also tries to support independent local providers when she can, offering an option on her website for "Locals Choice," which sources items from businesses like Sweet Cheeks and Vertical Harvest.
With a $40 delivery fee plus 25% of the total food bill, Wold's service is certainly more of a premium option. But it's also a personable choice. As an independent company, visitors know who they're working with when they sign up for her service. She's also able to stock people's houses before they arrive in town, regularly starting her shops at 6 or 7 a.m. to beat the morning flights.
Also looking to break into the tourist space is Sarah Hollands, who founded SnapPea Delivery last August. Like Wold, Hollands is hoping to provide a "more personalized," premium service catered to valley visitors who want to hit the ground running.
"I think that the more offerings there are, the more people realize it's a service that they need or want," Hollands said.
She runs the one-woman operation out of her personal Hyundai Tucson, bopping around to the different grocers for $35 plus 30% of the bill. Also included in most orders are one of several add-on packages like the "local sampler," which features products from Great Northern Coffee Co., Kate's Bars, Bovine & Swine and Cream + Sugar.
Though she is only serving four to five clients a week, Hollands said she hopes to increase operations and hire an additional employee heading into this summer.
Hollands added that while grocery delivery might have seemed outlandish five years ago, it's now becoming "standard practice."
That push to the mainstream has some Jackson locals concerned about the environmental impact of grocery delivery, both in packaging and sourcing.
Sam Schwartz started Avant Delivery last year with sustainability at the forefront. The skier-turned-entrepreneur is hoping reusable containers and local providers will "totally eliminate" the need for single-use packaging.
"It's not complicated, but it's new," Schwartz said. "It's been hard to kind of explain that to people and be like, this could be the norm."
In reality the futuristic vision is not that different from the olden days when milkmen delivered quarts to doorsteps in reusable glass jars.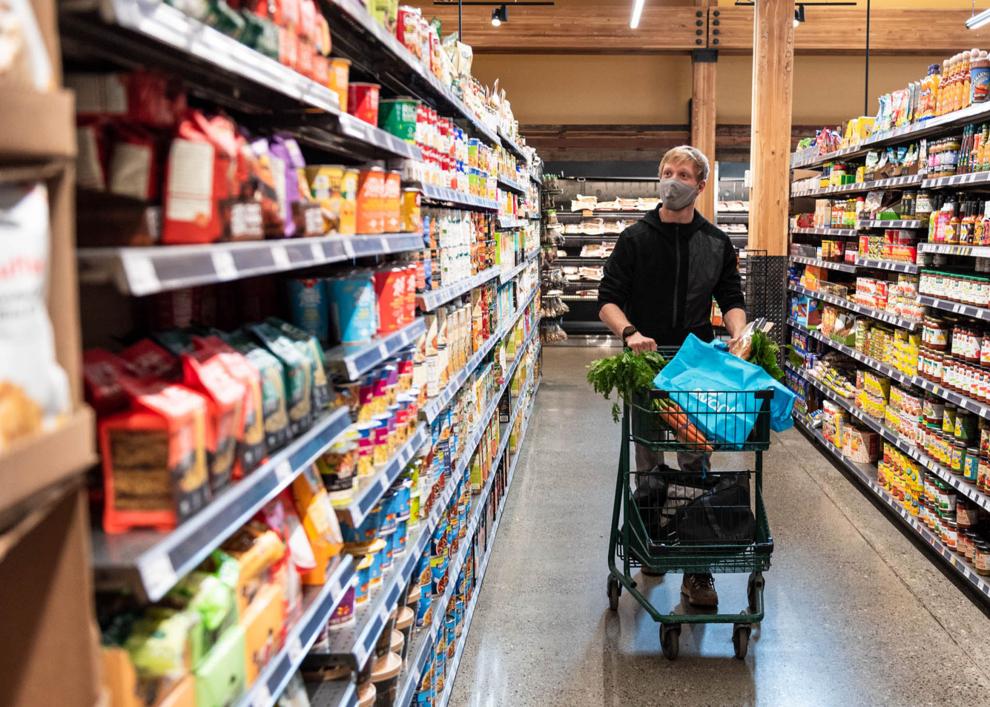 Schwartz said his biggest hurdle is the culture of waste we've become accustomed to. While the mission of sustainability resonates, seeing it in practice is a different story.
The burgeoning business is still in its experimenting phase, but Schwartz hopes his first big partnership will come this summer with Snake River Coffee in a new string of reusable vacuum-sealed bags. Unlike the premium and mainstream options, Avant will deliver from local suppliers for free to further incentivize shopping locally.
Whether with coffee, produce or meat, Schwartz is also excited by the prospect of superior freshness. Because products will be delivered directly from makers to consumers, they won't waste time on shelves.
"We want to be a platform where local suppliers and local independent businesses can thrive," Schwartz said. "Our mission is to make sustainability the easiest option for customers and businesses."
Neither Albertsons or Smith's offer their own proprietary delivery service in Jackson. Whole Foods has temporarily suspended its delivery service while it completes its transition from Whole Grocer.
For Nate Levinson, Inn on the Creek's innkeeper, just being able to see what's in stock on the grocers' websites has helped save time and headaches. Levinson said he's at the local stores nearly every day to stock up on fresh ingredients for his bed and breakfast guests.
The pandemic has also stirred the rise of private chefs in Jackson, who cater to wealthy households by preparing meals on site. Some have partnered with delivery companies like Mountains of Groceries, while others like chef Jason Mitchell say they've incorporated delivery into their own suite of offerings.
Mitchell said it's all about being able to adapt to the preferences of his clients.
"This is a hugely wealthy county, and as long as that dichotomy between the worker and the wealth is happening, it's up to us as workers to make sure that we provide a certain service that they will become accustomed to."
But like some of the other local providers, Mitchell also cares where he's putting his clients' dollars.
He tries to maintain a certain "truth of food" and support local providers as much as possible. He added that the transition from Whole Grocer to Whole Foods "doesn't sit well" with him and other local chefs.
"The experiences that I have had at the new grocery store have been less than par, less than stellar. And that's really heartbreaking for me," Mitchell said.
As more big box stores move to the valley, and larger services like Instacart become increasingly normalized, there is certainly concern from some that sustainability and quality will take a back seat. But the present rush to grocery delivery seems to offer more avenues than dead ends.
Instacart has provided accessible employment opportunities for those who were laid off during the pandemic. It allowed older populations at greater risk of contracting COVID-19 to shop more safely. And as the community emerges from the pandemic, it will continue offering convenience for busy families who have a hard time finding time to go to the store.
On the luxury, tourist side, local providers are expecting another busy summer with second homes ripe for stocking.
The question remains: Are these services the future, or a mere stepping stone to a more idyllic farm-to-table, futuristic milkman, dropping off sustainable goods with a smile?