At Pizzeria Caldera you can now get your pies icy cold as well as piping hot.
The Town Square business has launched a frozen pizza line, starting locally with curbside and home delivery and soon expanding nationally via a Shopify e-commerce site.
"We're taking the thin-crust, Napoletana-style pizza we're known for, flash-freezing, par-baking, shrink-wrapping and distributing them locally and nationally," a press release said.
All the pizzas on Caldera's menu are offered frozen and wrapped. As the pizzeria begins to market frozen pies nationally it plans to play up the Jackson Hole connection, like the Wyoming bison meat used on the Bisonte pizza and the Teton Valley, Idaho, mushrooms on the Funghi. That will differentiate Caldera pies from others, owner Chris Hansen said.
The new venture has a charitable component, too. For every 100 frozen pies it sells, Pizzeria Caldera will give away 10, initially through Hole Food Rescue, eventually through other organizations as well.
"We're making ends meet, but we know there are needs locally," Hansen said.
Over the years Pizzeria Caldera has shipped frozen pizzas to friends and family with success. This past March 16, when Jackson restaurants had to stop dine-in service, it started par-baking, wrapping and freezing pies for sale. The response was encouraging.
Then Pizzeria Caldera closed March 27 for five weeks to keep employees and families safe and help flatten the curve of the COVID-19 pandemic. The shutdown presented an opportunity to plan business changes. With e-commerce booming as people sheltered in place, the timing seemed right for an online food business.
"Direct to consumer is the model for a lot of products," Hansen said.
Two-day ground service is the goal for the frozen pies. Overnight shipping is too expensive, and anything longer than two days isn't good for food, Hansen said.
Pricing is tricky, given that food is a price-sensitive commodity. The shipping costs, Hansen said, will have to be "baked into the cost" of the product, no pun intended.
"People don't want to pay for shipping, which is why Amazon Prime is so popular," he said.
The job of making and packaging pizzas and figuring out production and shipping logistics meant 15 employees could return to work at Pizzeria Caldera.
"We've been able to bring them all back on a limited basis," Hansen said.
Pizzeria Caldera recently took advantage of a free crisis coaching session offered by Silicon Couloir to run its ideas by a business veteran.
The pizzeria has also benefited from two pandemic-related financial resources.
One was a $5,000 Layoff Aversion Grant from the Wyoming Department of Workforce Services. The grants are to help businesses with innovative solutions for reducing or preventing layoffs during the COVID-19 crisis.
With that money Pizzeria Caldera was able to buy equipment it otherwise couldn't have afforded, like a new freezer, a shrink-wrap machine, products, labels and shipping and packaging materials.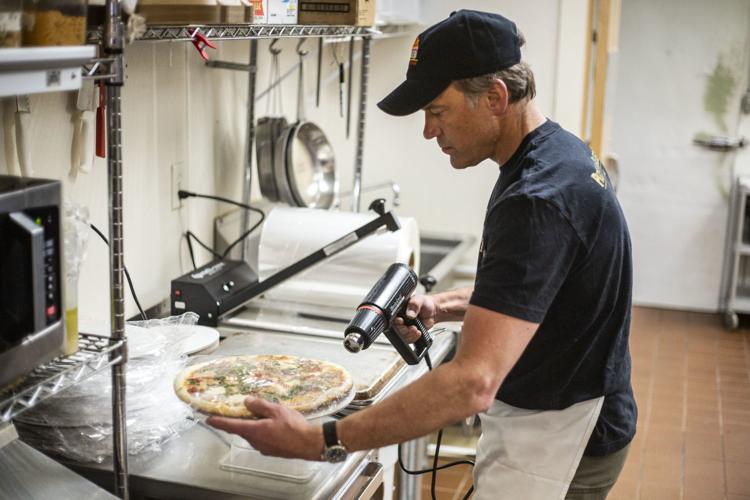 Pizzeria Caldera also secured a loan through the Paycheck Protection Program that Congress created in the initial pandemic economic rescue package.
Getting the PPP loan "was critical," Hansen said. "If we hadn't we wouldn't have been able to open back up."
Hansen doesn't foresee selling frozen pizzas through grocery stores. It's a low-margin product that doesn't look like it would be profitable in that channel, he said, and he's not sure he can produce the appropriate quantity anyway.
Nor does he plan to close the pizzeria's home upstairs at 20 W. Broadway.
"The restaurant is not going away in the near future," he said.
Pizzas, hot or frozen, can be ordered online (PizzeriaCaldera.com) or by phone for pickup or delivery. On Fridays delivery is free for orders of four or more pizzas placed by 2 p.m. Thursday.