When Abi Garaman chose the southwest corner of Cache and Broadway for his new business, the land was occupied by the Log Cabin Club, an old-Jackson bar and dancehall owned by John and Jess Wort, heads of a pioneer family and builders of the famous Wort Hotel, a half-block away.
Garaman had been in the U.S. for 10 years, an Iranian engineering student who decided to stay. He had come to Jackson with his wife and, with his brother-in-law Chick Joy, owned The Roundup down the street. He walked into the Log Cabin and found the Wort brothers and Dick Boyer, another stalwart of the downtown business scene, playing gin rummy.
Garaman interrupted the game to say he had heard the Log Cabin land was for sale, along with the adjacent Hollywood Cafe and Copper Penny. He remembered that John Wort looked at him and asked, "What's it to you?"
After a little more talk Wort told Garaman the property was for sale for $178,000. Garaman went to talk to his brother-in-law, told him the price and said, "We cannot afford it — but we have to buy it."
Joy agreed. Garaman went back, found the card game still in progress and said he wanted the property.
Wort had apparently been thinking about it.
"It's up $10,000 now," Garaman remembers Wort saying. "$188,000."
Garaman said yes without haggling. Back then, he said, "I was just a nothing foreigner" to the people who had settled Jackson a few decades before.
Now, 55 years after that rummy game, Garaman's Ranch Shop — built the next year on that corner and now in its second location at Cache and Pearl — is in the middle of a going-out-of-business sale. It's one of the oldest retail businesses in Jackson, also one of the dwindling few still run by the people who started it and are still doing what they've done all along.
Over those years Garaman became a fixture in Jackson business and government, serving as mayor in 1987 and '88 and 1995-96, 60 years with Rotary, owner of big pieces of downtown real estate, including early buildings that during his time went from being "old" to being "historic."
He isn't nostalgic about closing the Ranch Shop.
"Fifty-five years is long enough," he said. "And when you become 90 years old, 55 really comes into effect."
No new tenant has signed on for the Ranch Shop's 1,600 square feet, said Kirk Lane, Garaman's son-in-law and the CEO of Garaman Enterprises, which includes the shop, the neighboring space leased to Wyoming Camera Outfitters, Garaman's Under the Willow Gallery where his own photography is sold, the 57-room Ranch Inn and Flying Saddle Resort, in Alpine.
"Right now we're just trying to get through the sale and the closure and cleanup," Lane said. "We've talked to a few people about moving in, but nothing is set."
"I'm sure somebody will come along and like the space," Garaman said.
A big part of the decision to close the Ranch Shop is that Lane and his wife Kim are retiring. Kim Lane has run the Ranch Shop for 28 years and is the daughter of Garaman's wife Nita.
When Garaman came to Jackson, he worked as an employee in The Roundup for his father-in-law, Fred Pack. When he arrived in town, Garaman emphasized, the sign at the entrance said the population was 1,437.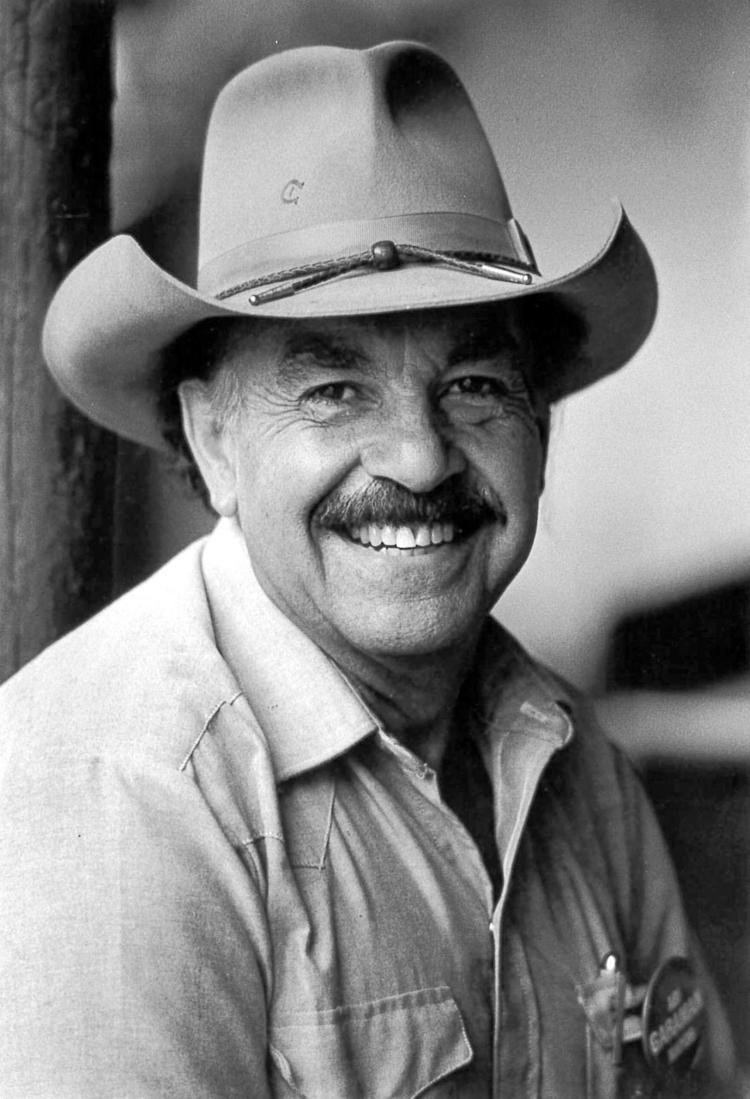 In 1960 he and his brother-in-law bought the business, with partners Jim Skeoch and his brother Tom, a car dealer on West Broadway. Pack had started it as Teton Mercantile a block away, in the space at Glenwood and Deloney now occupied by the Jackson Hole Museum.
The Roundup — and a few years later the Ranch Shop — featured near their front doors the "I was there" stuff tourists might buy on the spur of the moment, with a big stock of Western clothing, hats and boots in the back. It was a lot of inventory: When the Ranch Shop opened in the new building that Garaman and Joy built, it had 4,000 square feet, and as much again in a basement.
A bit less demand for much of what the two shops had on the shelves pushed The Roundup to close in 2008 and the Ranch Shop to change over the years, Kim Lane said.
"We didn't want to be just a souvenir store," she said. "We wanted more nice gifts, handmade Indian jewelry."
A healthy crowd of shoppers have been in during the past few weeks as news of the Ranch Shop's closing spread. Interest has been boosted by a willingness to haggle for much of the Western wear brought in by Rod Mccrimmon, a professional store closer who did the closeout at The Roundup and two years ago at Stone's Mercantile.
Before 10 last Thursday morning the place was full of customers: "It was lonely for the first 40 minutes, then this," Mccrimmon said, indicating the people. As for the stock, he said, "we started with a lot more — I'm not disappointed."
Besides him, Lane and three other employees were on hand. Lane usually has six full-time people on staff, letting her have two people on, sometimes more with overlapping, during the 12-hour day. She estimated she'd had a hundred or more employees over the years and said those memories are big part of her regret at closing.
"I've had incredible employees, and I will miss all those great people," she said. "People who worked here come in with their kids, send Christmas cards."
She remembered a worker so attuned to store policy that she didn't trust the leader of the Free World.
"Bill Clinton came in and bought a Lee denim shirt and a bolo tie," Lane said. "The clerk was ringing him up, and when he gave her a credit card she said, 'Can I see your ID?' Then she realized who she was talking to.
"He said, 'Of course you can,' and showed his driver's license. He said, 'They trained you well.'"
The closing marks the loss of one more of Jackson's old businesses, those rooted in the years when the town was growing from its frontier days into the jet-set tourism hot spot it has become. It's inevitable but also a bit disappointing, Lane said.
"I'm very sad at the changes" in Jackson, she said. "We always tried to keep Jackson true to the Old West; we didn't want to become one of those tourist towns in Colorado."
Many Jackson businesspeople now, she said, "have no idea what Jackson used to be.
"That's not always a bad thing, but we are losing that Old West feel."
Garaman's Ranch Inn will be run by its current manager, Tomas Dvorak, who was introduced to the Garaman businesses as a student on a work visa, returned to school in the Czech Republic and then came back to work his way up. His wife also works for Garaman.
The Lanes will continue to live in Jackson. Garaman and his wife split their time between the Jackson house they've lived in for 60 years and a home in St. George, Utah.
Despite the turnover, little change is expected, Garaman said. He said he has relied on loyal employees for a long time.
His businesses? "I don't think about them any more," he said. "I retired 30 years ago."
It's likely that the last days of the Ranch Shop won't come until Thanksgiving, Kim Lane said.
Though no one has signed a lease for the space, Kirk Lane said that doesn't indicate any lack of demand. A tight supply of commercial space on and near Town Square means that "we've had a lot of interest," he said.
The end of the Ranch Shop, Mccrimmon said, will "let somebody else fulfill their American dream."