When Valley Bookstore welcomes customers back inside the store on Monday after more than two months of online and phone sales, there will be some changes.
Owner Steve Ashley said he's had to move about a quarter of the Gaslight Alley store's stock "to ramp up everyone's safety." And as customers arrive he will ask them to do their part to protect each other and his employees from COVID-19.
"We will require face masks for the safety of our booksellers, customers and the integrity of our stock," Ashley said in an email. "Not an easy decision, but one I am comfortable with. We will adjust as need be. … We will have disposable masks as needed."
The Centers for Disease Control and Prevention recommends wearing cloth face coverings "in public settings where other social distancing measures are difficult to maintain."
In Jackson Hole it's been Teton District Health Officer Travis Riddell's official recommendation since early April that "all people in Teton County should wear cloth face coverings in public settings where other physical distancing measures may be difficult to maintain (e.g., grocery stores, pharmacies, crowded outdoor spaces such as sidewalks, and workplaces)."
At a recent community update Riddell reiterated: "Even simple cloth face coverings can be an effective means of source control."
Gov. Mark Gordon noted his own face mask when kicking off a press conference last week and said, "It's important." Jackson Mayor Pete Muldoon touted face coverings in a recent promotional video.
But since it's not mandatory, businesses around town are making their own decisions. Among those that have already reopened and want customers to cover their mouths and noses, some are couching that as a request and some as a requirement.
The clothing store Altitude had initially asked people to "please" don cloth face coverings but changed that to a requirement Monday. With the arrival of Memorial Day weekend tourists in Jackson the Town Square store saw a difference in the crowd from the early days, when it was mostly locals out.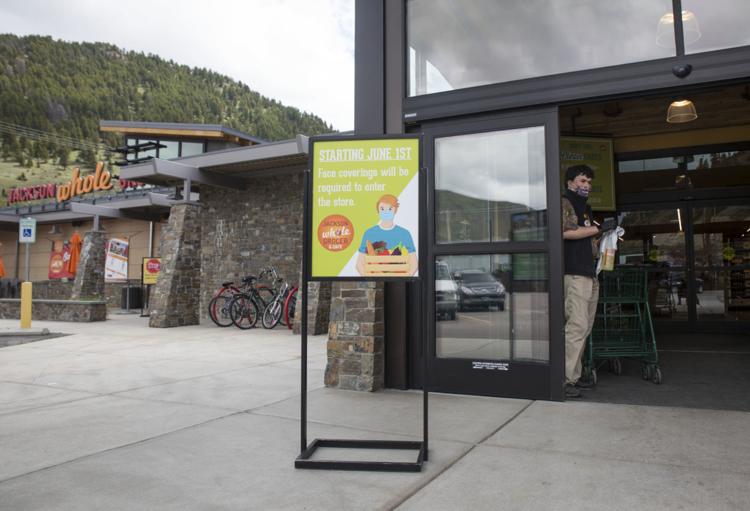 "We noticed that 90% of people, especially on Saturday, were not wearing a mask," Altitude owner Brianna Moteberg said.
Moteberg said that between the risk of her and her employees contracting COVID-19 and not being able to run the business and, on the other hand, the risk of losing business because people are miffed about masks, she's coming down on the side of health.
"There's only so much cleaning we can do," she said.
She worries, though, about people assuming other motives and feeling hostile.
"I'm not doing this for anything political at all," she said. "This is not politics. This is 100% safety."
The crew at Altitude is just Moteberg and a few other women, one of whom weighs about 90 pounds, she said. Moteberg is well aware of contentiousness and even violence at retail shops elsewhere in the country that ask customers to wear masks.
"My biggest concern is people becoming aggressive," she said.
Among local businesses one of the biggest splashes was made by Jackson Whole Grocer, which issued a press release announcing a mask mandate (see story on page C6). Other businesses are using websites, social media, newspaper advertisements and signs in their windows to say they want customers to wear masks.
"It sends a message to my customers that we're doing everything to make this place as safe as possible," said Jeff Roush, owner of Wyoming Outfitters, also a Town Square store. With people trying on jewelry, shoes and clothes, he said, "we're in pretty close contact. We can't always maintain that 6-foot distance."
The mask mandate at Wyoming Outfitters also aims to protect employees. Already Roush has them working shorter shifts to limit their potential exposure to the novel coronavirus. That's in addition to following stringent disinfecting protocols in the store and steaming clothes.
Wyoming Outfitters has masks to offer shoppers who don't have their own, but Roush soon found he had to make a bigger sign to firmly make the point that people must wear masks in the store.
"We went through our supply in two and a half days," Roush said.
As long as the store is offering masks he feels it's reasonable to ask people to cover up.
As for mask-related conflicts seen at stores elsewhere, like the Las Vegas Costco in a now-viral video, Roush said, "It's a concern, and it's possible our policy changes."
When Skinny Skis initially reopened it offered footwear browsing only and for just two customers at a time. Now it's made the entire store available for browsing for a larger, though still limited, number of people. One of the protocols hasn't changed, though: a mask requirement for customers.
The idea is to create a "safe haven," said Taylor Hall, one of the owners. "We feel comfortable executing our business requiring masks, and that's what we're going to be doing."
With most shoppers the attitude is "no problem," he said. The occasional one will say no thanks.
"That's OK," Hall said. "Everybody has a different comfort level."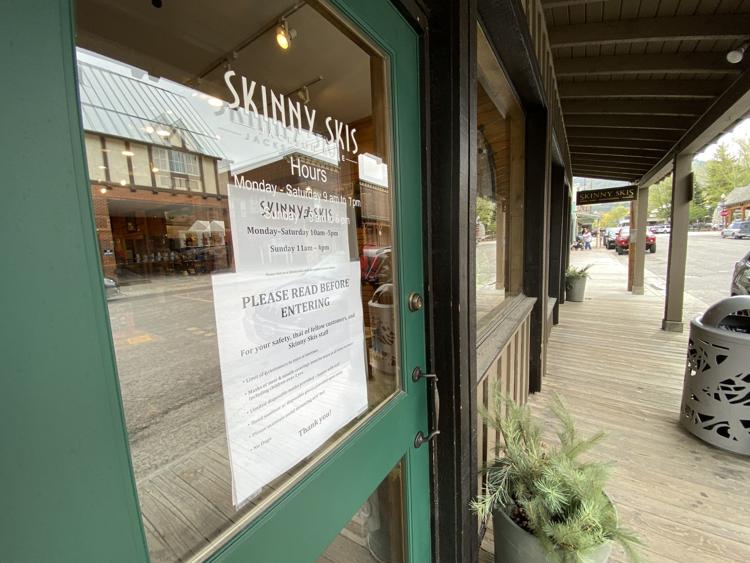 Susan Fleming, owner of Workshop, said Monday she was still mentally preparing for what she'll do if a shopper refuses her request to wear a mask in the store. She has cloth coverings to offer those who don't have one.
"I'm going to see what happens," she said. 'I'm hoping for the best in other people."
But while that's on her mind, it also bothers her to think that a potential customer who sees people without masks inside Workshop will decide not to enter.
Because people infected with the coronavirus can be asymptomatic, she's aware of the advice to treat everyone like they have it. To her that's an inclusive, not exclusive, policy.
"I want everyone to feel safe coming in," Fleming said. "It's not that big an ask to have someone put on a mask for a few minutes if they're coming into a small space."
Jackson Hole Mountain Resort just updated its policy from "highly recommending" masks for guests when they are inside its structures and retail shops to requiring them. (That applies to employees, too).
"It's the best protection for individuals if they cannot maintain that 6-foot distance," said Jon Bishop, the resort's risk and safety director. The resort determined that "this is the best policy at this time."
The resort's mask policy has been in flux, Bishop said, and the update wasn't prompted by an incident.
"Really we want to mirror the recommendations of the CDC and local health representatives," he said.
The policy is for Hoback Sports and the Resort Store in Jackson as well as Teton Village operations like the ticket office, Jackson Hole Sports, Teton Valley Sports, the General Store, Off-Piste and Rodeo.
As for the potential that a mask mandate will make some people avoid those shops, Bishop said it's "an individual's decision."
"They can choose not to engage with that business if that is the rule of that business," he said.