The July Fourth holiday was a bit different this year for longtime Skinny Skis owner Phil Leeds.
Thanks to the COVID-19 pandemic, what would have been the 41st annual Fourth of July 10K put on by the sports and clothing shop had to be canceled. Never before had that happened.
"It's the first Fourth of July I've been able to sleep in for 40 years," Leeds said.
But that's not the only thing that's different for Leeds and the rest of the Skinny Skis crew this year.
There was a quiet changing of the guard at the 46-year-old store this past spring while Jackson Holers were hunkered down at home hoping to flatten the curve of the coronavirus's spread.
Taylor Hall, a 30-year Jackson Hole resident with extensive retail and outdoor apparel experience, bought in to the business and now owns Skinny Skis with Scott O'Brien, an owner since 2013.
And after 43 years as a Skinny Skis owner, Leeds sold his interest. But he hasn't left. He will continue working there part time for about a year and a half in what he described as a "glide path down" to retirement.
"I still enjoy the business," Leeds said. "I just wanted to transition into retirement."
When he became one of the owners in 1977 the store launched by Jeff Crabtree and Owen Anderson was just three years old and he knew it well, having worked there one winter.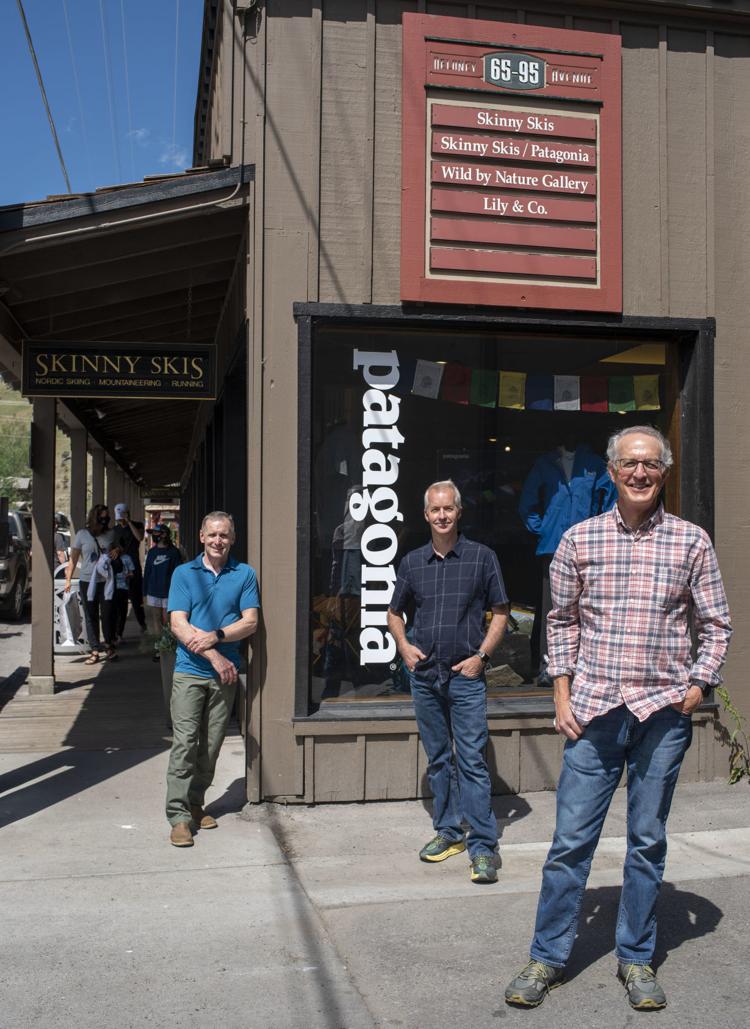 When O'Brien came onboard as an owner he too had a Skinny Skis connection from way back.
"Thirty years ago Skinny Skis was my first job," O'Brien said. "I worked in the ski shop, tuning skis." Years later, "Jeff and Phil approached me and asked if I'd be interested in joining the business."
Anderson left in the 1980s, and Crabtree retired several years ago, so it's been O'Brien and Leeds running the store.
Hall, meanwhile, had worked at Teton Village Sports from 1990 through 2000, serving as general manager and a limited partner for a good portion of his tenure.
When Jackson Hole Mountain Resort bought that shop in 2011 he sought a new venture and became a regional sales manager for Icebreaker, a New Zealand concern specializing in merino wool outdoor clothing.
In the fall of 2019 Icebreaker eliminated its U.S. sales force. Hall was explaining the situation to the guys at Skinny Skis, and Leeds asked, "Want to have a cup of coffee?"
In due time "the opportunity at Skinny Skis became crystal clear," Hall said.
The purchase was negotiated over the winter, Hall started at Skinny Skis on March 1, and the ownership change transpired in April. Leeds and O'Brien say his arrival as an owner bodes well for the future of Skinny Skis.
"His experience, his belief in our values and connections with the community really dovetailed well," O'Brien said. "We thought he'd be a great addition to the business."
Although no one claims that the pandemic has been great for business, all three maintain that Skinny Skis' involvement with the valley is key to the shop's staying power.
O'Brien said that when Jeff Crabtree started Skinny Skis he was Nordic director at the Jackson Hole Ski Club and had a hard time finding equipment for the kids he was coaching.
"It started as a component of the Ski Club," he said.
Fast forward to 2020, and the first thing Skinny Skis did when it reopened after a six-week shutdown was donate a portion of the proceeds of all footwear sales in May to the Community Foundation of Jackson Hole's Community Emergency Response Fund. It expanded the fundraising to steer a portion of all sales over Memorial Day weekend to the fund. In all it raised nearly $5,000.
And although the Fourth of July footrace didn't happen, Skinny Skis made sure the traditional beneficiary, Friends of Pathways, wouldn't lose out. For every pair of running shoes sold in July, Skinny Skis will donate $5 to the nonprofit.
"Early on in the pandemic Jackson Hole's pathways helped keep any number of people sane with the ability to use them," O'Brien said. "We feel very fortunate to have access like that to pathways and fortunate to be involved with this larger community. Just with how resilient this community is I am very optimistic about retail in Jackson."
Hall prefers not to focus on the fact of becoming a Skinny Skis owner during a pandemic. COVID-19, he said, "is not going to be a fact of life for the tenure of my ownership."
Instead he's high on the shop's efforts to reinvest in the community. They're one of the reasons he signed on.
"My goal is to continue the legacy of what Phil has created," Hall said.
As for Leeds, he said he's happy about the change of hands at Skinny Skis and feels great about his stepped-down retirement plan. But there are some mixed feelings.
"It's bittersweet, for sure," he said. "It's been such a big part of my job and my family's life for 43 years."