Members of the newly formed Act Now JH are pushing elected officials to take money out of law enforcement budgets and put those funds toward other community services.
Mirroring a national movement, the local campaign is getting the attention of local leaders, who welcome the conversation but essentially say it's too late to drastically change fiscal year 2021's mostly completed budgets.
"We have budget meetings every year and no one ever attends them," Mayor Pete Muldoon said at a Town Council meeting Monday night. "Rarely is there a comment. That's unfortunate. So I find the engagement around this issue very refreshing and very gratifying, and I appreciate everybody being here."
Members and supporters of Act Now JH took turns giving their opinions during budget discussions at town and county meetings on Monday and Tuesday.
"We need to rethink how we take care of our marginalized community members," Sophia Schwartz told county commissioners Monday morning. "A strong policing system isn't the answer."
The group's mission is to invest in human services and challenge a system they say results in brutal and unfair policing of people of color by defunding law enforcement.
"It's all about the aggressive nature of the police as we know it," Wren Kominos, 29, said Monday night. "And they aren't addressing that aggression because they have never experienced that aggression. They have never had a gun pulled on them by a cop most likely."
After speaking at town and county meetings the group said they were met with no feedback from county commissioners and what they described as patronizing feedback from town elected officials.
"I just felt dismissed," Cody Laux said. "I was told basically, 'I was in your place once and now I'm older and I have seen more and I know more than you and my mind is changed just like yours eventually will.'"
Councilor Jim Stanford said he campaigned on the same issue eight years ago.
"I have spent eight years scrutinizing the Jackson Police Department budget," Stanford said. "I have been hard pressed to find any money in there that isn't justified."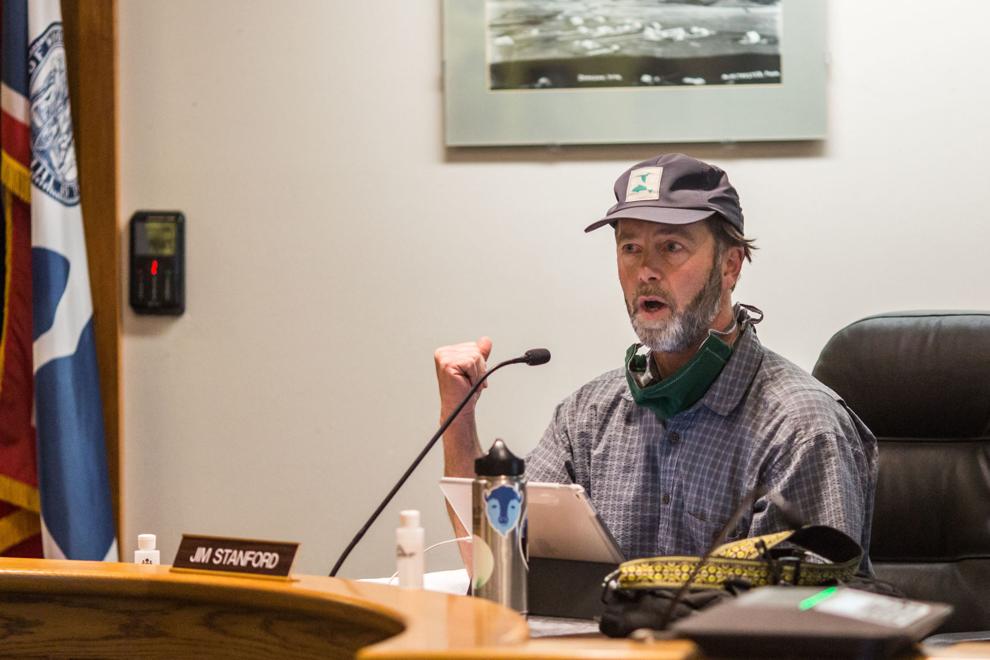 Undeterred, members of Act Now JH said they're just getting started.
"We aren't doing this alone. We need community input," Rachel Attias said. "We are planning events to educate the community better and help people make comment and write emails and letters. This is about everyone who lives here. We are doing it because we want life to be better for everyone who lives here, it's not just because we are angry. It's a sustainability thing, an improved quality of life overall."
Mayor Muldoon said during Monday night's council meeting that the group brought up good points.
"We should always be asking ourselves what the most effective way of spending tax dollars is," he said. "The truth is that is a very difficult question."
Muldoon said if the community wants less money going to law enforcement there needs to be a specific plan backed up by facts.
"First, we need to be prepared for some hard work. We will need to look at data, studies and best practices," he said. "We'll need to take a hard look at prioritizing areas of law enforcement, and of the costs and benefits of reprioritizing those areas, or using alternative methods of enforcement."
The annual budget for the Teton County Sheriff's Office hovers around $8 million, which includes the jail, dispatch, search and rescue, court security, patrol and administrative costs.
"Some feel there is an over- saturation of law enforcement," Sheriff Matt Carr said. "But we are required by state statute to keep the peace."
The patrol part of that budget is what Act Now JH is focused on.
"The amount of police that are here is intimidating," Kominos said.
Carr said for county enforcement sometimes there are only two deputies on during a shift.
"On a good day we have three serving the whole county," he said. "It's not a heavy patrol response."
As an example, Carr that Sunday night two deputies were working a crash near Gros Ventre Junction when another call for service came in from Rafter J.
Cutting money from the patrol budget would mean fewer deputies.
"It would make us cut positions," Carr said. "For us to respond to crimes or people in need … we wouldn't be able to do that anymore."
Act Now JH advocates more unarmed response to crises, and its defunding campaign is in the educational stages, Attias said.
But they stand by "defund" because they say reform has been shown to be unworkable.
"We understand that defund is a buzzword right now, and it's emotional and it can be scary and it can turn people off, and to people who are turned off by that word I would say reach out to us," Attias said. "There are enough people in this organization that we can engage in conversation with every single person who is turned off by 'defund' and thinks it is a bad idea."
Carr said he isn't sure what else defunding would do besides cut patrol jobs.
"What are they asking of us unless they just want to get rid of us?" he said. "If people aren't worried about drinking and driving or domestic violence or VIN checks, alarm calls, all the stuff we do, that's what it will take away from. I am a big proponent of funding social services but don't do it at the detriment of what we are trying to do — which is serve the community and keep them safe."
Carr said a lot of what his deputies do looks a lot like social work. He said continued training and education happens so that deputies know the most appropriate ways to interview victims of violence without retraumatizing them.
"Law enforcement has always been charged with doing those things in the community that others don't want to do to make it safer," he said, "and now they are asking for that funding to go away. Who is going to pick up those services and how will they do it safely?"
Those pushing for defunding say it's a new approach and a new way to think about community service.
According to Act Now JH's website, if social services are pumped full of the money they need to help struggling members of the community then crime will decrease.
"Teton County is in a unique position to enact real and meaningful reform in our police department," the group's website states. "We have a high number of local nonprofit and county-funded organizations that are creating positive change for community members every day on extremely limited budgets. We can defund the police and redirect these funds to the non-profits that already exist, and that can improve the lives of our at-risk and disenfranchised community members."
But Chief of Police Todd Smith, head of the Jackson Police Department, shares some of Carr's doubts.
"If there are social services who want to come out in the middle of the night and help us with those calls, I am all about it," Smith said at Monday's council meeting. "I have worked here 29 years. I haven't seen anyone willing to do that. Law enforcement is always going to be the agency dealing with these things until we figure out a better way to do it."
Act Now JH wants to better fund organizations like the Community Safety Network, which helps those affected by domestic violence, sexual assault and stalking.
Andy Cavallaro, executive director of CSN, said his organization doesn't take a political stance.
"When we look at the big picture, we stand against violence everywhere," he said. "We have worked with local law enforcement and we depend on local law enforcement to provide the best advocacy and support for victims of violence. I know in a general sense, in the big picture, if there is change that needs to happen ... taking money away from that organization isn't typically the best way to help."
The annual budget for the Jackson Police Department hovers around $5 million. It was cut for fiscal year 2021 by about 16%. It received some of the biggest cuts due to the COVID-19 pandemic, alongside the fire department, public works and START bus.
In a May 15 email to some town officials Sheriff Carr brought up merging the sheriff's office and police department.
"Perhaps it is time to revisit the idea of a consolidated law enforcement agency for our community; given the future of our economic situation, we would be remiss not to look at those potential savings," Carr wrote.
No one responded via email to the suggestion, but when asked Muldoon seemed unconvinced that consolidation is an appropriate cost-saving measure for Jackson.
"I think the Town Council values high-quality community policing very highly," he told the News&Guide, "and I feel that that's something worth paying for."
Lincoln County has a somewhat consolidated law enforcement. Alpine doesn't have a police department but pays Lincoln County $60,000 a year for contract law enforcement, according to Lincoln County Sheriff Shane Johnson.
"They write the county a check and it goes into the general fund," Johnson said.
A conversation about consolidating law enforcement to save money isn't on the forefront of people's minds in Teton County. But when it comes to defunding, Muldoon said, the discussion is appropriate and essential.
"How much do you value the different areas of law enforcement, whether it's responding to a domestic violence call or a fight or sexual abuse, or DUI patrol, or traffic enforcement, or responding to trespassing, shoplifting, code violations, parking violations?" he said. "These are questions that are often answered by people with power and privilege."
How effective is traffic or DUI enforcement?
Is parking enforcement the best use of a sworn officer?
Who should be the community's first responders?
As Muldoon rattled off a list of possible policing questions, he concluded: "These are questions we should ask ourselves."