When Val Thompson found out her kids had been selected to participate in the Jackson Police Department's annual Shop with a Cop event she rearranged her schedule so she could tag along.
"Whatever I had to do I wanted to be here with my kids," Thompson said at the event on Friday.
Her kids Nevaeh, 9, and Nevan, 7, were paired with Wyoming Game & Fish Game Warden Kyle Lash and Grand Teton National Park's Snake River District Ranger Brooke Timm for their shopping spree.
The group shopped for the Thompsons' family members, including Grandma, at Teton Toys, Lucky You Gifts, Lee's Tees and High Country Outfitters. They finished the day with grabbing pizza at Pizzeria Caldera and then went to the First Baptist Church to wrap gifts.
"To keep up with Nevan I had to bring my track shoes," Lash said. "We had a pretty good little day downtown."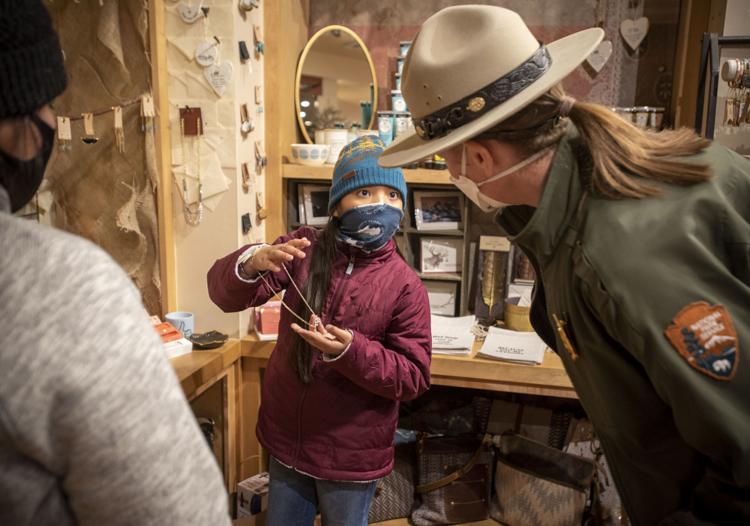 Nevaeh picked out a lava lamp for herself, plus some Twisty Pets and a few special things for her mom at High Country Outfitters.
"No guessing, mom," she said.
Eight students participated in this year's event, which was different from past years.
It's usually held at Kmart, but that store's closure meant taking their shopping downtown.
Teton Toys, the Five and Dime General Store, Lucky You Gifts, Jackson Mercantile, Shirt Off My Back, High Country Outfitters and Lee's Tees all offered the kids discounts or gift cards.
"We had two local officers stop in and introduce the program to us and we were happy to support and be a part of it," High Country Outfitters' director of operations Beth Rotert said. "We wanted to make sure the kids who were coming in could get whatever they wanted, whatever was right for whoever they were shopping for and put that money in their hands to use however they wanted."
Rotert and her employees put together 10 care packages for the shoppers that included $50 gift cards and a ball cap or beanie to take home.
And they were on hand to help with the children's shopping needs.
"With all the craziness of this year it's kind of hard to get into the Christmas spirit sometimes but seeing the kids excited and coming in to shop for somebody makes it all worthwhile," Rotert said.
Pizzeria Caldera, Pinky G's and Hand Fire Pizza all donated pizza to feed the hungry shoppers.
At the First Baptist Church Friday afternoon the kids and masked cops got to work wrapping their gifts.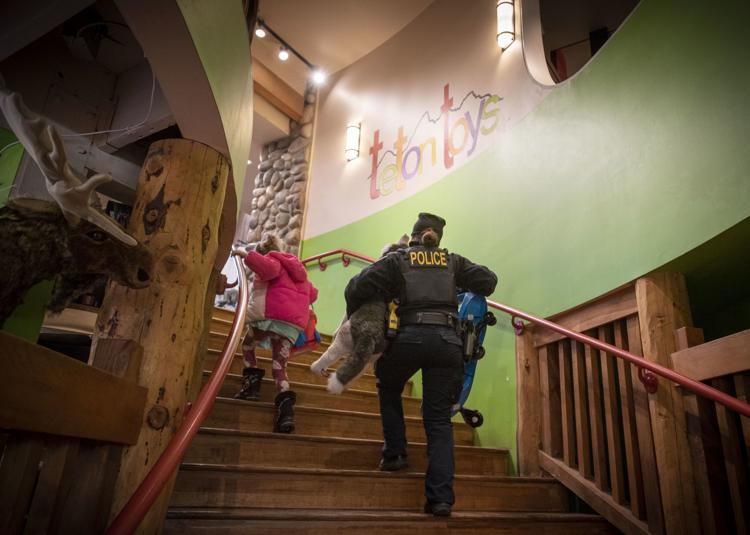 Nevaeh and Nevan were excited to take theirs home to put under the tree.
"I only got you one gift," Nevaeh told her little brother.
Nevan assured her she's also only getting one present from him. And not until Christmas Day.
The annual event had to be changed slightly for COVID-19 precautions.
Interim Chief of Police Michelle Weber said instead of gathering everyone together for a pizza party the department arranged to have pizzas delivered to the family's houses.
"I had big plans this year that didn't work out but we'll do it next year," Weber said.
Officers, rangers, deputies and game wardens had just as much fun as the kids.
"It's my favorite day of the year to work," Teton County Sheriff's Deputy Jana Lyn McCay said.
Lash said the event is a way to get together with peers in a way that's more relaxed than they're used to.
"It's neat because I guess we see the other law enforcement personnel here from time to time through work but it's fun to see them in sort of a non-work basis," Lash said. "Sometimes we have interesting calls but it's fun to see each other in a different way."