Talcum powder splattered across Teton Pass on Tuesday night after a semitractor-trailer lost its brakes and came crashing to a stop.
Berri Smokes, 53, of Florida was taken to St. John's Health with minor injuries and cited for violating the Teton Pass winter tractor-trailer ban. Smokes was driving east down the steep grade of Highway 22 when he lost control and his truck hit a snowbank and a guardrail. The semi flipped on its side just before the runaway-truck arrestor.
"He is lucky he didn't go over the shoulder and down into the ravine," Teton County sheriff's Sgt. Todd Stanyon said.
The trailer whipped into oncoming traffic but didn't hit any other cars, eyewitnesses told Wyoming Highway Patrol.
The semi landed on its side, spilling a 60,000-pound load of talcum powder. The weight limit on Teton Pass is 60,000 pounds.
"He went for quite a ride," Trooper Andy Jackson said.
The crash location is the same spot where a semi crashed in 2012 and also spilled talcum powder all over the highway. Locals refer to it as Talcum Powder Corner.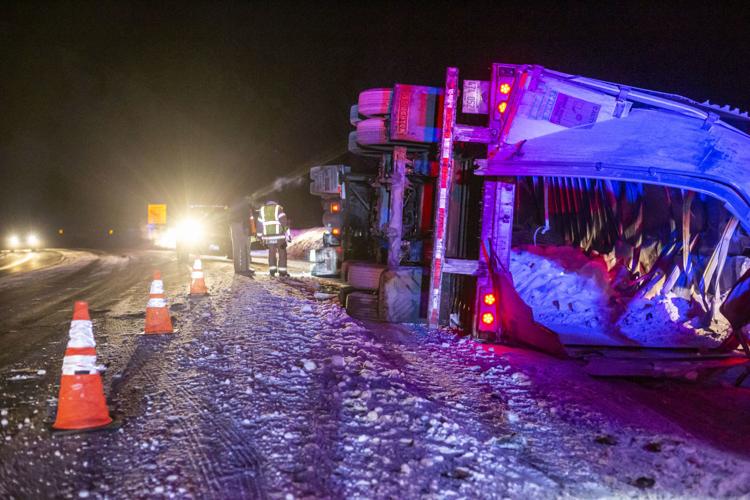 Trooper Tyler Smith said Smokes was up to date on his registration and logbook. He was carrying 50-pound bags of talcum powder for Triple D Express Inc, Smith said. The truck had Illinois plates, but Smokes has a Florida driver's license.
Teton County Dispatch received a complaint of a semi on Teton Pass at 5:37 p.m. Tuesday. Troopers said they were responding to that call when dispatch received the crash call at 6:02 p.m.
"He drove past at least three signs that say 'no trailers,'" Jackson said.
Troopers and deputies ticket truck drivers all winter for violating the trailer closure.
"He shouldn't have been up here, period," Stanyon said. "There's a reason this is closed to trailers all winter."
The wreck slowed traffic Tuesday evening on Teton Pass.
While responders were trying to make a plan to flip the wrecked truck upright and tow it away around 8:30 p.m. troopers pulled over another semi driving up the pass in violation of the winter ban. That driver was cited too.
Trooper Smith was also looking into whether Smokes was driving too fast for conditions.
Violating the winter tractor-trailer closure on Teton Pass brings a $435 fine, Smith said. The pass closes to semitractor-trailers from Nov. 15 to April 1 every year.