While elected officials mull what to do with the Jackson Hole Fire/EMS Station No. 1 project — now behind schedule and enormously over budget — work is continuing on the downtown firehouse headquarters.
"We have great momentum to get the concrete and steel completed in July," Battalion Chief Matt Redwine said. "Stick frame construction should start in August. It's been a slow winter of working through this contract amendment."
But if elected officials don't vote to hand over an extra $4.4 million the job likely won't be done anytime soon and firefighters will continue working out of the livestock pavilion-turned-temporary fire station at Teton County Fairgrounds.
"It is not ideal," Fire Chief Brady Hansen said. "We have already outgrown it. When we have volunteers on shift we don't have bedroom space. We don't have locker space. It's a challenge, but the goal for us is to put our money into this new fire station and make sure we can answer every 911 call."
The fire department went into the fire station project in 2018 thinking it could remodel the existing Station No. 1 structure at 60 E. Pearl Ave., but unexpected foundation problems turned the remodel into a rebuild, a more expensive and time-consuming undertaking.
"The walls weren't even attached. They were just sitting there," Wapiti Corporation's Zia Yasrobi said Monday in a joint information meeting. "I don't know how the building stood all these years, honest to God."
During selective demolition, workers expected to find a stable foundation to build on but, as Chief Hansen put it, they peeled back the layers of the onion and the onion was rotten.
"We took a risk to try and save every portion of the existing fire station we could to save money," Hansen said, "but there wasn't a solid building."
On Monday afternoon the Jackson Town Council and Teton County Board of County Commissioners, along with the firehouse project stakeholders, met to discuss what went wrong, how much money it will take to finish the firehouse and if there are any alternatives.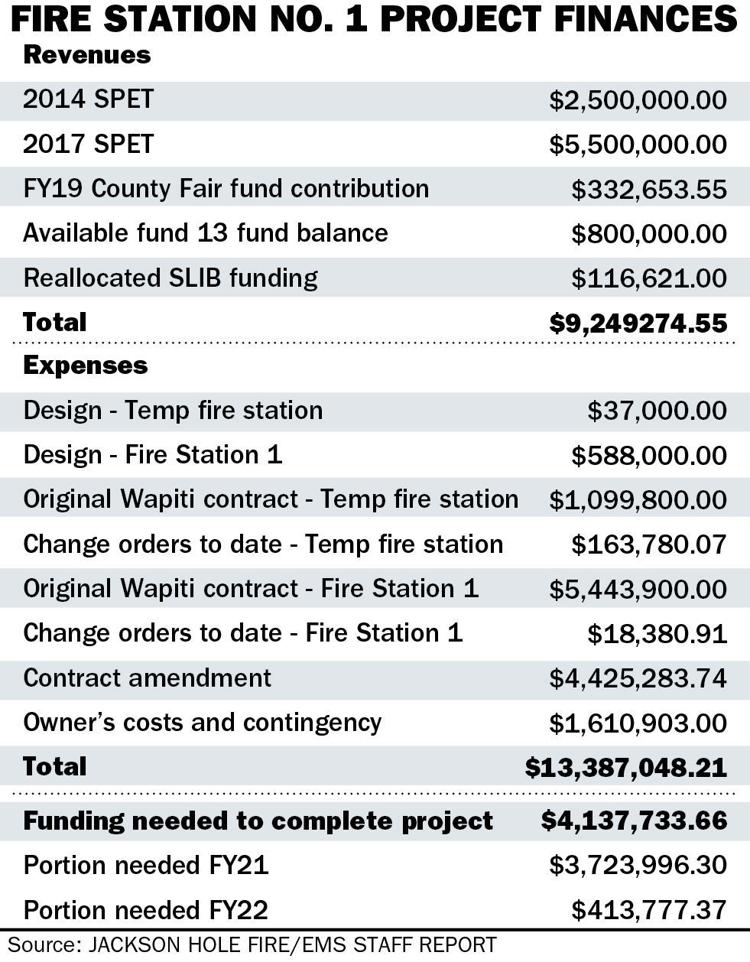 "What I would like to get a better understanding of is options moving forward," Councilor Arne Jorgensen said. "I am concerned about the timing of information. It wasn't until recently that we received the actual cost. The town of Jackson, in case you haven't heard, has very challenging and narrow financing right now."
The original remodel was approved at about $7 million, funded by combined funds in specific purpose excise tax elections. That included enclosing the fairgrounds pavilion to act as a temporary station and purchasing land south of town for a new Fire Station No. 3.
An assessment of all the stations in 2012 concluded that all needed improving, starting with No. 1. Station No. 3 is next in line, but construction for that project is not yet funded. The new price tag for the downtown project is $13.3 million (See sidebar below for cost breakdown).
Firefighters were supposed to move back in to the completed downtown firehouse next month. Now it could be as late as December 2021. And that's only if the Town Council votes to get on board with the new price tag. Or if the county decides to proceed without the town.
County commissioners voted unanimously Monday to give the go-ahead.
After probing project coordinators about a $50,000 fire pole and a pricey but required elevator, commissioners gave the green light and agreed to an after-action review to avoid similar financial surprises on future projects.
"We need to move forward with this firehouse," Commissioner Mark Newcomb said before making the motion to approve the new contract.
Town officials will wait until their July 20 meeting to discuss it.
"We need a better process," Councilor Jim Stanford said. "The town can't just keep writing blank checks."
Yasrobi warned that waiting until the end of the month is pushing the decision right up against the contract deadline.
"Stopping and starting will add six to eight months and more expense," he said. "Right now I have my steel contractor working. If I send him home I won't get him for another eight months. My framing contractor is scheduled to come after steel. If I don't keep going that is going to have a catastrophic effect on this construction."