The drunk and disruptive customers needed to leave. That's what propelled general manager Jillian Miller to head toward the far corner lanes at Hole Bowl, preparing to confront the men.
It was a busy night at the restaurant and bowling alley on Dec. 14, 2018, with large groups of people bowling at every lane.
"The crazy thing is the lanes were completely booked and no one saw or stopped it," Miller later told police.
The three men were starting to pass out on the couches at their bowling lane, Miller said. When she approached them the tallest of the three pushed her up against a table.
"He pushed his finger into my nipple as hard as he could and then cupped my breast and took his other hand and started rubbing it all over my body," Miller told police, as documented in law enforcement body camera footage obtained by the News&Guide. "I was continually pushing him away, and he kept trying to come back and do it until his brother was like, 'I don't think she actually wants you to touch her.'"
Miller asked for help from male co-workers, who asked the men to leave.
"They didn't leave, so my co-worker called police," Miller said.
Differing views of justice
In the restaurant industry, 78% of women report experiencing sexual harassment from customers, according to a national 2014 report.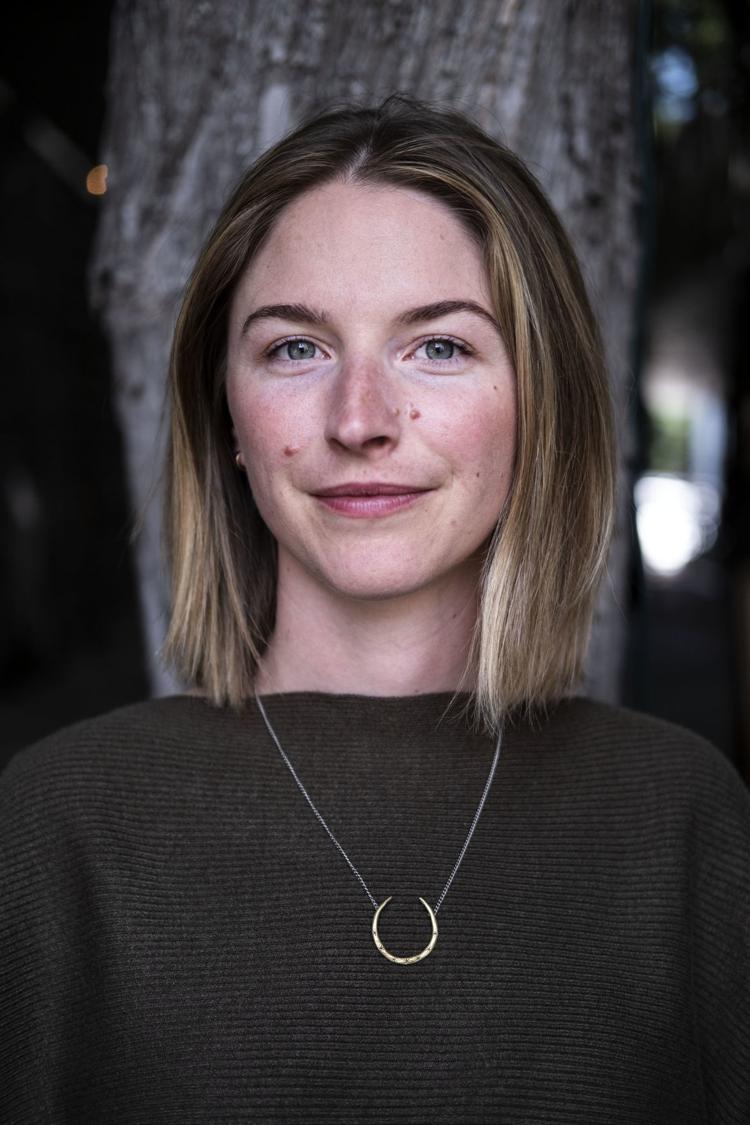 Some attorneys and police label what happened to Miller as a "high misdemeanor sexual battery." Ultimately, Jackson's justice system deemed the case a "breach of peace," a citation commonly associated with noise complaints, carrying a $500 fine and no jail time.
Her life upended by the incident, Miller, 32, felt police and prosecutors should have investigated further and pushed for a harsher charge and conviction.
"I've gone through every avenue I can to try to get it resolved in a way that felt like justice," Miller said. "There's been no resolution that has satisfied my need for closure."
Officials say the case was handled appropriately. According to prosecutors, sexual assault and sexual battery cases often pose a particular challenge.
"If I don't think we can develop proof beyond a reasonable doubt, I'm not going to pursue that case," Teton County Chief Deputy Prosecutor Clark Allan said. "It's really hard to tell a victim, 'You know, I believe you, but I can't prosecute your case.' But that happens more often than I'd like to see it happen."
At 6-foot-3, the 29-year-old customer was bigger and stronger than Miller. It was around 9 p.m. when he got physical with her.
"I was shoving him as hard as I could and I couldn't get his body to move," she said. "Being pushed up against a table, I was completely cornered. I had nowhere to go."
This wasn't the first time she'd had problems with the customer. He, his brother and their younger friend were Hole Bowl regulars."The first time I met them they were really drunk," Miller said. "They made myself and other employees uncomfortable frequently."
She had rejected his advances before, she said, and the night he groped her she had again refused to give him her number.

By the time officers arrived the men had taken off. Officers tracked them down at the nearby Pizza Hut.
The News&Guide was granted access to officers' body camera footage from their initial and follow-up interview with Miller. However, the town of Jackson rejected a request for footage of officers talking with the suspect and his two friends. The suspect and friends in the denied recordings "are not the person of interest and therefore inspection is being denied," a letter from the town said. "So, absent a court order, the custodian will not produce such information."
"One of the men inappropriately touched a female employee and then refused to leave," the police report stated.
According to the report, officers told the man not to touch people who don't want to be touched, to which the man replied, "Yeah, you're probably right." The suspect, the police report said, obviously intoxicated, claimed he "was playing a game where he would make someone look down at his finger and then move up to their nose." After his internal investigation into the incident, Jackson Police Chief Todd Smith said one of the other drunk men said the suspect "went to order something and brushed against her breast."
When police showed up to Hole Bowl they asked Miller if she wanted to press charges. She initially said no. After thinking about it for a few minutes, she answered yes. When officers cited the man for unlawful contact they also gave him a trespass notice for Hole Bowl, telling him not to return.
"Once I pressed charges and the cops had let them leave, he started calling and threatening me," Miller said.
Assistant General Manager Melanie Azizi answered the phone at Hole Bowl that night.
"He wanted to talk with her," Azizi said, "and wanted her to know that she had messed up his life."
When police returned to Hole Bowl that night after citing the suspect, Miller said she was "troubled" by some of Officer Jacob Normand's follow-up questions.
"They started asking, 'Are you sure you've never hung out with him? Are you sure you've never gone to a bar with him?'" she said. "I've never seen him outside of here.
"It was like being grilled," she said. "It felt like victim blaming to me."
Chief Smith said his officers' questions were not out of line. It's standard, he said, for police to fact-check a suspect's claims. In this case, the suspect acted as if he knew Miller, Smith said.
Miller later sat down with Chief Smith and raised concerns about the officer's line of questioning, prompting Smith to review body camera videos of the interviews and discuss the incident with involved staff.
But Smith said body camera footage of the officer's follow-up questions to Miller was not available because Normand's camera batteries died.
Smith relayed the following from his investigation into how the officer handled the incident.
Normand "went back and shared with her what [the men under question] had said to make sure none of it was true, like that they all know each other and are friendly all the time and she was up there hanging out with them," Smith said. "She said if they're saying that, that's not the case."
The week after the incident, Miller pursued a civil sexual assault protection order. The suspect's attorney, Bob Horn, argued against the classification.
"We believe it should be a stalking protection order rather than a sexual assault protection order," Horn told Teton County Circuit Court Judge James Radda. "We don't agree there was a sexual assault in this case."
But Radda sided with Miller and issued the protection order, which remains in effect for a year.
"After hearing the testimony from witnesses and parties the court finds that the respondent's conduct constitutes sexual assault," Radda said in court.
Contact vs. sexual battery
Weeks later, Miller asked for a follow-up interview with police, wanting to explain to officers her anxiety had escalated so high she couldn't get out of bed. She sought treatment for post-traumatic stress disorder through a therapist, and attributes falling and breaking her arm snowboarding two days after the incident to emotional turmoil.
"This has been a snowball effect on my health," she told officers.
She considered moving away and changed jobs a few months later.
Community Safety Network Assistant Director of Client Services Liana Moskowitz spoke broadly about the impact of sexual assault but did not specifically address this case. She said it's common for survivors to struggle with hypervigilance, post-traumatic stress and anxiety.
"It really all comes back to not having a secure sense of safety, feeling that your sense of safety is being violated," Moskowitz said. "Because it was, in a very real way."
Although officers cited the defendant for unlawful contact, then-Teton County Deputy Prosecutor Becket Hinckley thought a more serious charge, "sexual battery," was more appropriate.
"If a drunk guy does that to a manager of a prominent business," Hinckley said, "why not run that one up the flagpole?"

In the Jackson municipal code, "unlawful contact" is when someone who "in a rude, insolent or angry manner, unlawfully contacts or touches another without intentionally using sufficient physical force to cause bodily injury to another." Unlawful contact charges are handled in town court.
From Hinckley's perspective, though, the fact that Miller said the man groped her breast warranted elevating the charge to a higher misdemeanor like sexual battery because it involves contact with "the clothing covering the immediate area of the victim's or actor's intimate parts," including "the breast of a female person."
"I easily felt I could argue to a jury and let a jury decide whether they think this was for sexual arousal or abuse," Hinckley said. "It doesn't take a lot to realize if a man has touched a woman who he doesn't know and he's touched her in one of her areas of private parts, obviously that's different than me tapping you on the back or tapping you on the head."
In a separate case a few months before Miller's incident, an intoxicated man grabbed another man's penis over his clothes in the restroom of the Million Dollar Cowboy Bar. Disturbed, the victim told bar security, who notified police. Trevor Aitken, an officer at the Jackson Police Department at the time, stopped the suspect at Cache Street and Deloney Avenue based on the description provided. Even though the 49-year-old Arkansas man denied the fondling, Aitken arrested him for sexual battery.
Hinckley, and Miller, questioned why the defendant in her case wasn't arrested for sexual battery for grabbing a clothed private part in an area without video surveillance.
"Officers do the best they can with the information in front of them," Jackson police Lt. Roger Schultz said. "Sometimes they make those decisions quickly. We have a few minutes in the dark of night to make a decision."
As for why no arrest was made in Miller's case, Smith said the Cowboy Bar suspect gave police an Arkansas address, which labels him as a flight risk. The Hole Bowl suspect provided a local address, even though the address on his citation is listed as Monmouth, New Jersey.
Suspects are arrested when they present a flight risk or a threat or a danger to the public or themselves, Smith said.
The Cowboy case was later dismissed by the prosecutor's office, but court records didn't cite a reason.
Hinckley pulled Miller's unlawful contact case from municipal court up to the state-level circuit court to pursue a sexual battery conviction, an unusual step.
But Hinckley resigned as a county attorney before the case was formally filed in the higher court, leaving it in the hands of other prosecutors with different opinions about the evidence.
County prosecutors, including newly elected Teton County Prosecutor Erin Weisman and Chief Deputy Prosecutor Clark Allan, did not pursue the case.
"Without a doubt, sexual assaults are the most difficult cases we deal with. There is so much at stake and we take them so seriously," Allan said. "It's so frustrating that in some cases we don't have the evidence to prove them … Every time I've thought I had enough evidence I've done it."
Weisman added, "I think that's really important that victims hear from us, and they understand we believe them. It's not that I don't believe you, it's that I don't believe we can prove the case based on the evidence we have."
Rather than proceed with a "he said she said" case, prosecutors sent it back to municipal court.
Charging and prosecuting sexual battery or sexual assault comes with a number of challenges, police and prosecutors say.
Smith said the physical acts of "unlawful contact" and "sexual battery" "can be almost identical to one another," despite that the former may lead to a fine while the latter can mean a year in jail.
The responding officer has full discretion on what crime is charged, and prosecutors have full discretion on what crime is tried.
"Sometimes you go with the one that's easiest for you to prove," Schultz said. "If the prosecutor's office disagrees, they have the obligation to change that charge to something that is more appropriate. We make our best guess in the field."
It would be easier for an officer to prove groping was "rude and insolent" — the threshold for unlawful contact — than proving probable cause for sexual battery, Smith said.
The suspect and his friends were the only witnesses interviewed, according to police reports. Miller said she was willing to testify and other coworkers would have given statements.
Further, under Wyoming law, to win a sexual battery conviction in criminal court, prosecutors must prove "touching, with the intention of sexual arousal, gratification or abuse."
"You've got to convince the jury that that behavior was obviously for arousal," Allan said.
But in Hinckley's view, proving sexual battery wouldn't be that complicated.
"Why else does a guy grab a woman's breast?" Hinckley said.
Miller was "shocked" to learn that prosecutors need to prove the suspect got pleasure from what he did. She also felt let down by the discretion used by police and prosecutors.
"To find out that the town and county prosecute based on their discretion and in this case chose to protect the rights of the perpetrator more than protect the rights of the victim was incredibly disheartening and discouraging," she said. "It made me feel defeated."
After Hinckley departed and other prosecutors declined to pursue Miller's case in state court, it was refiled in municipal court on March 1, 2019, records show.
In addition to meeting with Chief Smith, Miller met with Town Attorney Lea Colasuonno and County Prosecutor Weisman hoping they would elevate her case.
But Colasuonno agreed to amend it to breach of peace in a plea deal, which Miller said she found out about later.
Breach of peace, per town code, is when a person uses "speech or expressions that are not merely provocative or challenging, but are either obscene or likely to produce a clear and present danger of a serious substantive evil that rises far above public inconvenience or annoyance," or for someone who "disturbs the peace of a community or its inhabitants by unreasonably loud noise or music, or by using threatening, abusive or violent actions with knowledge or probable cause to believe he will disturb the peace." Breach of peace citations are more often issued for unreasonably loud noise or music.
Every conviction in town court carries the same $750 maximum fine, with no jail time on the table, both Colasuonno and Smith said.
"It doesn't matter if you plead guilty to unlawful touching in municipal court, or breach of peace or public intox, $750 is the most you can charge that person with," Smith said. "They all have the same equivalency in the eyes of the law."
For Miller, however, there's a meaningful difference between "unlawful contact" and "breach of peace."
"It's not even close to the same thing," she said.
Unlawful contact "impacts other people's lives," she said, "and the severity of his actions are so much stronger. They've impacted me so much more than if he had been my neighbor playing loud music out of his house."
Miller received restitution in the form of paid therapy sessions, up to $8,000, she said. But she was not invited to court to make a victim impact statement, which can often be cathartic for victims of abuse, according to sexual violence prevention experts.
No victim impact statement was taken, Colasuonno said, because there wasn't a formal sentencing. The man paid the fine, a conviction was entered and the case closed.
The last three adult sexual battery convictions in Teton County were cases that started as felony sexual assault charges and were pleaded down to misdemeanor sexual battery, according to records provided by the Teton County Prosecuting Attorney's Office.
Data the News&Guide requested to analyze trends of sexual battery convictions over the last decade was denied.
"The accumulation of data and creation of these reports would be burdensome and would cause 'unnecessary interference with the regular discharge' of the duties of my office," Weisman wrote in an email.
Kristen Schwartz, supervising attorney at the Wyoming Coalition Against Domestic Violence and Sexual Assault, said it's important to prosecute sexual batteries and unlawful touching incidents to curb perpetrators from harming more victims in the future.
"What we know is, most men don't rape," Schwartz said. "We know that most men aren't offenders. We also know that of the men who sexually assault, they are multiple offenders. They are able to do it multiple times because there are no consequences. Then it gets progressively worse in the conduct they're allowed."
Schwartz supports national-level campaigns that urge communities to believe survivors who come forward. But believing isn't enough.
"Just because the prosecutors believe that it happened, evidence that the police could have collected right at the time has passed," Schwartz said. "If they had the ability to talk to patrons there or to identify different people the longer you wait to do that type of investigation, the evidence goes away. People start forgetting. We can't track down the people who were at the bar."
Experts say the answer to finding justice for victims is more advocates and more training. Police and prosecutors can improve practices of communicating with victims by educating themselves on how to interact with victims of trauma, the Community Safety Network's Moskowitz said.
Wyoming peace officers receive 605 hours of general training during the 14-week Wyoming Law Enforcement Academy, Director Chuck Bayne said. Two hours of the program is dedicated to sexual assault training. That training includes how to identify applicable statutes, knowing improper and proper settings in which to interview victims, how to identify a crime scene that needs to be investigated, collecting evidence, determining if there's a connection between the suspect and victim and identifying reasons sexual assault cases are hard to prosecute.
It's common for victims to feel let down by the justice system, experts say.
"In our community these are things that are just let go of because there's a chance we can lose the case," Schwartz said. "I'm not saying there's not a chance you can lose the case, but sometimes you have to take a chance on these things in order to send the message that we're committed to prosecuting sexual assault."
Healing outside the system
Advocates help victims heal in other ways outside the legal system, like believing victims and helping them reestablish a sense of security, Moskowitz said.
"It's really just about feeling like they might have ownership over their own story even if those other pieces aren't able to come to fruition," Moskowitz said.
"Sometimes, these outcomes that are in other people's jurisdiction, in other people's hands, might not be the path that will be most satisfying," Moskowitz said. "It really is, unfortunately, kind of a challenge to rely on that legal piece for the ultimate satisfactory ending."
Miller said she approached the News&Guide for a sense of closure.
"I felt like this was the only opportunity I would have to have any justice for what happened because they disregarded everything," Miller said.
Although she couldn't financially pursue a civil suit and she couldn't find a satisfactory resolution within the criminal justice system, Miller has made progress with healing.
"You get to the point where — I have to move on," Miller said. "I can't get broken up over it all the time. I just need to get past it. The law doesn't work. When it's not there for you, you have to find another way to move through it."