Bushwhacking through overgrown bushes and around wetlands during a recent stroll through Karns Meadow, Jackson Chief of Police Todd Smith lifted up a tarp at a homeless camp.
"You've got propane bottles, groceries, jugs of urine," Smith said. "It's the litter that's really a bummer."
For years vagabonds have quietly lived in the 40-acre natural habitat in the middle of Jackson with mule deer, trumpeter swans and other wildlife.
It isn't so much the illegal camping that the town's top cop is worried about. It's what the campers are leaving behind.
"There are a couple sites that are deplorable," Smith said. "Trash, human waste, food and so on."
To get a handle on the litter, Smith has assigned officers to start doing more patrols through the park on foot and on horseback.
"I'm not asking them to enforce illegal camping," Smith said. "But littering is unacceptable. You can camp there and not make a mess of it."
At any given time between May and September, Smith estimates 20 to 30 people live in Karns Meadow.
But recently, a nonprofit wanted to host a summer kids camp there and were shocked at how many homeless camps there were.
"We are holding off on displacing anyone from there for now," Smith said. "The worst thing we can do is displace them and have them go somewhere else that's a hazard to them or others."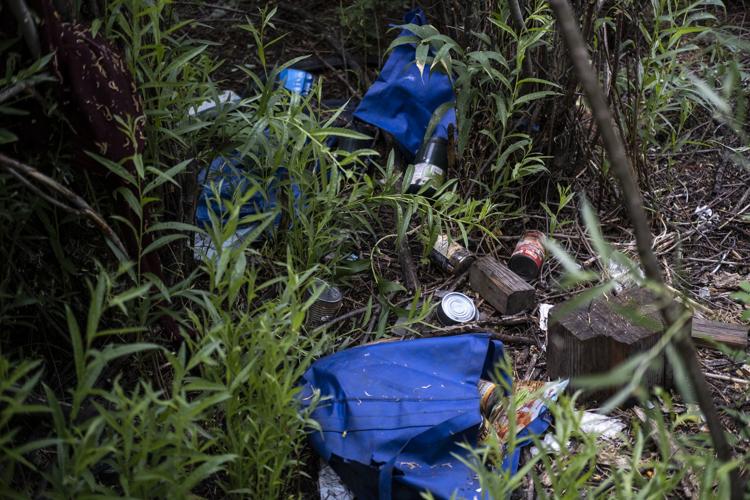 Drug use and mental illness are also growing concerns for the meadow's human population, Smith said.
"When we talk about people who are homeless, there are different demographics," Smith said. "Here in Jackson we start thinking about our seasonal workers. But those are people who are victims of a housing shortage. These are people who are living in the bushes because that's their livelihood."
Most of the transients move on come fall and winter, as cold temperatures set in, but remnants of camps remain.
"This was not the intent for Karns Meadow," president of the Jackson Hole Land Trust Laurie Andrews said. "It is something we need to look at holistically as a community."
The town of Jackson owns Karns Meadow but the Jackson Hole Land Trust holds the property's easement.
"We are empathetic that they need a place to live, but it is starting to have a negative impact on the natural resources," Andrews said.
Different uses have been proposed for Karns Meadow in past years and the Land Trust is funding an environmental study that will gauge the effect of proposed development on the property's wildlife habitat.
While some residents are vocal about not wanting any development in Karns Meadow, Andrews said the community seems mostly oblivious to the homeless population that calls the habitat home every summer.
Parents will take their kids fishing in Flat Creek, Andrews said, and be startled when they come across a homeless person or their camps.
"We have an issue that we need to take a look at," Andrews said. "It is deterring people from being there and enjoying it and feeling safe. I think we need to be thoughtful about what the intent was for Karns Meadow."
In the last 20 years police have responded to about 1,000 incidents in Karns Meadow.
"We do get calls there, and it's everything from campfires to illegal camping to drug use, domestic calls and assaults," Smith said. "But that's over a long period of time. The most common calls are for camping and welfare checks."
Although there is an ordinance that makes camping in the town of Jackson illegal, officers try to weigh enforcement with human rights.
The Jackson Police Department is keeping an eye on a pending Supreme Court case in which the city of Boise, Idaho, is challenging a 2018 decision made in the 9th U.S. Circuit Court of Appeals that barred the criminalization of homelessness.
"We want to be careful with how we enforce our overnight camping ordinance," Jackson police Lt. Roger Schultz said. "We can't criminalize them for who they are. It's a balancing act between safety and an individual's freedoms."
While Wyoming is in the 10th U.S. Circuit, the rulings often spread across the nation as similar cases arise in different cities.
Because the U.S. Supreme Court will likely rule on the issue this fall, Chief Smith said he'd like to wait for that guidance.
"Unless there is some pressing issue to utilize the property, we have time on our side to be thoughtful with how we proceed," Smith said.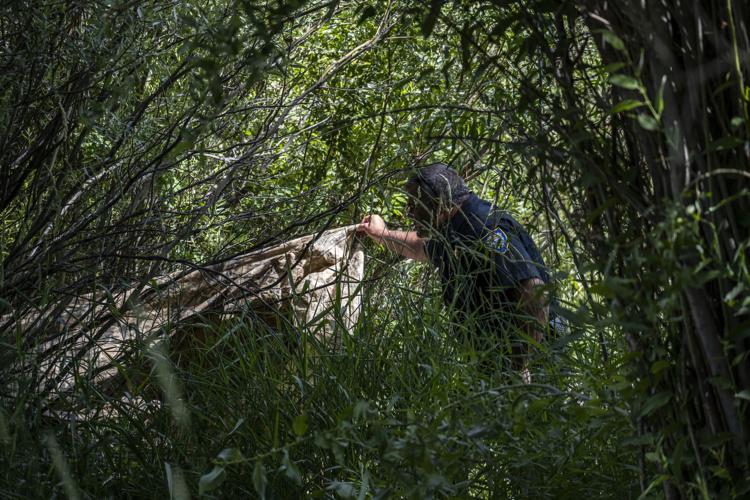 The 2019 ruling in the 9th Circuit said cities can't prosecute people for sleeping in public if they have no place else to go.
The Good Samaritan Mission, Jackson's only homeless shelter, has the capacity to house about 30 men and five women.
"There is no offseason anymore," said the mission's men's program director, Brad Christensen.
But the number ebbs and flows.
"I have no idea why but we do have some beds open now," he said.
The mission works closely with the police department to house individuals, but not everyone can or wants to follow the facility's no-alcohol policy.
Officers find that many prefer sleeping in Karns Meadow and using the mission for other needs, which is fairly easy since they're within walking distance of each other.
"Karns Meadow is an attractive area because it's close to downtown and it doesn't require someone to own a car and it's out of sight," Smith said. "And it isn't far from other resources like the mission to get meals and showers."
Smith said the police department isn't going to kick out the homeless from Karns Meadow unless elected officials order them to.
In the meantime, Smith said there's plenty of land for everyone to share.
"That's a big piece of property," Smith said. "Someone could go to the west end and never experience a problem or be uncomfortable."
— Tom Hallberg contributed