"No part of the knees go on the body," Corporal Gary Fairhurst said. "No part."
Fairhurst, a decades-long employee of the Teton County Sheriff's Office, was teaching a new maneuver at a Monday night training to teach deputies how to get uncooperative suspects under control without injuring them.
It involves what he calls a "chicken wrist" and moving suspects to the ground, handcuffing them and getting them off their stomachs as quickly as possible.
It is a gentler way of restraining someone, keeps deputies from trying to pin suspects down using their knees and gets suspects off their stomachs, where it's difficult for them to breathe.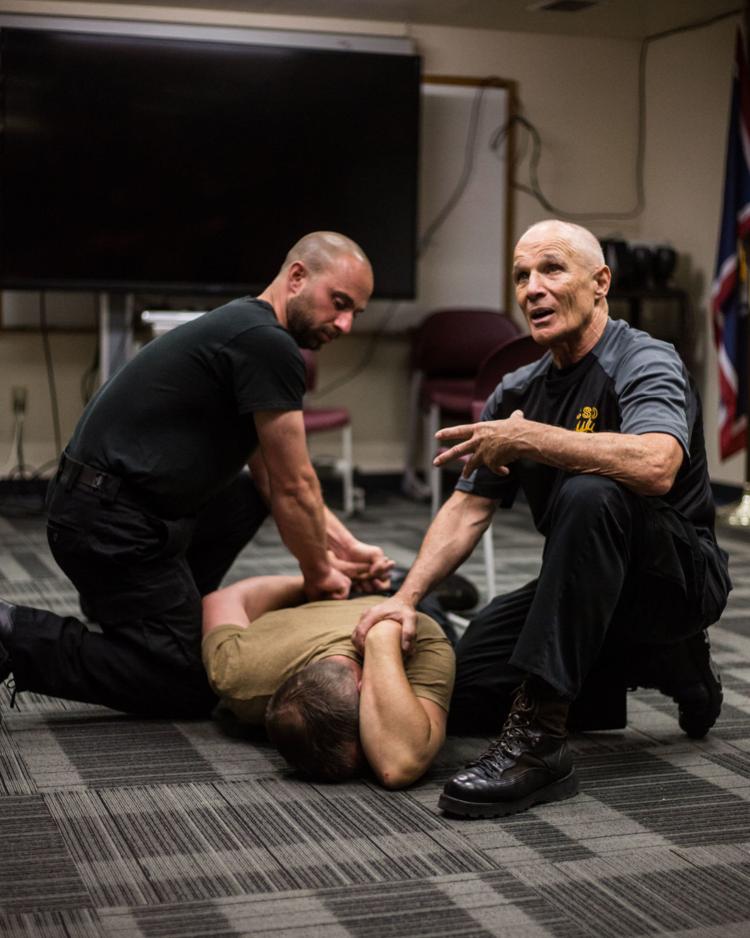 "It's about getting them under control without hurting them," Fairhurst said.
The policy, specific to the Teton County Sheriff's Office, is brand new.
"I firmly believe the most critical tool our deputies have is their mouths," Sheriff Matt Carr said. "But in the rare instance we can't deescalate we want to make sure we are going at it in the safest manner for the officer and the suspect."
Carr said his office has been waiting for this type of policy change at the Wyoming Law Enforcement Academy.
"Perhaps we will see a change at the academy but we aren't going to wait for it," Carr said. "We have found a safer way to do it and are employing it immediately."
Fairhurst, along with other state- certified training instructors at the sheriff's office, make up the agency's custody and control team, a group that revises policies on defense and arrest tactics used in the field.
Last week that team revised its ground stabilization policy, which now forbids deputies from using their knees to get control of an unruly suspect. Now they're holding weekly trainings to teach safer methods.
"We have never taught people to put knees on the neck but knees on the back is a tactic that is taught at law enforcement academies," Sgt. Trevor Aitken said.
Aitken, who oversees the department's training, said the custody and control team has been revising its defensive tactics since last summer, but after watching the video of George Floyd's arrest and death — footage that set off a groundswell of marches and protests of police violence — the deputies took a hard look at the department's ground stabilization technique.
"Any time there is a major issue like that we ask ourselves if there is anything we are doing that looks like that," Aitken said.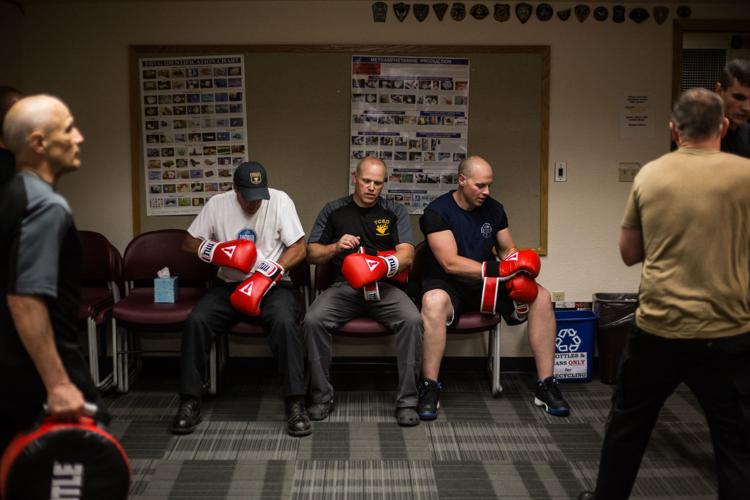 Aitken said he's never seen an officer put a knee on the neck of a suspect and it's not something local law enforcement has ever practiced.
"When it comes to what happened to George Floyd I can't understand how it happened," Aitken said. "I just can't understand how somebody would do that. He was not resisting. He was lying there on the ground."
But to be safe the team has forbidden the use of knees on any part of the suspect.
Fairhurst, who has almost 30 years of martial arts and defensive tactics training, invented a new move that allows deputies to control a suspect using the suspect's wrist — to avoid a longtime maneuver that stretches the suspect's arm backwards.
"With that technique you're more likely to tear someone's shoulder," he said.
Fairhurst has had surgery on both his shoulders from training using that position, he said, so he used what he learned post-surgeries and came up with the "chicken wrist" that doesn't pull the arm in an unnatural way.
During a car extraction, for example, the wrist move helps deputies get a suspect out of a car and on the ground in a more natural way.
"You can put a knee right next to him here to secure him," Fairhurst told Deputy Landen Smith, who was practicing the technique on Deputy Jesse Nelson at the training. "So now he can't go anywhere, but you don't have any knees on his body."
In the training Monday night Fairhurst and the other instructors also went over refreshers like the best way to avoid a punch to the face or a knife attack.
They use a version of a martial arts practice known as Hubud, which looks like two adults playing a fast game of patty cake.
They also practiced open palm striking.
"No knuckles," Aitken told the class. "We want to do an open palm strike. It is safer for them and safer for us."
Aitken said this type of defensive training is often overlooked and underpracticed in law enforcement. But it's important because they're "perishable skills" and deputies will lose them if they don't become muscle memory.
Because force isn't often used by the Teton County Sheriff's Office, keeping up muscle memory in training is key.
"It's to help these moves become second nature," Aitken said.
The Wyoming Law Enforcement Academy in Douglas, Wyoming has revised training over the years, according to director Chuck Bayne.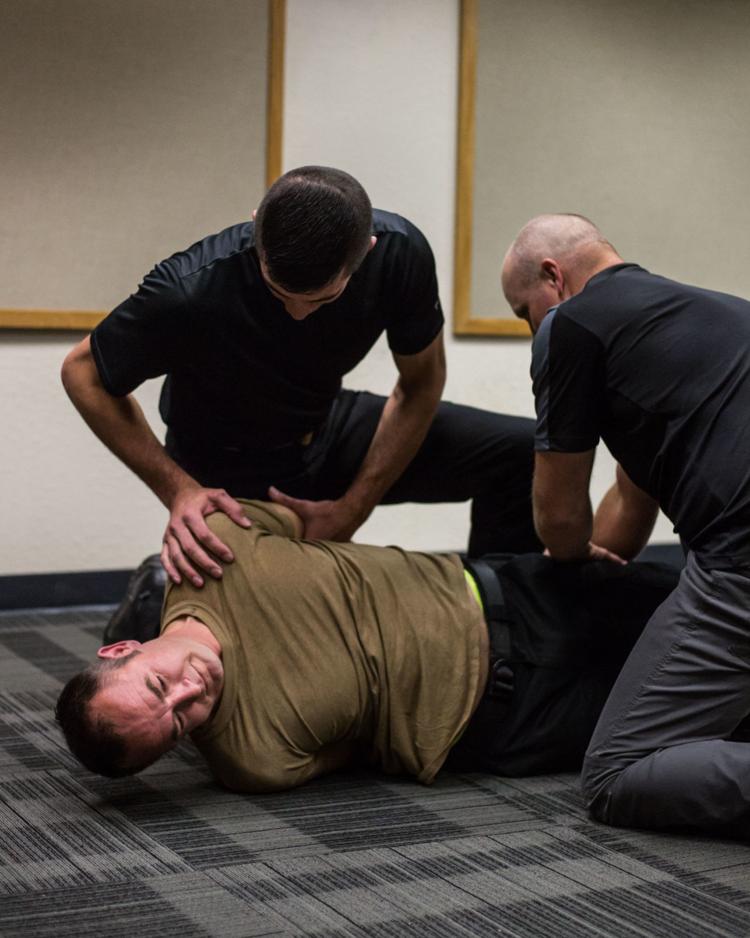 "We reviewed some of the things we were doing and teaching a year and a half ago," he said. "One of the most significant things that came out of that is what we are teaching students about pressure. How much pressure is necessary and when controlling someone only using necessary pressure. How much is enough?"
He said a big part of deescalation is talking. They teach Verbal Judo, which is a technique used to teach officers how to interact with empathy and respect and resolve conflicts without the use of force.
Training new officers on identifying any biases and not projecting emotions onto a suspect is also part of the state academy's curriculum.
"We want to teach them to do the right thing," Bayne said. "We have been doing levels of human diversity and tactical communications that incorporate the core elements of implicit bias training."
With all eyes on law enforcement and defunding campaigns active in the wake of several police killings of people of color in the country, activists are demanding change.
Carr said he wants his office to be on the right side of that movement — enacting change where it's needed rather than digging their heels in and defending old tactics in the face of criticism.
"We want to meet the needs of the community," Carr said. "It's few and far between that we have to use these techniques but we still need to practice."
In the wake of nationwide calls for police reform, the Teton County Sheriff's Office revised its custody and control techniques, which include…