At 4:18 p.m. Sunday, the father of Gabrielle "Gabby" Petito shared a photo of his daughter posing in front of an angel mural, the 22-year-old smiling and seemingly sprouting life-size, rainbow-colored wings.
"She touched the world," Joseph Petito wrote in the post on the family's Facebook page, Find Gabby.
Just minutes before, FBI agents stood at a podium in Grand Teton National Park's visitor center in Moose to report that human remains had been found. They were consistent with the description of Petito — a 5-foot-5-inch, blond-haired, blue-eyed adventure blogger who hadn't been seen or heard from since late August.
The cause of death has not yet been determined, said FBI Supervisory Special Agent Charles Jones.
"Full forensic identification has not been completed to confirm 100% that we found Gabby, but her family has been notified," Jones said. "This is an incredibly difficult time for [Petito's] family and friends."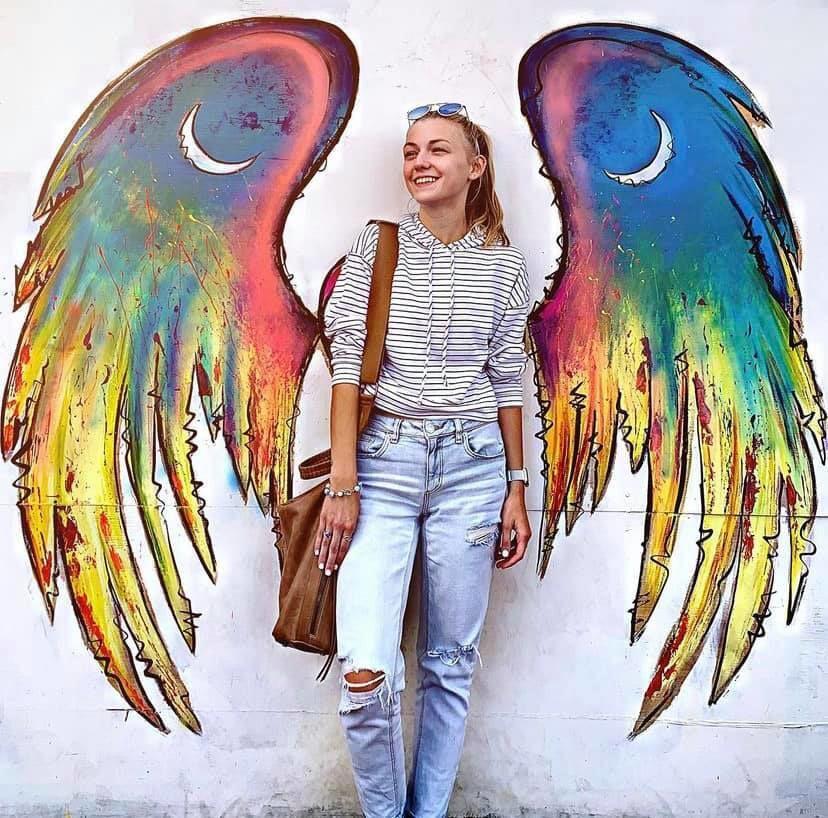 An attorney who has been acting as a spokesman for Petito's family asked in a statement that the family be given room to grieve.
Attorney Richard Benson Stafford indicated that the family would make a public statement at a later date and thanked officials with the FBI, Grand Teton National Park, Teton County Search and Rescue and other agencies involved in the search for Petito.
"The family and I will be forever grateful," Stafford said in a statement.
The FBI said the body was found by law enforcement agents who had spent the past two days intensively searching the Spread Creek Dispersed Camping Area in the Bridger-Teton National Forest, just east of Teton Park off of U.S. Highway 89/191.
The FBI — along with its Wyoming resident agencies, National Park Service, U.S. Forest Service, Teton County Sheriff's Office and Jackson Police Department — had closed the Spread Creek camping zone to the public Saturday night.
The area is a popular undeveloped boondocking site, where a hunter and at least two sets of travelers in the area had reported sightings between Aug. 27 and Aug. 29 of Petito's small, white 2012 Ford Transit van with Florida plates.
Petito and her fiance Brian Laundrie, 23, had been driving the converted van on a cross-country road trip, visiting national parks in the West since July 22. Police said Laundrie was alone when he drove the van back to his parents' home in North Port, Florida, arriving Sept. 1.
Petito's family had last spoken with her in a FaceTime call with her mother on Aug. 25, when she said she was in Teton Park and planning to head to Yellowstone National Park.
As authorities announced the grim news on a frigid fall Sunday, storms rolled across the Teton mountains to the west. To the east, at 5:15 p.m., a brief break in the clouds opened up to a rainbow above the forest along Spread Creek. Moments later, a coroner's vehicle drove down the Spread Creek Road, presumably carrying the remains away from the scene.
The Spread Creek area will remain closed until further notice while the investigation continues, Jones said. The FBI is asking the public for information about any additional sightings of Petito or Laundrie in the dispersed camping area between Aug. 27 and Aug. 30.
Laundrie has been named as a person of interest in the case. Laundrie's family in Florida said they last saw him Tuesday, and a search for him is underway there in the more than 24,000-acre Carlton Reserve in Sarasota County, Florida.
In Wyoming, outside the FBI press conference, a park visitor reacted to the news, saying she would be "devastated" if that were her daughter.
Her brother, Bill Buchanan, felt similarly.
"You would want justice," he said. "You would want to find the fiance."
Anyone with information is asked to contact the FBI through these tiplines: tips.fbi.gov, 1-800-CALL-FBI, or 303-629-7171. Photos and videos may be uploaded via the FBI's digital media tipline dedicated to this case: fbi.gov/petito.
Petito's family filed a missing persons report Sept. 11 with police in Suffolk County, New York.
Petito's family had been pleading for the Laundrie family to tell them where their son last saw her. Petito and Laundrie were childhood sweethearts who met while growing up on Long Island, New York. His parents later moved to North Port, about 35 miles south of Sarasota.
The couple's trek in the Ford Transit van began in July from Long Island. They intended to reach Oregon by the end of October, according to their social media accounts. But Petito vanished after her last known contact with family in late August from Teton Park, authorities said.
Bodycam video released by the Moab Police Department in Utah showed that an officer pulled the van over on Aug. 12 after it was seen speeding and hitting a curb near the entrance to Arches National Park. The body cam video showed an emotional Petito, who sat inside a police cruiser while officers also questioned Laundrie.
Ultimately Moab police decided not file any charges and instead separated the couple for the night, with Laundrie checking into a motel and Petito remaining with the converted sleeper van.
— Billy Arnold and Analeise Mayor contributed to this report.