As search efforts continue for 22-year-old Gabrielle "Gabby" Petito, fresh reports of her time in the Jackson Hole region are flying across social media.
Petito was traveling cross-country in a van with her fiancé, Brian Laundrie, 23, when the two apparently separated. Laundrie returned home to Florida on Sept. 1, while Petito's whereabouts remain unknown. Her parents reported their daughter missing on Sept. 11, and authorities named Laundrie a "person of interest" earlier this week.
Wendy Woolstenhulme wrote on Facebook that the couple came to her Victor Rustic Row shop on either Aug. 25 or 26.
"They said they had just been to Teton Park and were talking about going to Yellowstone. We talked about the West Entrance. I told them they would need to go through Tetonia and Ashton," the Idaho shop owner wrote.
Woolstenhulme also noted that the couple seemed "good" and chatted about their engagement.
Sheriff Clint Lemieux, with the Teton County Sheriff's Office in Idaho, said Friday that his deputies hadn't been able to confirm any tips from Victor, including those by Wendy Woolstenhulme. All information, he said, is currently being forwarded to the Federal Bureau of Investigation Denver branch.
Deputies in Teton County, Wyoming, as well as Jackson Police and Grand Teton National Park Service members are aiding in the search, but officials from those departments are no longer speaking with the press.
Teton County Sheriff Matt Carr and Sgt. Clay Platt both confirmed that all media requests will be referred to the Denver FBI.
Other outlets have reported a tip from Shannon Baker, who said she and her husband saw Petito's van near Jenny Lake on Aug. 25. Law enforcement officers have not confirmed the sighting and declined to say whether search efforts have become more localized.
On Friday, Miranda Baker (no known relation) published a series of videos on TikTok and Facebook outlining an Aug. 29 incident where she said she helped Laundrie hitchhike across part of Teton Park.
Miranda said she recalled picking up Petito's fiancé and road trip partner near Colter Bay Village at 5:30 p.m. on Aug. 29. After some confusion during the ride, she said she dropped off Laundrie on the side of the road near Jackson Lake Dam at 6:09 p.m. If true, that account would become the last known sighting of Laundrie before he arrived in North Port, Florida, on Sept. 1 with the couple's van — having completed a 35-hour, 2,383.8-mile drive.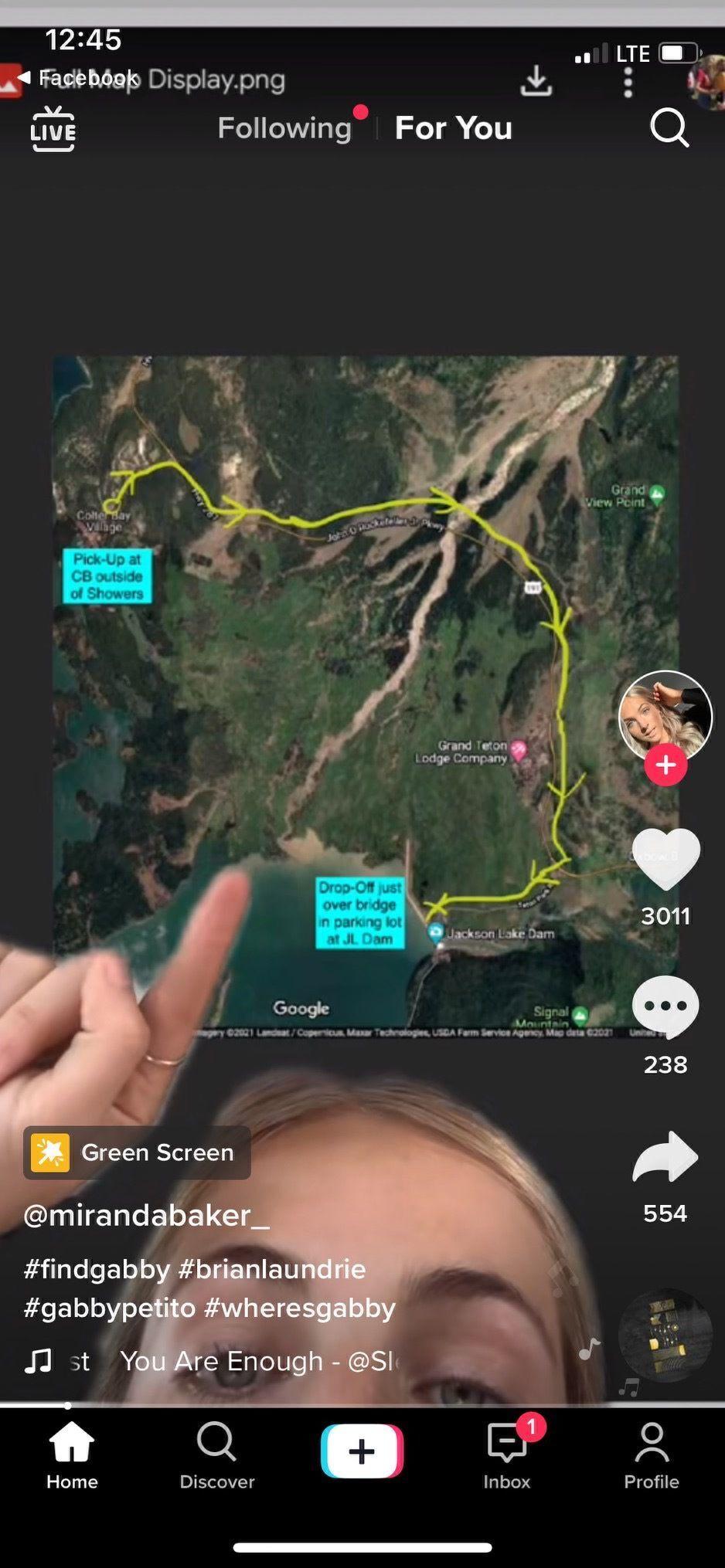 On what appears to be her public account from the Dyrt, a camping review app, Petito pinned potential sites from "Craters to Teton," including Honey's Park Camping, the Palisades Reservoir, and dispersed camping along Fall Creek in Idaho. The Dyrt profile shows Gabby & Brian V. last updated that list on July 25, 2021.
Several sites were pinned in and around Teton Park, including Targhee Creek Trailhead, Upper Teton View and Spread Creek Dispersed Campground, the latter two off of U.S. Highway 89 as it runs through Grand Teton National Park.
It appears the couple also considered Curtis Canyon closer to town, the Fall Creek Road south of Jackson, and locations north toward Yellowstone off of the John D. Rockefeller Memorial Parkway, on the northern edge of the Tetons, roughly two miles southeast of Grassy Lake Reservoir. Another walk-in site near Ribbon Lake in Yellowstone National Park dubbed "4R1" was pinned.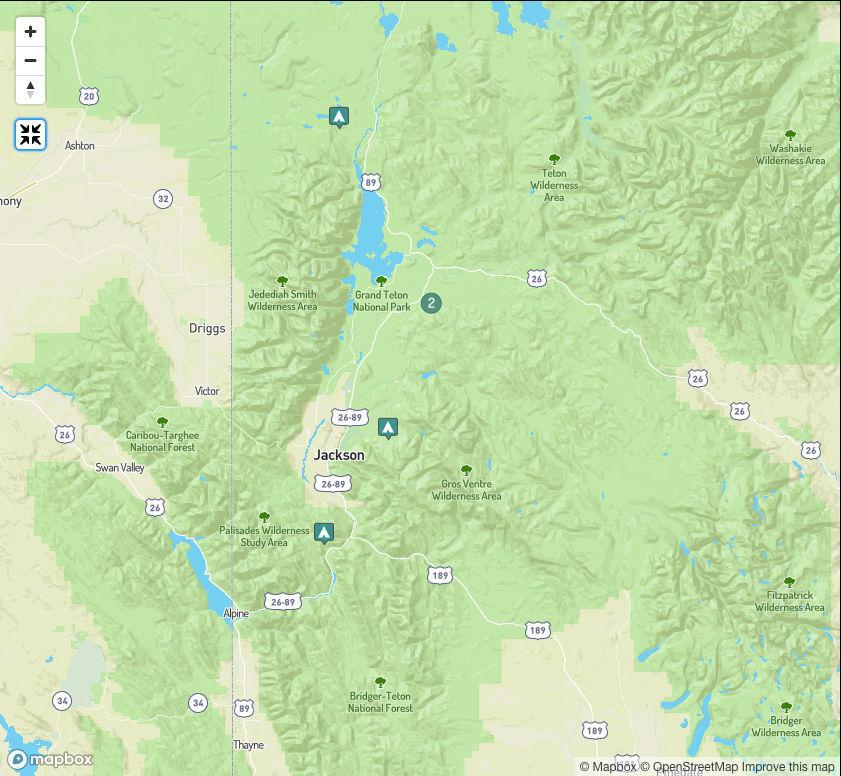 If you have any information that may help law enforcement find Gabby Petito, investigators are asking the public to go online to tips.fbi.gov or call 1-800-CALL-FBI.