The remains of Lance Cpl. Rylee McCollum, the local U.S. Marine who was killed in Afghanistan on Aug. 26, are scheduled to return to Jackson today around 4 p.m.
McCollum's family is inviting the public to meet at the Town Square at 3:30 p.m. to honor him. The family, motorcyclists and law enforcement officers will lead a procession that will go south from Airport Road on Highway 89, along Cache Street to Broadway Avenue, and west on Broadway to Scott Lane.
Family members are asking for people to avoid the airport and Valley Mortuary funeral home on Alpine Lane during the procession to allow the family privacy. The News&Guide will stream the arrival on the newspaper's Facebook page.
Bob Tomb will be on Town Square passing out American flags, according to a Facebook post announcing McCollum's homecoming.
Per that post, motorcyclists are invited to ride behind emergency vehicles beginning south of Airport Road along Highway 89 to Scott and Broadway, remaining on Broadway.
Well-wishers are invited to stand along Cache Street starting at Gill Avenue and then along Broadway Avenue until Scott Lane.
The Associated Press reported Wednesday that McCollum, 20, and the 12 other U.S. service members killed in Afghanistan last month have each been awarded a Purple Heart, an honor given to troops who have been wounded or killed as a result of enemy action while serving in the U.S. military.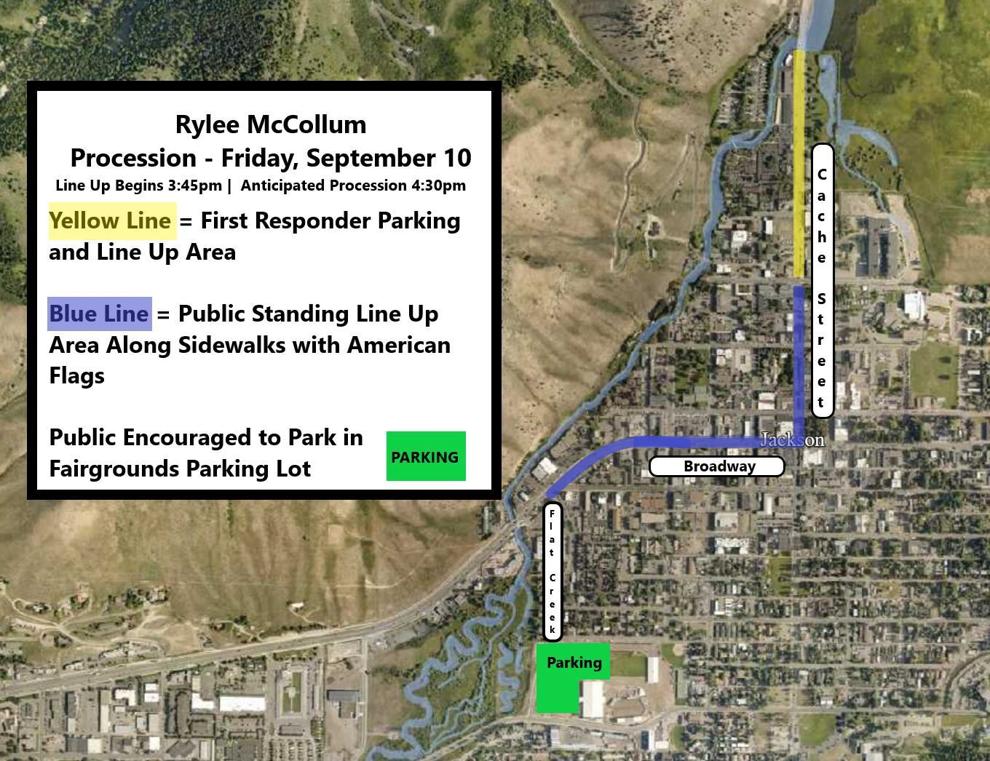 McCollum, who graduated from Summit Innovations School after attending Jackson Hole High School, died after a suicide bomb exploded as Western forces were evacuating thousands of people out of Kabul on dozens of military cargo aircraft flights. In addition to being a U.S. Marine, he was a brother, son, friend, husband and soon-to-be father to a baby due within the month.
McCollum was supposed to come home at the end of September, according to his sister, Roice McCollum, who added that her brother signed up to join the military the day he turned 18.
"He wanted to be a Marine his whole life and carried around his rifle in his diapers and cowboy boots," she wrote to the Jackson Hole Daily after his death. "He was determined to be in the infantry, and this was his first deployment."
When McCollum finished serving his country, he planned to work as a history teacher and coach, his sister said.
"He wanted to be a wrestling coach and help change other kids' lives like it changed his life," she said.
She invited people to show their love for him today as the motorcade passes through town.
"I know it would mean a lot to him to know how many people really cared about him," she said.