Driving down Snow King Avenue on Election Day 2020, Mark Varley decided to cast a vote for the first time.
What he claims he was unaware of at the time was that his vote was against the law.
The 61-year-old walked into a Jackson polling place, picked up a same-day registration form, skipped the question asking whether he was convicted of a felony and signed the form after reading the oath that said, in part, "I have not been convicted of a felony, or if I have been convicted of a felony, I have had my civil or voting rights restored by a competent authority."
He then received his registration with no hiccups — the Teton County Clerk's system wasn't linked with the database that would have flagged Varley as somebody who couldn't vote — and he went on his way to the voting booth.
At the booth, Varley voted for Donald Trump, received an "I Voted" sticker and then went home. He felt like an American as he filled out his first ballot and turned it in, he said, proud of the sticker he had received on the way out.
When he got to his second-floor East Jackson apartment, he numbered his calendar to mark another day since he had stopped smoking cigarettes and another day since his wife died of lung cancer.
For a few months his life continued unchanged: He plugged backing tracks into his over-the-ear headphones and played Christian music through his electric drum set that faced the pinboard adorned with pictures of his wife, Myra: of the two of them camping, of her in a sundress sitting outside, of four sunbeams framing her gravesite. He spoke to his step-granddaughter, who his wife never got to meet. He took care of his COPD.
In the meantime, the Teton County Clerk's Office staff merged voting records into the voter database to flag people convicted of felonies who hadn't had their right to vote reinstated and search for other irregularities, Teton County Clerk Maureen Murphy said. One of the three voters they found was Varley.
That system flagged Varley for voting illegally because he hadn't had his voting rights restored after being convicted of two nonviolent felonies stemming from unrelated crimes: He was convicted of attempted grand larceny, a crime he was accused of in 2004, and for delivering a controlled substance, which he was accused of in 2007. The other two people the Clerk's Office flagged also voted despite not having their right to vote restored.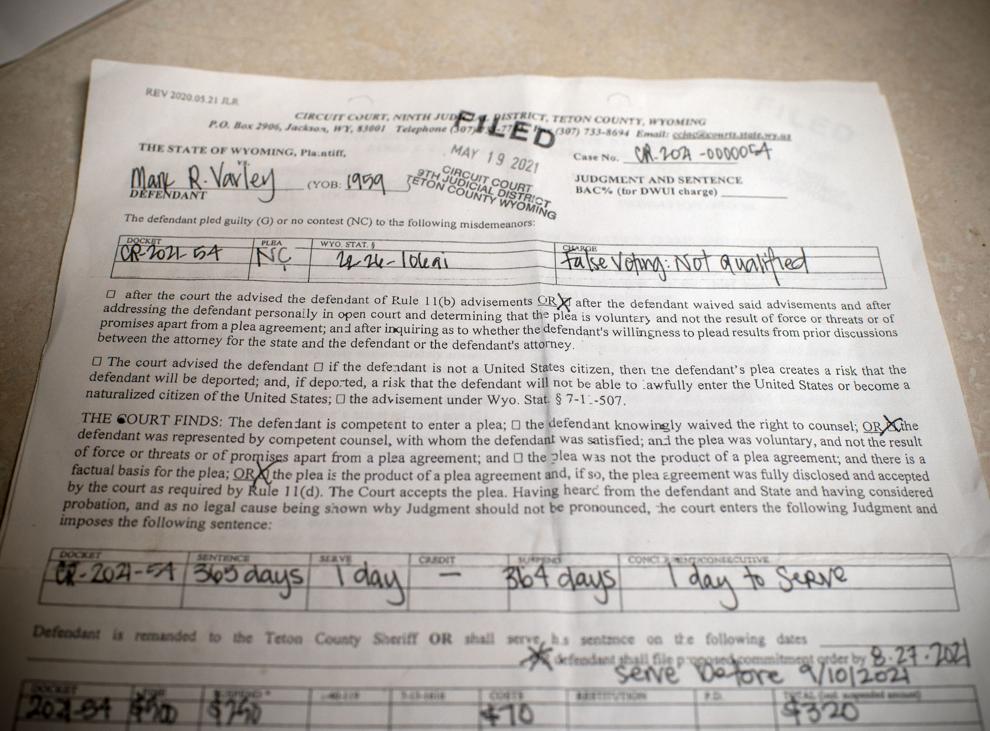 Varley's felonies put him in a category with thousands of other Wyomingites who cannot vote until they complete their sentences, send an application to the Wyoming Department of Corrections or receive a governor's pardon, per Wyoming state law. That law, voting experts state, is one of the strictest in the United States.
Under state law, people convicted within Wyoming of a nonviolent felony or two related nonviolent felonies who complete their sentence before Jan. 1, 2010 must apply to the Department of Corrections to have their voting rights reinstated. People convicted of a nonviolent felony or two related nonviolent felonies who complete their sentence after Jan. 1, 2010, have their voting rights automatically reinstated. But people must receive a governor's pardon if they are convicted of two unrelated nonviolent felonies, which is the case for Varley, or any number of violent felonies.
Christopher Uggen, a University of Minnesota sociology professor and an expert in voter disenfranchisement, said Varley and other people convicted of felonies may unintentionally break Wyoming voting laws that pertain to them because the statutes are convoluted.
"If you and I can sit and study these laws for days or years and still struggle to interpret them, it's completely understandable that individuals who might be impacted are going to have trouble understanding them as well," he said.
Varley got out of prison for his latest crime in 2011. By the time he voted in 2020, Varley said, he was mostly unaware of Wyoming's voting law.
"I didn't know that I couldn't vote," Varley said. "I thought that enough time had gone by."
What Varley was also unaware of when he voted Nov. 3 was that no amount of time would restore his right to vote. Only a governor's pardon would, and he hadn't even started that process to receive a pardon when in November 2020 he voted along with more than 159 million other Americans.
In his research Uggen estimated about 12,517 people are disenfranchised in Wyoming by such laws.
He arrived at that number by first analyzing the proportion of people imprisoned nationwide for violent felonies, nonviolent felonies and repeat felonies. Then he applied those percentages to Wyoming's prison population. Based on those numbers and Wyoming's voting laws, he estimated that around 2.9% of voting-age people in Wyoming are barred from voting based on their criminal history. The national average, Uggen said, is about 2.3%.
That percentage runs even higher for Wyoming's Latino population. Uggen estimated 1,125 Latinos in Wyoming, or about 3.78% of the Latino population, was barred from voting under the laws.
The Sentencing Project, a nonprofit organization engaged in research and advocacy for criminal justice reform, states there are nearly 6 million people who are permanently disenfranchised.
"Denying the right to vote to an entire class of citizens undermines our democracy and makes our society less inclusive," Antonio Serrano, the ACLU of Wyoming's advocacy manager, said in a statement. "That is why we're advocating that the right to vote should be preserved and should never be taken away from citizens — including those who are currently incarcerated — as punishment."
Nazgol Ghandnoosh, a senior research analyst at The Sentencing Project, echoed Serrano, and noted that Wyoming's law is particularly punitive.
"Wyoming is on the pretty extreme end of the spectrum," she said.
Ghandnoosh also pointed out that requiring a governor's pardon lowers the likelihood that a disenfranchised person will regain the right to vote.
"The more you put discretion into the hands of the executive branch, the worse the outcome is going to be for people because the governor is going to be very risk averse and not want to be associated with anything that could result in political backlash," she said.
That process is one of the reasons that advocates for expanded voting rights consider Wyoming to be one of the strictest states in the country.
In Maine, Vermont and Washington, D.C., people convicted of felonies can vote while incarcerated, the National Conference of State Legislatures states. In 21 states people convicted of felonies can immediately vote upon release. In 16 states people convicted of felonies can vote when they complete parole or probation.
Wyoming is among the 11 states with the most prohibitive voting laws for people convicted of felonies, according to the National Conference of State Legislatures. In many of those states, including Wyoming, people convicted of felonies can be permanently banned from voting.
Unless Varley receives a pardon, he will remain one of those permanently disenfranchised people, which critics say detracts from their ability to reenter society.
"Voting plays an important role in helping individuals with felony convictions return to society," said the ACLU's Serrano. "Studies have shown that when individuals with a felony conviction participate in the democratic process, they have a lower rate of subsequent arrest."
One 2011 report by the Florida Clemency Board found that the recidivism rate for all people convicted of felonies in Florida was 33% before 2007, when former Gov. Charlie Crist signed a law that automatically restored the civil rights of nonviolent offenders after they completed their sentences.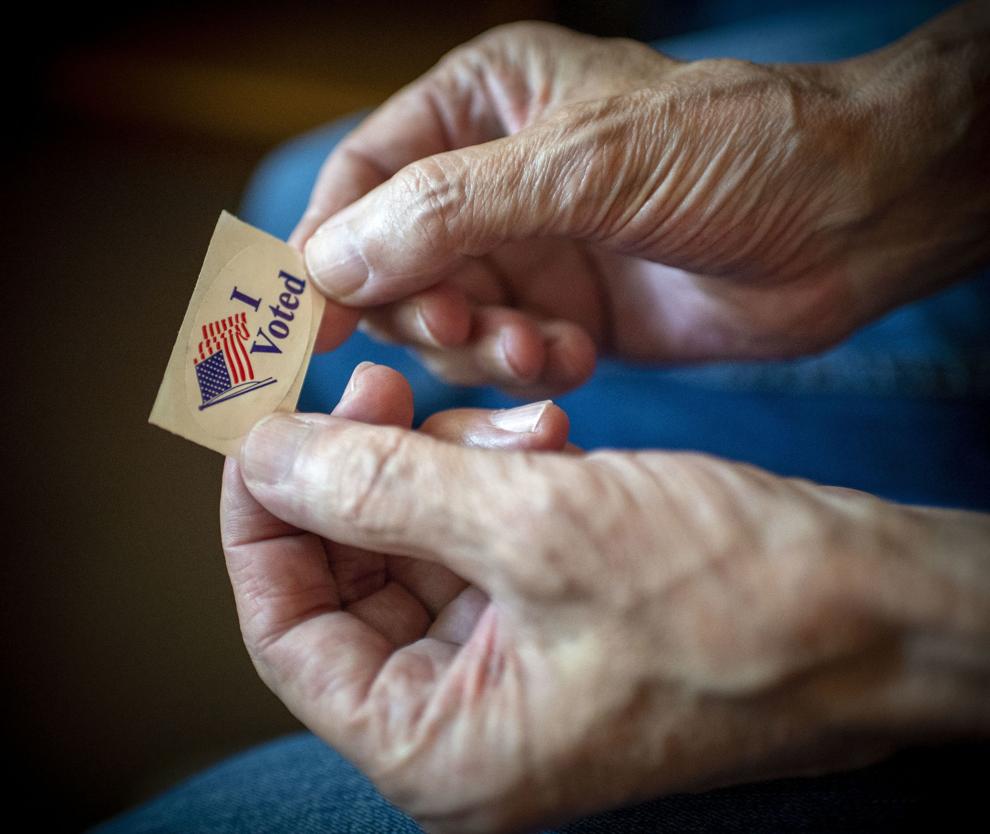 After that law was implemented, the Florida Clemency Board found, the average two-year recidivism rate for people convicted of felonies who had their rights restored was 12.4%. That law has since been repealed, but, under a more recent Florida amendment, people convicted of felonies can vote after completing all their sentence terms.
In Uggen's study "Voting and Subsequent Crime and Arrest: Evidence from a Community Sample," he also noted "consistent differences between voters and nonvoters in rates of subsequent arrest, incarceration, and self-reported criminal behavior."
While Varley hasn't reoffended, he said he remains distressed by being subject to what critics contend is one of the strictest voting laws in the country.
On Feb. 1, based on information provided by the county clerk's office, a deputy from the Teton County Sheriff's Office showed up at Varley's door and cited Varley for "false voting."
Varley was shocked: He figured he wouldn't have been able to register unless he was able to vote.
"There should be a big red flag that says, 'This guy's not eligible to vote. He's got two felonies.'"
While the county clerk's office staff was not connected to the database that would have flagged Varley when he voted, County Clerk Murphy said her office is always looking for ways to improve its system.
After Teton County Circuit Court proceedings, Varley received a 365-day sentence, but the county made him serve only one day in jail. Authorities also tacked a fine and community service onto his sentence.
Varley checked into jail Aug. 12 at 8 p.m. and left the following day. The jail was too cold, and he couldn't stomach the food, he said.
"It was a nightmare," he recalled. "They were pumping cold air in there, and I had four blankets around me. But I couldn't come out from underneath my blankets the whole time."
That daylong sentence pales in comparison to the 2 1/2-year sentence he served at the Wyoming State Penitentiary, but Varley said it was the emotional fallout of knowing he couldn't vote that affected him the most.
"I just wanted to feel like I did my vote, because I'd never done it," he said.
To this day, Varley said, that "I Voted" sticker haunts him.
"I just wanted to put the sticker on the wall and throw darts at it," Varley said. "It made me feel like I wasn't worthy to vote as an American."