With their eyes pointed toward the sky, students lined up near the Kelly Elementary school playground.
Then, as a yellow helicopter landed in a nearby field, a chorus of voices rang out as they started singing "Frosty the Snowman." When Jolly Old Saint Nick and one of his elves exited the chopper, the students broke into cheers.
"Ho ho ho!" Santa yelled as he waved to the kids and tossed some snow into the air.
Similar scenes of holiday joy played out across the valley Tuesday as Teton County Search and Rescue flew Santa Claus and his elf to area elementary schools.
"Operation Claus," as rescuers called it, was a complex mission that took a few days to plan.
"It was pretty organized despite all the moving parts," Operation Claus Incident Commander Don Watkins said. "That is where our team shines."
Watkins said the mission was a success with the help of Teton County School District No. 1, the Teton County Sheriff's Office and all the volunteers and teachers.
"It was all hands on deck," Watkins said.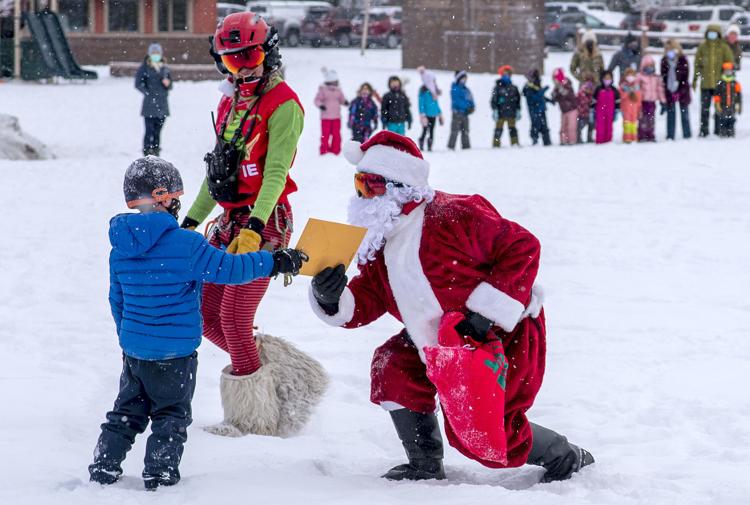 Santa made quick stops at elementary schools in Moran, Kelly, Wilson and Jackson, as well as the Teton Science Schools' Jackson campus, the Jackson Hole Classical Academy and Munger Mountain Elementary School.
The only school Santa Claus didn't make it to Tuesday was Alta Elementary. Watkins said the weather turned and prevented the flight over the Tetons. But they're going to try to team up with Claus to make it to Alta later this week.
Saint Nick's visit came as a surprise.
Teton County Search and Rescue announced Monday that Santa had reached out directly to volunteers there "to see if he could squeeze in a last-minute trip from the North Pole to Jackson Hole before he gets too busy."
The team took him up on the offer.
"It's actually fantastic training," Sheriff Matt Carr said.
As Santa and the heli team were visiting schools, volunteers at incident command were keeping an eye on the weather and other factors like they do any time they pull off a flight operation.
"Safety was of most importance with this mission," Watkins said.
By the end of it, Watkins said, the volunteers were smiling just as big as the kids.
"We are always wanting to help this community," Watkins said. "This helped bring a little cheer in a very trying year to many."
In an interview with the News&Guide, Santa said he loves visiting Jackson Hole and was honored to fly with local rescuers.
"I was really impressed by the pilot Steve Wilson and his flying skills," Santa said. "Coming from the North Pole, I know all about flying in cold weather. I commend the pilot and TCSAR's ability to navigate around the Tetons. They were almost as impressive as Rudolph and my sleigh."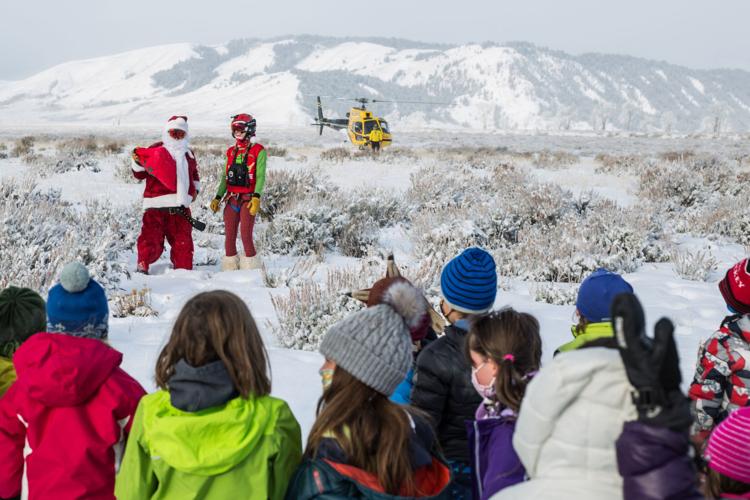 Students couldn't help but notice that Santa was wearing ski goggles during his visit.
Santa said that if time and avalanche safety permits, he might try to go skiing with some TCSAR team members while he's in Jackson.
"It'd be like going to the North Pole and not eating peppermint with Yukon Cornelius," guffawed Santa. "I know TCSAR volunteers are all about backcountry safety, and that just like the helicopter, I'd be in very good hands."
Santa collected some letters from kids throughout the day and passed out candy canes to the good boys and girls.
The visit from a celebrity was exciting for the students.
As Santa took off from Kelly Elementary one girl shouted, "Bye, Santa! See you on Christmas!"