In his 22 years Jailyn Wallace had never been very involved in community organizing, but he felt abruptly compelled to take action after seeing George Floyd's death spark outrage, protests and calls for reform around the world.
By chance, Wallace's first major foray into fighting for civil rights has come in Jackson Hole. He landed in this remote mountain town about a year ago, when he arrived with AmeriCorps to build homes for Teton Habitat for Humanity.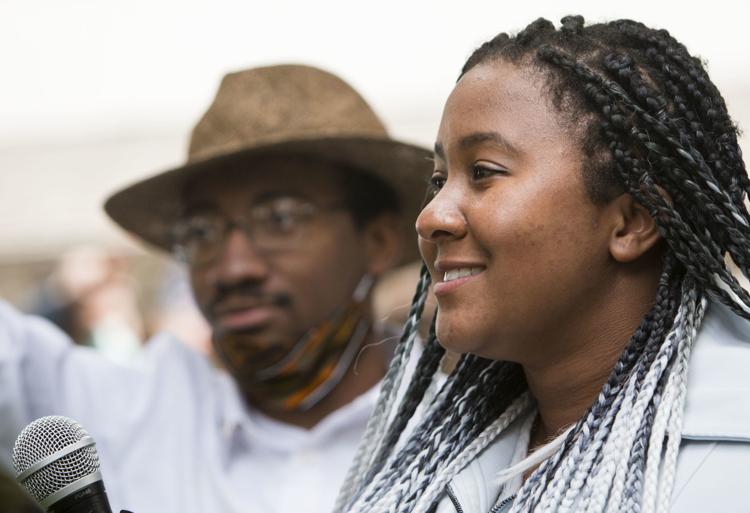 "I felt that this was my duty," Wallace said Sunday night while marching down Pearl Avenue, "not only to people I know, but to all people of color."
Wallace, who's black, was trailed by a phalanx of 400 or so mostly white Teton County residents, who marched in pursuit of a common cause: unraveling institutions and societal norms that have enabled decades of racial disenfranchisement and police brutality. The peaceful protesters were flanked by badges: an officer on a motorcycle led the way and four Citizens Mounted Unit volunteers brought up the rear.
The event Wallace organized alongside Kori Arritt was the product of a new organization called Teton People of Color and Allies. It's a loose-knit group now, but they have plans to get registered as a nonprofit and formalize their advocacy work.
Their event on Sunday mostly went off without a hitch, like most of the hundreds of other protests taking place around the world. Out on the outskirts of the gathering there was a short-lived dust-up (see Blotter, page 35).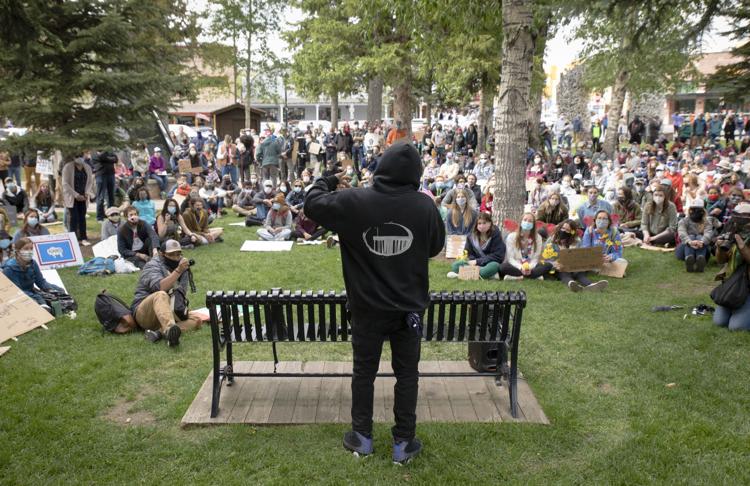 The march terminated at Town Square, where Wallace, Jackson resident Arthur Ellis, Teton County state Rep. Mike Yin, and others spoke for hours about racism and what to do about it. Mostly, their message was a call for unity. Wallace encouraged the mostly white audience to talk to black people like himself to better understand their experiences. He made the same request to people of color in attendance, whether they're Asian, Native American or black, asking them to talk to white folks.
"Open a dialogue, talk to people," Wallace told the crowd. "No one is going to know what you're going through unless you talk. We want to hear it from you."
Wallace also had advice for the "allies," aka, white people, who turned out to promote the cause.
GALLERY: Black Lives Matter protests
The death of George Floyd, the unarmed black man who died on Memorial Day while in police custody in Minneapolis, has been met with nationwide protests, similar to the movements seen after the deaths of Eric Garner or Michael Brown, other unarmed black men who died at the hands of police.
Some of the protests in major American cities have resulted in violence. Police have fired tear gas and nonlethal rounds on protestors, some of whom have thrown bottles and other objects, and burned cars and buildings.
Demonstrations in western Wyoming and eastern Idaho have so far remained largely peaceful.