When protesters walked away from Town Square on Sunday afternoon they carried not only signs. They also had a sense that the momentum in the wake of George Floyd's death at the hands of a white police officer could create lasting change.
Groups are already thinking about more demonstrations, according to organizer Tina Seay, as well as Yaya Birch, who wasn't part of the Sunday protest but is talking with people about future ones. And protesters who came to Town Square already have ideas of how to turn the anger into something constructive.
"I want to hear from local law enforcement about how they are going to take this event into their trainings and make it something they can learn from," protester Hannah Haberman said.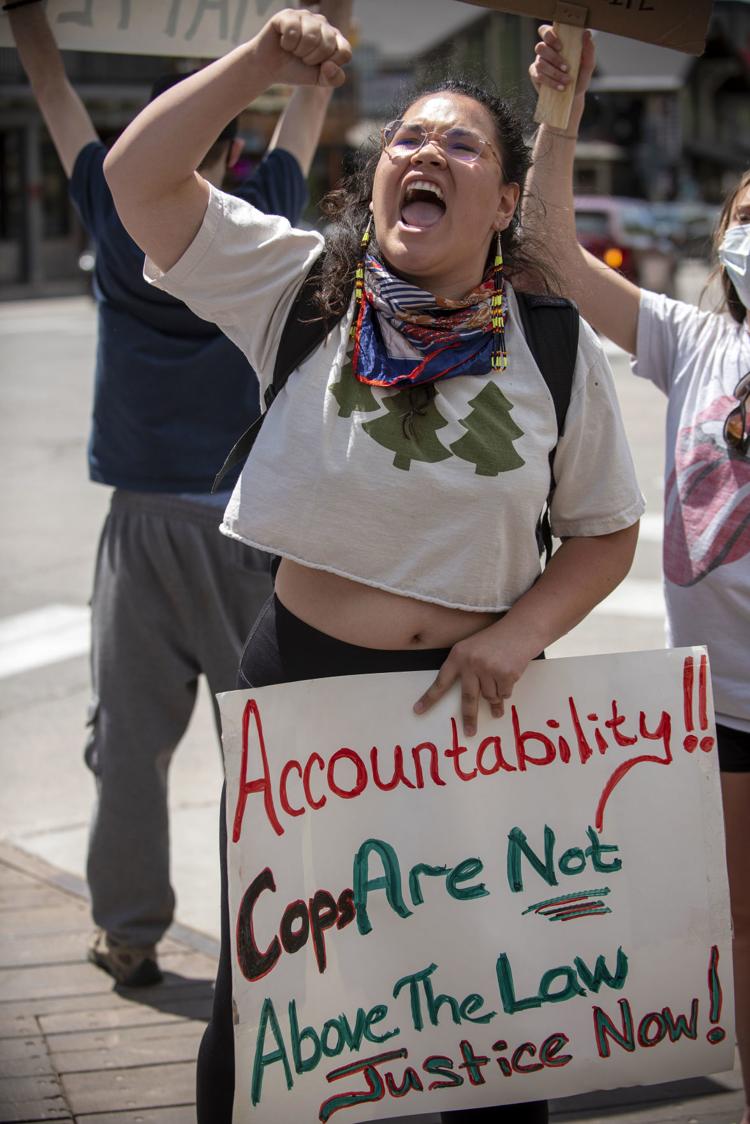 As it turns out, cops want to hear from the community, too. Jackson Police Chief Todd Smith scheduled what he calls a "brown bag lunch" for noon Thursday in Town Council chambers so community members can discuss the state of race and their relationship with law enforcement.
"If we want to make progress, it starts through discussion and dialogue," he said.
Protests around the country have decried police brutality against people of color, particularly black men. Because of demographics, that's not something that comes up a lot in Jackson, but law enforcement officers admit they are still working toward better support of Jackson's largest community of color.
According to the U.S. Census Bureau, the Latino population makes up 15% of Teton County, but law enforcement agencies have struggled for years to hire Spanish-speaking employees and Latino officers.
"I think that's still critical that law enforcement and local government need to be reflective of the population," Teton County Sheriff Matt Carr said. "I've been striving to do that, and that's been a goal of mine since the beginning. It's been quite a struggle."
Language barriers are a piece Carr and Smith would like to address. Smith has added Spanish speakers in realms like victim services, and he has several officers with varying levels of Spanish proficiency, though he would like more.

One incentive for his staff is a bonus they receive for being bilingual. It's an important tool, he said, to retain officers and other employees.
Sheriff Carr would like to have that as a tool. Teton County government doesn't offer a bonus for bilingual employees, so he isn't able to pay bilingual officers more, and he would like to see the Teton County Human Resources Department instate such a bonus in all county agencies.
He doesn't have anyone in the field who speaks Spanish at the moment, and he sees the need for a Spanish speaker in the office.
"We have a public-facing front desk, and members of the public come in on a regular basis," Carr said. "If I could have a Spanish-speaking person there, that would be a game changer."
Even with the language barriers, Elisabeth Trefonas, an immigration attorney and public defender, sees a generally positive relationship between law enforcement and communities of color. She has heard complaints from clients about heavy-handed treatment, perhaps a Latino driver being pulled over for a cracked windshield when there are dozens of other cars with the same problem, but the reality of small-town life makes it easier to create a positive relationship.
GALLERY: Black Lives Matter protests
The death of George Floyd, the unarmed black man who died on Memorial Day while in police custody in Minneapolis, has been met with nationwide protests, similar to the movements seen after the deaths of Eric Garner or Michael Brown, other unarmed black men who died at the hands of police.
Some of the protests in major American cities have resulted in violence. Police have fired tear gas and nonlethal rounds on protestors, some of whom have thrown bottles and other objects, and burned cars and buildings.
Demonstrations in western Wyoming and eastern Idaho have so far remained largely peaceful.