Whitewater guides were gathered at the edge of the Snake River at the West Table boat ramp when a frantic man approached them.
"There has been an accident on the river," he said, out of breath. "The raft flipped over. The water is cold, and I barely made it out. Please help. There are others that might have gotten sucked underneath."
The raft guides, all employees of different Jackson-based commercial guiding companies, quickly appointed an incident commander and came up with a plan to search for five missing rafters.
"How many rafts do we have? How about each company get a small crew together and be ready to get on the water in less than 10 minutes," guide Ryan Mertaugh said to the group. "Let's all get on the same page before you take off."
The June 26 mock rescue, a first of its kind, was part of a training put on by the Bridger-Teton National Forest to allow river guides and emergency responders to practice a realistic rescue scenario.
"River guides are often cleaning up most of the problems out there before we even know about them," Bridger-Teton River Manager David Cernicek said. "There is no cell service in the canyon, so we have protocols between agencies, but we have never had guides be a part of that chain."
The training exercise was also organized to give guides and first responders the chance to use a new radio channel that enables them all to communicate during an emergency.
"It's a new repeater up on Pow Wow Peak that all the outfitters paid for," Cernicek said. "The new frequency is going to fill the communication gap during emergencies."
The new radio tower was installed about a year ago, but guide companies and emergency agencies are still working out a few kinks to make it fully functional.
Before they had the new frequency, guides would radio the news of an emergency back to their main offices, and then someone working the desk would call dispatch.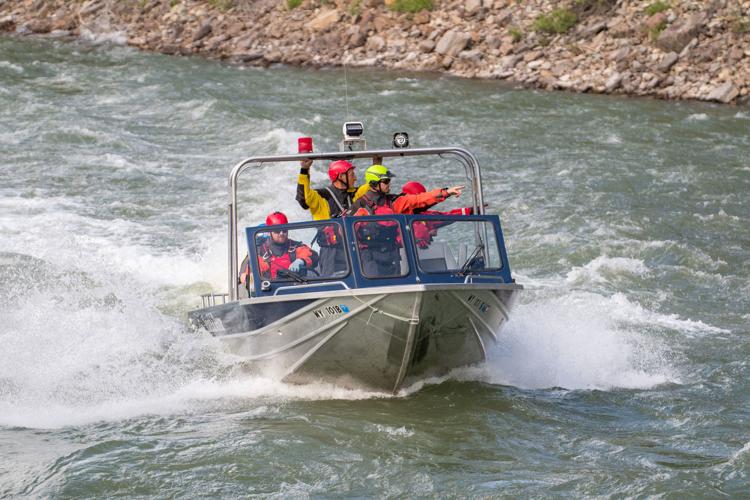 The new channel takes out the middle man.
"Let's make sure we're on Channel 3," Matt Pratt, head boatman for Teton Whitewater, told his crew. "Let's keep the office channel open, too."
Guides who run the whitewater stretches of the Snake River are used to coming across accidents.
"It happens several times a year," Pratt said. "We're picking up boaters who have flipped over, rescuing swimmers and picking up things like coolers and paddles."
Whether or not they have a boat full of customers, raft guides stop to help if they see a kayak or private boat flipped over.
"Last year, when we had some boats out on the water a private boat flipped at Double Draw, and people were missing," Pratt said. "One of our guides pulled someone out just before Three Oar Deal, which could have cost them their life."
The U.S. Forest Service has certain requirements for river guides. Most of them are trained in swift-water rescue and have taken a wilderness first-aid course.
For the mock rescue, guides set out on the river at 5:30 p.m. in search of the missing people.
"Get eyes on what's going on, and as soon as you know, radio back to us to let us know where you are," Mertaugh said.
The Teton Whitewater crew headed south from the West Table put-in with four guides and a river ranger, searching for injured parties floating or on the riverbank.
About 20 minutes in, guide Landon Bryce spotted something.
"Matt, look up on the hill. See that?"
"Yeah, prepare to eddy out right," Pratt said.
"There's a person up there, too," Bryce said.
One of the actors in the scenario was on river right, up a steep embankment.
"She's got a broken leg," guide Zeus Parker said.
Three guides climbed the hill to stabilize the patient, 38-year-old "Muddy Waters."
"Maybe we should keep searching downriver," Parker said. "She's OK, and there could be someone else drowning."
After checking in with incident command, three Teton Whitewater guides stayed with Waters while Parker, guide Baden Ballard and river ranger Maddie Smith moved downstream to help a Sands crew that was performing CPR on another victim.
"We've got a guy here, a 58-year-old male whose name is Rook E. Mover," guide Ben Skelly told the Teton Whitewater boat. "His vitals were dropping fast when we got here. His heartbeat stopped, and we started CPR."
The crews relayed information about the victim on their radios back to the incident commander, who sent Star Valley Search and Rescue in a jet boat.
Rescuers loaded Rook E. Mover onto a stretcher and continued CPR as they headed back upstream.
"Jet boats are our best tool here," Cernicek said during the exercise debriefing. "But we don't always have access to them."
Guides eventually located all the victims, along with a bonus kayak victim that Cernicek threw into the scenario as a curveball.
"You aren't professional responders, and there is no need to act like you are or feel bad that you aren't," Cernicek told the guides. "Just make something work."
Pratt said the exercise was helpful to the raft guides for many reasons. They learned tricks on keeping radio chatter concise and what to do if they come across a deceased boater in order to preserve the scene for the responding coroner.
"To have all the agencies willing to come together and practice, it's almost unprecedented," Pratt said. "It doesn't happen very often, and when the community comes together like this it puts an emphasis on safety and that's what we're here to do — provide safe trips for people down the river."