Members of the community and the Jackson Police Department are still dealing with the fallout from a week of turmoil at the agency.
And documents newly obtained by the News&Guide reveal last week's scandal isn't the first time the department has been accused of breeding a misogynistic culture.
In court records a former Jackson officer said she left the department before her two-year employment commitment was fulfilled because of sexual harassment she endured from colleagues and her direct supervisor.
"The environment enabled completely inappropriate behaviors," the officer wrote in April 2019 in her response to the town of Jackson's summons against her for breaking her contract. "I could not be there another day."
The department's culture has been in question since Lt. Roger Schultz wrote on the department's Facebook page about how officers were investigating an alleged statutory rape, but might need coffee and doughnuts to help them figure out if a crime was committed.
Schultz resigned Friday after citizens, advocates for survivors of sexual violence, activists and politicians were outraged by the post, which they called harmful and inappropriate.
On Monday on her first day as acting Chief of Police Michelle Weber apologized and promised to do better.
"As my first action in this job, I would like to offer my heartfelt apology to the public for the recent blotter comments," she wrote. "These comments were careless and insensitive, and I fully understand that their impact was both far reaching and hurtful to vulnerable members of our community."
Former chief of police Todd Smith retired Friday, the same day of Schultz's quick departure.
Losing the first and second in command at the police department on the same day caused a major shakeup.
On Monday Weber was moving offices. So were other officers who are taking on new duties because of Schultz leaving. Personnel reassignments are still being finalized.
"The current transition provides us an opportunity to thoroughly reassess our policies and procedures, programs and operations, to look for areas where we can be more efficient, effective, and community-oriented," Weber wrote in her letter.
She listed ways she plans to improve the department, including suspending the police department's Facebook blotter, repairing the agency's relationship with local press and working more closely with the Community Safety Network.
"The JPD will partner with local media to have appropriate access to call log information," Weber said. "A renewed partnership with the Community Safety Network is currently being developed to involve their highly trained staff in intimate partner violence, stalking, and reports of sexual assault responses."
Weber also said a detective will be assigned to every "intimate partner violence call" and every mental health call.
After Schultz's Facebook blotter post made the rounds on the internet some members of the community, local elected officials and activists said they were disgusted.
"This incident should not be seen as a mistake," grassroots organization Act Now JH stated, "but rather the outcome of a culture that finds this behavior funny and acceptable. Our community has a right to physical and mental safety when seeking help for sexual assault and domestic abuse, regardless of age or gender."
The former officer's complaints that are listed in court documents filed in Teton County Circuit Court claim a fraternity-like culture where she didn't feel safe.
"There were frequent racist, sexist and toxic comments regularly made," she wrote. "I often left the station if I did not have pressing work there in order to avoid these conversations and this environment."
One of her complaints involved Schultz.
"Lt. Schultz asked me if I were a lesbian in front of many co-workers, including Sgt. Michelle Weber who was completely appalled," she wrote. "Due to my position I tried to brush it off."
In the records she includes "sexually inappropriate" text messages her supervisor sent her when a group of Jackson officers took a trip to Las Vegas.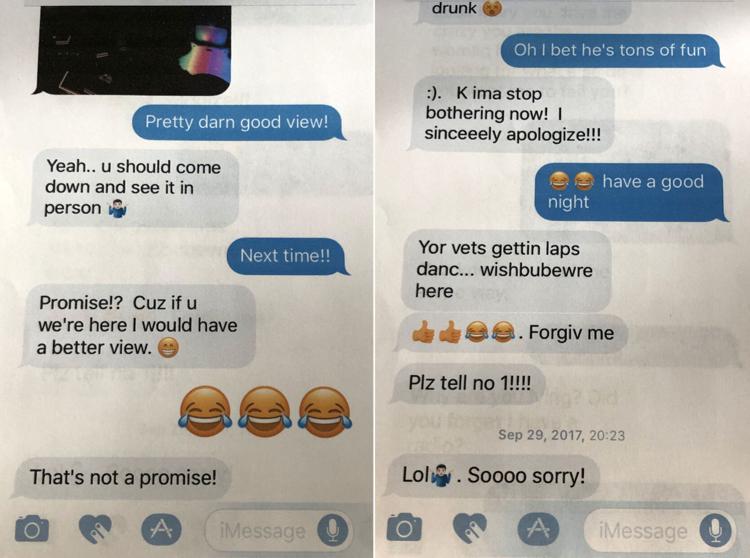 In a screenshot of a September 2017 text thread her supervisor, a corporal at the department, sent her a photo from Vegas.
"Pretty darn good view," she texted back.
"Yeah .. u should come down and see it in person," he replied.
"Next time," she responded.
"Promise!? Cuz if u were here I would have a better view," he said with a smiley face emoji.
Later on he texted her about a lap dance and she didn't respond.
"Lol," he texted the next morning. "Soooo sorry!"
The woman also included text messages of sexual advances she received from a JPD officer who was fired last year for an unrelated matter.
"Look [former female officer's name] you drive me crazy," he texted. "You are the woman I've been looking for what else do you want me to tell you?"
She told him she didn't know how to respond to that.
"You know you feel the same way," he said.
The woman later texted: "We work together and I want to have good relationships with the people I work with. So even if you were single nothing would happen."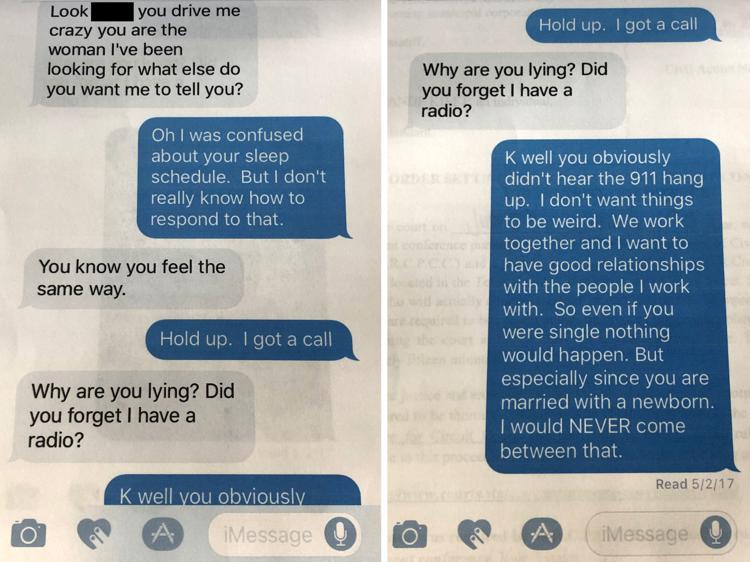 Asked about the allegations of sexual harassment the town of Jackson and Weber did not provide additional comment. Former chief Smith did not respond by press time.
But in court documents Smith said in a letter to the officer that if she felt better taking a clerical job or a position at the Jackson Hole Airport to finish her two-year commitment he could arrange that.
Weber did say in her letter to residents that her department is partnering with the Teton County Sheriff's Office in coming weeks for bias training and crisis intervention training.
"In our diverse community it is imperative that officers are aware of implicit bias in order to be able to make the intentional steps to investigate crimes as an unbiased investigator," Weber wrote.
Over the last week the inboxes of town and county officials have filled with people's opinions on the matter.
Many say they believe Schultz, a longtime employee, should not have had to resign.
"I am writing to say I think the resignation of Lt. Schultz over the blotter incident is unnecessary," Cassandra Buckner wrote to the Town Council. "If there are other issues at play I can't comment on those. In no way do I take sexual crimes lightly. Even coerced-consent sex between teens of similar ages can be damaging. But his wording seems like simply a lapse of judgment and I feel his apology was sufficient. I've lived and worked in the valley for most of the last 20 years and I don't remember hearing many complaints about our police force (town or county). Problems need to be addressed when they arise and improvements can always be made. But I worry an over-reaction will increase divisiveness and lower trust instead of improving it."
Others agreed, saying the Facebook post was one mistake.
Schultz also wrote a letter to online community news board Buckrail, saying he was rushed when he wrote the Facebook post and should have checked his words more closely. But he mostly defended himself.
"To be clear, this blotter item was not a crime and anyone alleging otherwise is making a false statement," he wrote to Buckrail, which posted his letter in its entirety online. "The mayor has represented this event as a sexual assault or rape of a child. These are false statements. The call was unfounded and was not investigated past the initial response as it was determined that no crime had been committed and no one was a victim. My intent was to educate people on the law regarding what makes consensual juvenile sex a crime, not to make light of the event."
Schultz went on to say he would "never intentionally harm a victim."
The Jackson Police Department said Tuesday it won't be releasing the ages of those involved in the case that Schultz posted about.
"On August 13, 2020, at 12:26 p.m., we responded to a report of an underage female having sex with an adult. We will be investigating the case to determine if a crime has been committed and if we can prove that crime. You would think having sex with an underage juvenile would always be a crime. Not necessarily. There are a number of factors involved in deciding whether to file charges to include the age of those involved. Fortunately, determining the age difference of those involved doesn't involve complex math, so we should be able to figure it out without too much trouble. Just as long as we have coffee and donuts (the ones with the little sprinkles on top) to get us through."
After a few days the post was deleted and an apology was posted on the same Facebook page, though it was later deleted and replaced by a community letter from Town Manager Larry Pardee.
"Being flippant about any crime, but especially assault of a minor, does not align with the town of Jackson's values," Pardee said.
Pardee promised his own training session, for the town staff including the police.
"We are starting to see how systemic these issues are," Pardee said, "and even before this incident the town was in discussion with the Jackson Hole Diversity, Equity and Inclusion Collective about leading dialogues and trainings."
The Community Safety Network said the post damages the work done in the community to help make survivors feel safe.
"As advisors, Community Safety Network condemns this post as inexcusable and directly harmful to survivors of violence," CSN's staff and board said in a statement. "Humor is never appropriate around the current reality of sexual assault and gender-based violence. In the future, we believe that a deeper relationship between police and Community Safety Network has the potential to significantly improve survivors' experiences and make our community safer."
Mayor Pete Muldoon has spoken about the harm he says was done by the Facebook post. He said it should make everyone question the culture of policing and that training is a good first step but might not be enough.
"This isn't about whether a crime was committed — it's about whether joking about whether or not the rape of a child was committed will make it more or less likely for victims to come forward," Muldoon said in a statement posted on Facebook Monday night. "We know that victims are less likely to come forward if the police will not take their cases seriously. How is the JPD supposed to prevent and solve these crimes if victims don't feel comfortable talking to them?"
Other elected officials have been responding to the public.
"It's callous, reprehensible and as you point out harmful," Teton County Commissioner Mark Newcomb said in an email back to Act Now JH. "We should expect much higher standards from our law enforcement agencies. I'll continue to support efforts to examine how we can do better as leaders, as agencies meant to provide public safety and as a community."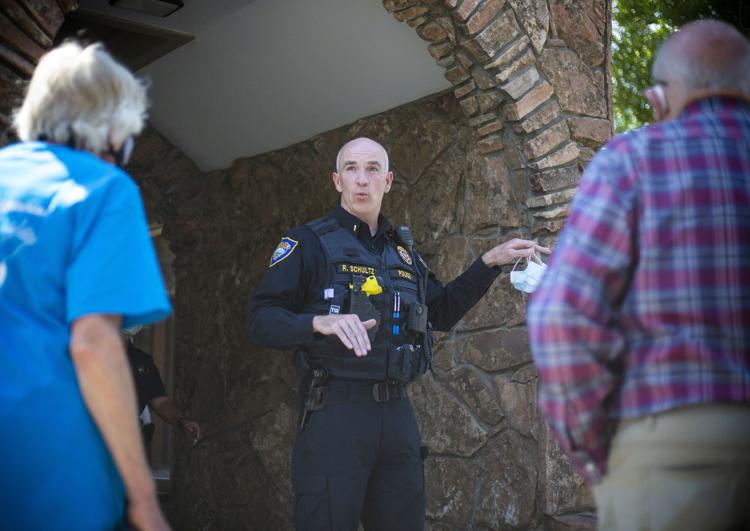 The debate comes at a time when the defunding police topic has come back to the forefront of the community.
A survivor of sexual assault wrote the Town Council saying she was hurt by Schultz's post.
"This is just another unfortunate example of the prevalent misogynistic police culture of our country and I thought Jackson was better than that," she wrote. "I guess we aren't. I am ashamed that individuals sworn to 'serve and protect' would choose to ridicule and thus further dissuade survivors from reporting crimes perpetrated against them."
Director of Education and Prevention for CSN Adrian Croke said after a few conversations she feels Weber is committed to the changes "needed to better support survivors."
"Her statement was an excellent first step as law enforcement works toward more trauma-informed care and CSN is looking forward to collaboration in that process," Croke said.
Weber said she's dedicated to making "meaningful changes in our culture."
To ensure the wellbeing and "awareness" of officers the department will provide one-on-one mental health counseling, she said in her letter to the community.
"This mental health wellness check is part of a holistic approach to ensuring we have a team ready to help the public when they need our assistance," she said. "We have begun exploring the possible implementation of Spanish language immersion programs for 10% of our staff to allow us to better reach out to Spanish-speaking members of our community."
Weber also noted that major improvements can't happen overnight.
"Meaningful change comes neither quickly nor easily, but please know the JPD is actively and conscientiously pursuing all these steps," she said. "Going forward, we will pursue not just these, but many more. I pledge to keep you informed about our progress. Critically, none of this can be achieved without the support and help of our community's stakeholders. To all of you, thank you in advance for helping the JPD become an organization all of those who live in, work in, and visit Jackson can count on and take great pride in."
The Community Safety Network urges survivors of sexual violence to reach out for help at 733-7233 if these events have triggered painful memories.