More than a few nights last winter, Sandy Carole went to bed wondering if she would freeze to death while she slept.
Born in Gillette but native to Jackson since 1960, the 65-year-old mother lives with her daughter, Tracy, 42, and their two dogs in a 20-year-old Lincoln Continental. (The News&Guide agreed to identify Carole by her first and middle name for her safety.)
"We froze our butts off," Carole recalled. "At one point it was 30 below."
Soon after they found a bunkhouse in Bondurant for $250 a month, but it had no running water or bathroom. To get by they filled jugs of water at Hoback Market, which also had the closest working restrooms. To their surprise, the bunkhouse turned out to be worse than living in their car.
"It was harder than camping," Carole said.
Although the mother and daughter described feeling alone in their struggle to find a roof to sleep under in Jackson, they are far from the only homeless family in town. The Good Samaritan Mission, Jackson's only homeless shelter, has turned away more than 25 families and 10 women in the last year. The mission is set up for single men and women — not families.
For two people the mission — which isn't pet friendly — can cost as much as a regular apartment. At $12 a night per person, it would be close to $800 a month for Carole and her daughter.
"We don't even have a dollar between the two of us," Carole said. "We've been doing this for three or four years now, and it's really hard."
Because of Tracy's health problems, only Carole can work. She has a steady job as a cook during the summers that pays her a decent wage, but despite working every day for more than three months, it's not enough to support her and Tracy long term when you factor in medical bills and rent.
"They pay me $18 an hour, but it's not enough to rent a house here," she said.
Her employer let them stay in a trailer on their property over the summer, but it didn't have running water or power.
"But it's a place to sleep," Carole said. "And they've really taken us under their wing."
That was manageable over the summer.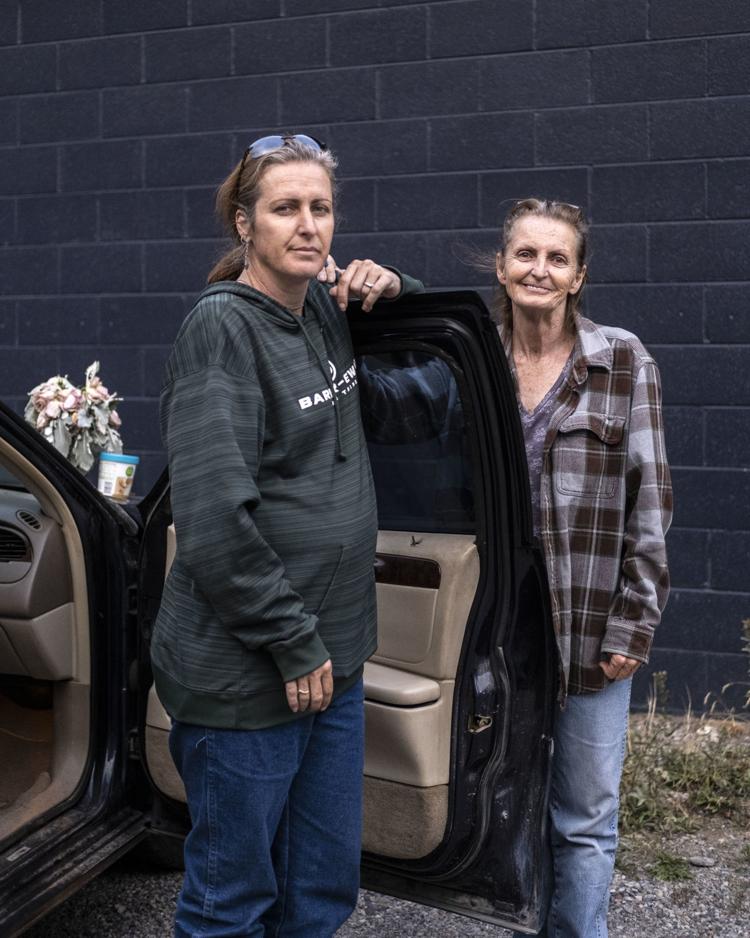 In mid-September, Carole started making plans for the winter. She didn't think they could physically survive another winter, homeless, in Wyoming.
Her plan was to save enough to get the Lincoln's registration up to date and its oil changed so they could make it to a warmer climate, hopefully Arizona.
"Even if we have to camp at least it will be in the desert," she said. "It will be easier."
Carole hasn't always experienced homelessness. Her grandparents, who raised her, were landowners in Jackson Hole.
"It was 152 acres in South Park," she said.
Their deaths and a family dispute led to the sale of that land. Carole landed on her feet in Idaho, had three daughters and bought a house. But a bad breakup left her and Tracy fleeing for safety, with no home and no support system.
During an interview with the News&Guide Carole's boss called with a request for 35 veggie burgers to be ready at 4 a.m. the next day, a task she accepted with a smile. The tourism industry drives her job's demands, which is why her work is seasonal.
Carole likes her job in Jackson even though it doesn't provide her the ability to afford rent here. She has to work hard and maintain her job to make sure Tracy has the medicine and care she needs to treat her mental health issues.
"She gets shots every two weeks because she's bipolar and schizophrenic," Carole said. "Her drugs are hard on her liver, so she has to get that checked all the time. She was in the hospital last week because she ran out of her pills, and it scared the hell out of me. I'll do whatever I can to keep her healthy."
Carole is slight but has a big smile. She wears the hardships in her eyes.
She worries about how others see her but doesn't like asking for help.
"I hope I'm not sniffling too much," she said. "Why do I feel like I'm whining?"
Tracy talked her mom into going to the Good Samaritan Mission the evening of Sept. 16 for a free meal. Carole was hesitant.
"I'm scared of everything," she said. "I know I'm a good person and a hard worker, but I don't like being belittled. I'm prideful in that way, so I try not to put myself in those positions."
But they were hungry enough to show up. Anyone can eat at the mission for free, morning or night. Regulars have to earn it by chipping in with chores like washing dishes.
"I ate better tonight than I have in so long," Tracy said.
They happened to be at the mission the same night Wren Fialka, of Spread the Love Commission, was there handing out winter gloves to whoever needed them.
Hearing Sandy and Tracy's story made Fialka want to do something.
"These are real problems," Fialka said through tears.
Fialka disappeared and returned with ice cream, vitamins and flowers for the mother and daughter.
They hugged and cried like old friends.
Tracy, her blonde hair in a ponytail and wearing a sweatshirt from her mother's work, was grateful for a hug. It had been a long time since anyone had offered her one, she said.
A few weeks later, Fialka outfitted the women with supplies for winter — bedding, sleeping bags, coats, clothes, skin care, first aid supplies and coats for their dogs before they headed south.
Spread the Love Commission, Fialka's Jackson nonprofit, provides supplies to those who are homeless.
Fialka said giving love and respect to those who are housing insecure can empower them.
"The stigma that comes along with being homeless needs to be completely shattered," Fialka said. "It's a crisis that's growing, and if we aren't looking after each other then what happens? We need to get to know our town better and this hidden group of people."
The number of homeless people in Wyoming varies depending on who you ask.
The federal "point in time count" happens every year in January — the dead of winter.
The count is required by the U.S. Department of Housing and Urban Development and must happen in every state in the last 10 days of January.
It's the official tally of America's sheltered and unsheltered homeless population.
"It isn't very accurate," Good Samaritan Mission Director Chuck Fidroeff said. "If we did some in the summer we could look at the campsites, but there is no way to really count everyone."
Jackson's homeless population swells in the summer and shrinks in the winter because of the cold and snow.
Some of the unsheltered and more vulnerable individuals who find bunkhouses, couches or motels to stay in, like Sandy and Tracy, aren't counted in the official tally.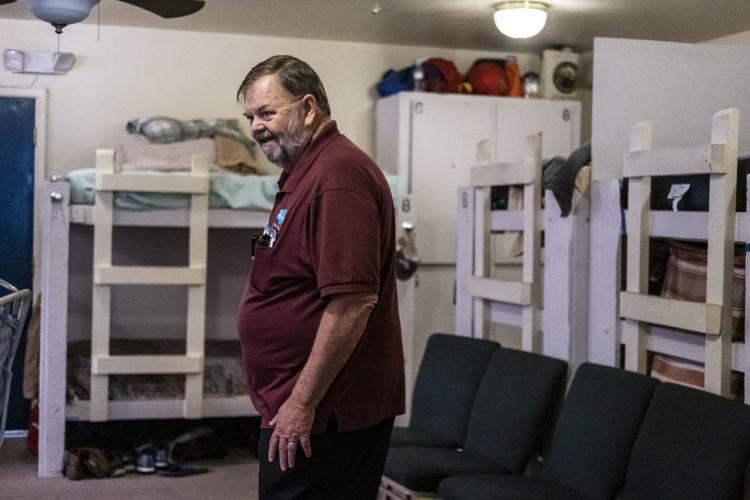 "Homelessness is growing here, but less people are staying at the mission," Fidroeff said. "There are either 20 people to a house or they are couchsurfing, and those people are not getting counted."
Although Fidroeff said fewer people are staying overnight at the mission, its beds stay mostly full year-round.
Families and addicts aren't allowed to sleep at the mission.
"There are some living in their cars," Fidroeff said. "They come and shower for a dollar or they get breakfast and dinner."
Last year's official January count found 548 homeless people living in Wyoming.
Some believe the real number is likely double that.
"The states who have winter have been fighting it for years," Smokey Rhea said about the timing of the federal tally. Rhea, a former Teton County commissioner, used to be on the Wyoming Homeless Coalition's board.
"One time we asked if we could do our own," Rhea said.
Deidre Ashley, executive director of the Jackson Hole Community Counseling Center, was involved with the count for years.
"They used to allow us some flexibility," Ashley said. "They would let us choose when we did it. It was more in the fall so it wasn't perfect, but it was more realistic than Jan. 10 when it's 30 below."
Barriers to finding shelter
Service providers think there are more homeless people living outside in Jackson Hole than in the mission. There are reportedly 81 homeless students in Teton County, which means some families are sharing homes.
About 30 people live in Karns Meadow every summer, police estimate, even though camping in town is technically illegal (see sidebar). Even more camp dispersed on Josies Ridge or other parts of the Bridger-Teton National Forest, hidden from hiking trails.
They either prefer camping to living in a bunkbed at the mission or they aren't welcome at the mission.
"We take single men or single women who are sober and not disruptive," Fidroeff said. "With all the mental health challenges, it's hard for some to not be disruptive."
The Good Samaritan Mission has sheltered and fed Jackson's homeless and hungry since 1970.
Fidroeff took over as director in 2011. With his leadership came more rules — no drinking, no smoking, no violence, 9 p.m. curfew, no pets, a steady job and a large emphasis on religion. Fidroeff hosts Bible study every afternoon, which he said is optional for guests.
"It is a Christ-based center," he said. "You don't have to believe in Jesus to walk through our door, but hopefully by the time you leave you will."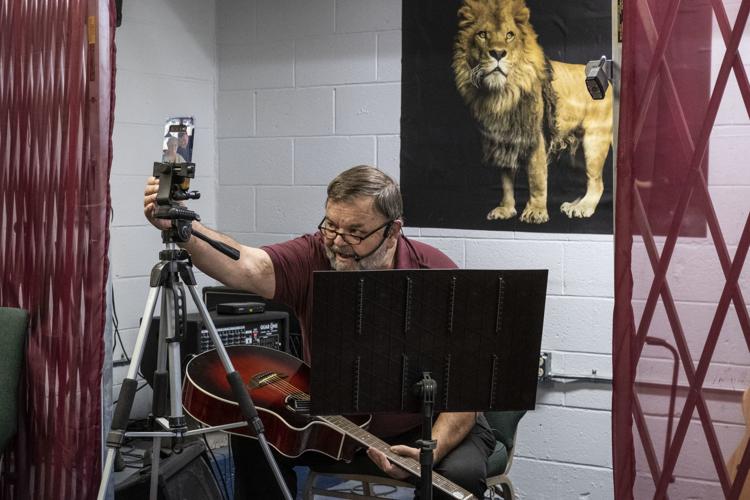 The strict rules keep a lot of people away, Fidroeff said, but that's how he keeps the shelter safe and orderly.
"It is a controlled environment," he said. "People don't want to sleep next to someone in the middle of the night that might stab them."
The mission has 26 beds for men. It's a large room full of twin-size bunk beds and most beds are spoken for. The women's wing has five beds, and it filled up for the first time last year.
"We turned away 10 women," Fidroeff said.
Fidroeff acknowledged the mission isn't meeting all the needs of Jackson's growing homeless population, which is evidenced less by the headcount and more by the demand for crisis intervention services.
If someone shows up drunk they're told to leave. If someone is having a "disruptive" mental episode or in other extreme cases, police are called.
"I wish I could do mental health, and I wish I had a drunk tank, but we can't do everything," Fidroeff said.
Police often encounter homeless people, Jackson police Lt. Roger Schultz said, and hauling them to jail is the last resort.
"If we come in contact with a person who is homeless, one of the first things we ask them is if they need a place to stay and refer them to the mission," Schultz said. "If they are intoxicated we still provide that education, but we let them know that the mission has rules about people being drunk and they may be denied access. If they don't have a plan B they end up having to spend the night in jail."
A night in jail isn't free. A public intoxication arrest results in a misdemeanor charge and a $100 fine.
"Jackson has Band-Aid fixes and workarounds for several of these social issues," Schultz said. "Public intoxication is one of them, but I don't know that jail is the best alternative for these people, just like we don't have an inpatient rehab facility for people who need it."
The possibility of a "drunk tank" has been explored in Jackson. There's one in Riverton, where intoxicated individuals with nowhere to stay are allowed to "sleep it off."
"A drunk tank with four beds would need to be staffed, managed and maintained," Schultz said, which he estimates would cost $1 million per year.
That means many of Jackson's homeless end up with a criminal record and court costs.
A study of Wyoming's homeless that was completed in August by Dr. Robert Marbut of Marbut Consulting pointed to the lack of treatment and recovery programs in the state as a major concern.
"This is an urgent current need," Marbut wrote. "If root cause treatment and recovery programs are not adequately funded in the very near future, it is very likely the number of individuals and families experiencing homelessness will increase significantly. This in turn will dramatically and exponentially increase the financial burden on the emergency medical service and criminal justice systems."
The triggers and causes of homelessness in Wyoming are behavioral health in nature, Marbut said, such as addiction, post-traumatic stress disorders, military sexual trauma and mental health diseases.
"There is a need in Wyoming for more behavioral health, mental health and substance abuse treatment slots/beds of all lengths of time," he said.
In Jackson addicts can get outpatient help from Curran-Seeley. If someone is in a mental health crisis they're put under a Title 25 mental hold at St. John's Medical Center.
"The hospital doesn't always have the ability to help those people," Schultz said. "They will want to call the police or the sheriff's office when someone is combative but we don't have the authority to detain or force medical care. When we are dealing with mental holds it becomes sticky because we don't have a real place to put them. If they are violent we don't have the legal authority to do anything."
Jackson would benefit from more transitional housing, Marbut concluded in his study, and it would be most effective in the form of a family shelter so children aren't traumatized.
"Many programs within the state of Wyoming have been commingling young children with non-family single adult males and females experiencing chronic homelessness," Marbut wrote. "This is very harmful to the future development of the children, and presents many unnecessary risks and liabilities to the service providing agencies."
People who are exposed to toxic stress like mental illness and addiction during their childhood are 12.2 times as likely to attempt suicide later in life, Marbut said.
Marbut's study found that the Good Samaritan Mission does a lot with very little.
Fidroeff said he operates on a $300,000 annual budget, and the mission's donors are generous, but that much bigger gifts are being given to other nonprofits.
"I can't tell a giver what to give," Fidroeff said.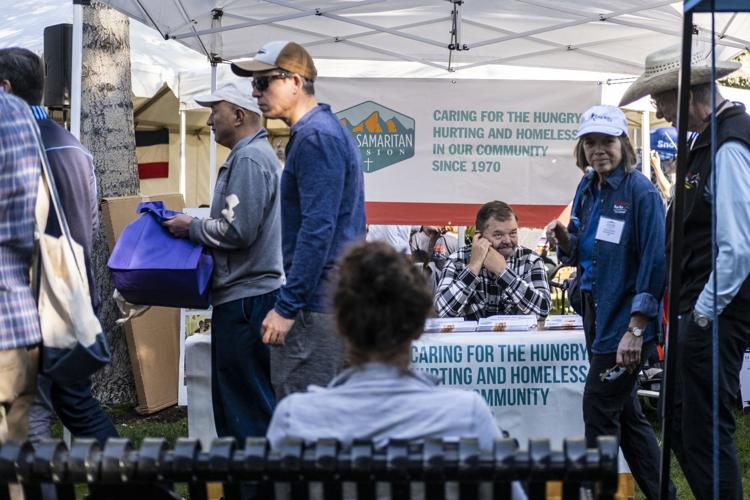 Marbut's study found that more funding is given to animal services than human services in Wyoming.
"In most cities the local animal services and shelters are funded at significantly higher levels within the respective city general funds than services for individuals and families experiencing homelessness," Marbut wrote.
Fidroeff thinks the mission's donations are smaller because Teton County residents aren't particularly religious.
"There are a lot of people who don't want to support religious causes," he said.
Rhea, who spent years helping the homeless through her role with the Community Resource Center, thinks the mission should focus less on religion and more on community solutions to homelessness.
"The religion part is the part that's hard," Rhea said. "There is a place for that, but when it's the only shelter it's pretty hard."
Elizabeth Bowen, an assistant professor at the University at Buffalo School of Social Work, said for a community to tackle its homeless issues, barriers need to be removed.
"They prevent people from getting help," Bowen said. "Barriers can come in many forms — including shelters with restrictive rules; an inadequate number of shelter beds; lack of programming for homeless families; and a lack of affordable housing in general."
An expansion of emergency and short-term housing options for families is key, Bowen said.
Short-term options vs. leaving town
The Community Safety Network has transitional apartments, but they're specifically for victims of domestic abuse and stalking.
Some hotels and motels in Jackson will try to work with those who are homeless (usually with the help of the counseling center or One22) to give them time to find permanent housing, but those deals aren't as readily available as they used to be.
Nicole Walker, 37, got stranded in Jackson years ago when her car broke down here. Walker stayed at the mission for three weeks before staying at Teton Gables.
"Rent went from $657 to $1,200 at the Gables," Walker said.
After that she went in on an RV with someone and lived on forest land. But that fell apart and her friend ended up with the RV.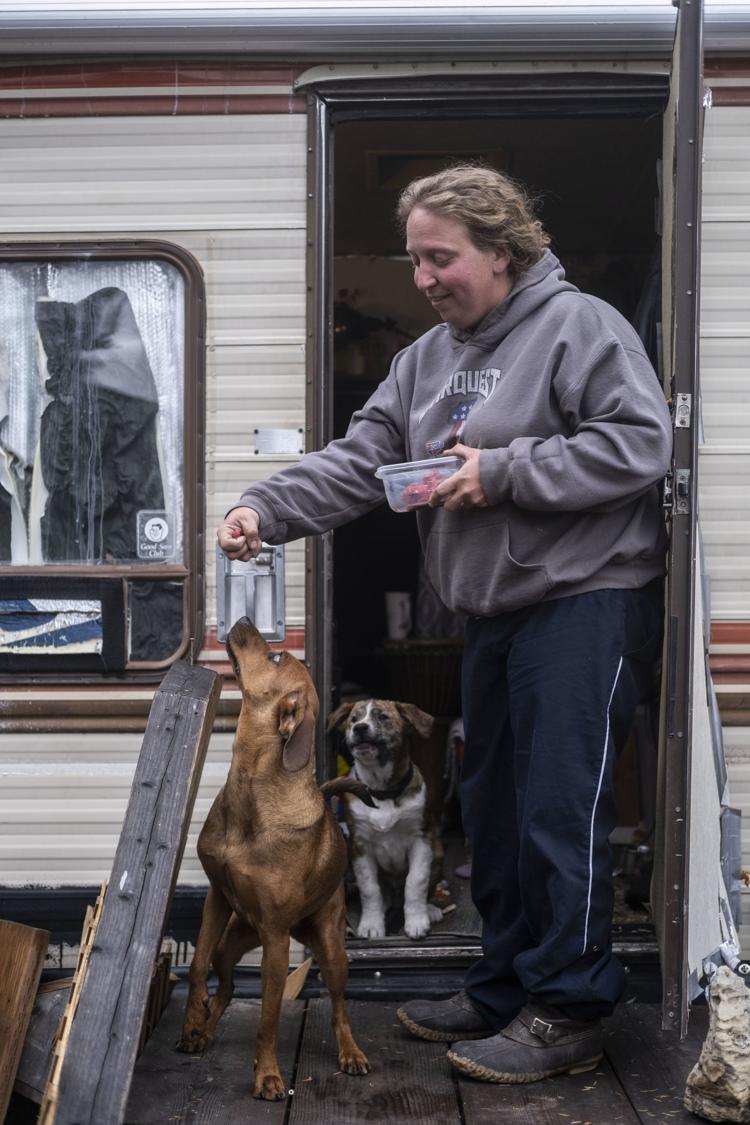 "All of a sudden I was vehicleless and homeless," she said.
Walker grew up in a financially stable household in Minnesota and has a bachelor's degree in agriculture, a CNA certificate and a welding certificate. But after a stroke in 2013 she found herself unable to walk, speak or work.
She was eventually cleared to work part time again, but when her car broke down near Hoback, she had no money. After years of suffering from homelessness in Jackson, she was able to get into a trailer in Hoback and a friend gave her a car.
"When you're in between paychecks you don't even have a dollar," Walker said. "I am pretty good at getting by with very little."
Frozen pipes last year left her trailer without hot water so she showered at Mountain House or the mission or the recreation center, she said, and she often eats dinner at the mission.
Walker got to know Jackson's homeless population when she was staying at the mission. She often lets those friends stay on her couch.
"One gentleman was a river guide and eventually became an alcoholic," she said. "He couldn't be at the mission because he couldn't be that sober. There was nowhere for him to go. People like that end up leaving town."
One of Walker's friends who suffers from brain cancer lived along Flat Creek all summer.
"Someone used his stuff as target practice," she said. "His tent had holes in it."
A homeless person might decide Jackson isn't for them but leaving town isn't easy. A bus ticket to Salt Lake City can cost $70 or more and the trip often takes 14 hours because of various stops along the way.
"We can provide a bus ticket to someone when we find the need," Fidroeff said. "We have sent people to Salt Lake City."
Hitchhiking is a better option but not a guarantee. If you belong to a church you're more likely to get a free hotel room every once in a while, Walker said, but church isn't for everyone and some people don't want to pretend to be religious just for a handout.
"It's all about connecting with the right people at the right time," Walker said.
Working together for solutions
Agencies like the Jackson Hole Community Counseling Center, the Good Samaritan Mission, One22, the Community Safety Network, Habitat for Humanity, Spread the Love Commission and others try to work together and "triage" by throwing resources at really severe cases of homelessness.
For example, One22 paid for Walker's trailer's insulation.
But there is no easy solution to the issue as a whole.
"There are limitations," Ashley said. "It's going to take a group effort."
Organizations like the counseling center see less and less state and federal funding every year, crippling their ability to keep a grasp on the issue.
"The state has been cutting our funding since 2010," Ashley said. "Our funding has gone down to 2006 levels yet the demand has increased. We have all the problems that a small city has."
Ashley could see transitional, supervised apartments helping the problem, or a group home, but she isn't sure where it would go or who would run it.
"The problem is so big that everyone is like, 'Yes we know it's a problem,' and it worries me for certain populations," Ashley said. "Those of us who are providing crisis intervention, it's the whole system. We have more people than we can deal with and their issues are more severe. We are all feeling the crunch."
Case managers help reduce the cost of necessary medications for clients or they'll help with someone's rent if they can.
"We have a small amount of quality of life funds that come from the state, like $20,000 per year," Ashley said. "Years ago we could have helped pay someone's rent, but now it's limited."
Ashley said many of the homeless in Teton County are working class.
Someone who works three jobs but supports a family with medical and other needs might not have a home.
"It speaks to the larger crisis," she said. "And it is a perception issue. A lot of people in this community have no idea that it's an issue because they don't see it."
Fidroeff disagrees with how to tackle homelessness in Teton County.
"The new thing in America is to toss them in a house," he said. "But you have to fix the person. I don't like the housing-first programs."
Fidroeff agrees that Jackson needs a shelter for women and families but said he thinks it would need to have similar rules as the mission to be successful.
He said in a perfect world he would turn Mountain Dandy into the Good Samaritan's thrift store and the place next door into a Christian coffee shop.
"I'd like the motel on the end of the block to be a women's shelter," he said.
But his dream to have multiple buildings dedicated to Good Samaritan's goals is unrealistic without a lot of money.
"One person's heart in this town could save a bunch of people's lives," he said.
For Fialka, of Spread the Love Commission, it's about helping where she can and being deliberate about it. She gives out can openers and lighters and gloves because she's studied what items are most useful to people living on the streets or in the forest.
"The community here needs help," she said. "I didn't used to think they did. But these people are part of our community, and they need to be brought back in."
Ashley, of the counseling center, said many donors who are dedicated to supporting human services in Teton County are passing away and no one is taking their place.
"Being in human services for so long, I realize what we do is important but it is not sexy," she said. "It's not arts or environment. Those organizations' donors get fancy events, and they recognize you as a contributor. We aren't always serving the most outstanding citizens and many of them are at the worst point in their lives. We can't always share those stories."
Ashley is hopeful after seeing the way the community responded to Save the Block.
"The nice thing about this community is if there is that need and it gets put out there the community responds," she said. "If there is anything that can be done, Teton County is the place to do it."
For Sandy Carole and her daughter Tracy, survival meant leaving. They started driving to Arizona in early October.
But they plan to return to Jackson next May, for Carole's job.
Maybe by then this will feel more like the place Carole used to call home.
"We have two storage units full of everything we own," Carole said, "and we'll work our butts off to keep the units in case we do get a house."
People Spread Love was incorrectly referred to as a nonprofit that helps homeless. It is an organization that sends care packages and notes of encouragement around the world. —Eds.