Dozens of yellow barrels full of sand now fill the truck arrestor on Teton Pass that broke last year.
The sand barrels, known collectively as a sand barrel array, are a temporary system for errant cars until the Wyoming Department of Transportation can finalize a permanent solution.
The system designed so if a truck that has lost its brakes runs into the barrels, the truck won't ramp up and off the side of steep Highway 22, but come to a stop within the barrels.
"We are counting on this front part to stop you," WYDOT maintenance foreman Bruce Daigle told the News&Guide during a tour of the new setup.
Commuters who drive Teton Pass all the time have probably noticed the new system. The barrels are big and bright yellow. They're set up in a way that is designed to slow an out-of-control car to a stop with minimal damage.
"As you enter the arrestor you will have 11 rows of barrels," Daigle said. "They try to get you slowed so it stops you easier."
The system is more common on flat highways in the U.S. Some are filled with water and some sand. Engineers decided on sand for Teton Pass given its grade.
Using the method on a truck arrestor that is on an inclined mountain pass is a bit of an experiment.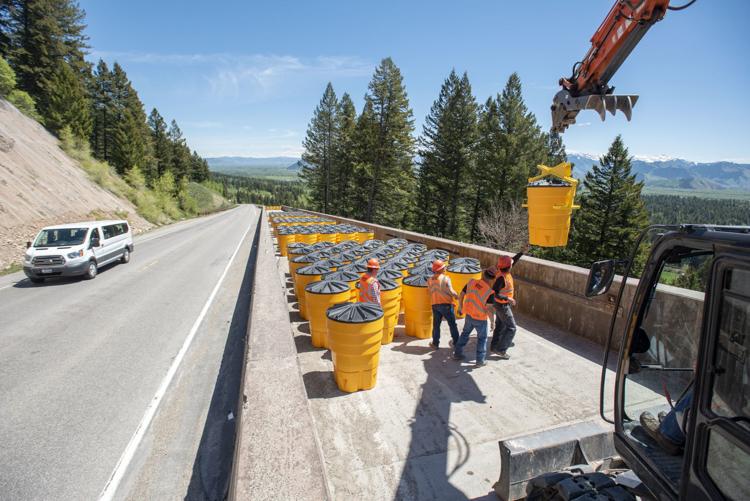 WYDOT traffic engineer Darin Kaufman said he thinks it's the best solution until they can figure out what went wrong with the last catchnet system.
"We were looking for a temporary solution because we knew the permanent fix wasn't going to come in time for summer," Kaufman said. "So we made an inquiry to a bunch of transportation distributors about safety devices. We came up with this working with the University of Nebraska, who analyzes these crash barrels and can analyze the effectiveness of the impact and how far vehicles would travel based on the layout."
The sand barrel system opened recently and so far no one has used it.
It's most efficient for lighter-weight trucks at slower speeds, and was designed like that especially for Teton Pass.
The catchnet arrestor has been out of service since September 2019 when a truck hauling logs sailed through it without getting caught until the final of several nets.
An investigation into why the arrestor failed has been underway ever since.
"The company is still doing testing on the permanent fixes," Kaufman said. "We have a history of runaway cars so we couldn't sit around and not do anything. It's better to have something than nothing at all."
There is only one other escape ramp open on Teton Pass at milepost 8.2, which is a mile above the vehicle arrestor.
WYDOT officials wanted to get the sand system in as summer traffic has started to increase, which includes a lot of semi trucks and RVs.
The temporary system cost about $75,000, Daigle said.
It's designed so that the barrels can be refilled and put back even after a crash.
But WYDOT bought extra just in case.
The truck arrestor is one of many technology issues traffic engineers have dealt with on Teton Pass over the last few years.
A state-owned weigh station was crumpled in an August 2019 crash after a teen collided into it at 70 miles per hour.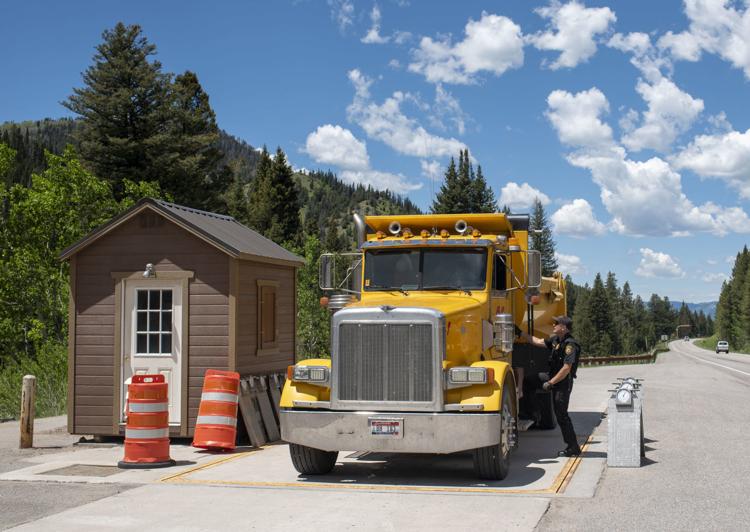 The building is still under repair, Wyoming Highway Patrol Lt. Matt Brackin said.
In February 2018 the highway's weigh-in-motion system that alerts authorities when a vehicle is over 60,000 pounds broke.
The sensors were weighing vehicles but weren't sending the radio notifications out to the proper channels.
That was fixed in spring 2018 but recently the system started glitching again, this time sending notifications of overweight vehicles on passenger cars that weren't even close to being overweight.
"There are four sensors imbedded in the roadway, and one of them wasn't picking up axles correctly and miscounting them," Brackin said. "So when the sensors talk to each other it wasn't working right. It was throwing up an error."
Teton Pass is one of the shortest highway stretches in Wyoming, yet it's one of the most costly for WYDOT maintenance-wise, because of the rugged terrain and weather and high volume of traffic.
Kaufman said he's looking forward to getting all the technology back working again this year.
"Once we get these all into place and safely working again we should be in pretty good shape," he said.
Brackin said the technology helps his department keep drivers safe on a notoriously dangerous mountain pass, and the sooner they get it all working again the better — for travelers and for state officials.
"Out of the three main systems we have to help with safety on Teton Pass, they are all being worked on right now and within a couple of months they should be done," Brackin said. "We are excited to get the work done."
The sand barrel array system opened in early June.
A second truck arrestor has been planned for Teton Pass, to be located farther down the mountain toward Wilson, but location logistics were still being ironed out with landowners when the COVID-19 pandemic hit, a WYDOT spokeswoman said, and funding became an issue.