Sheriff Matt Carr is considering doing away with Teton County's most popular website feature: the inmate list.
"I don't see that we are helping with public safety by producing that list," Carr told the News&Guide. "I do think some people will be upset if we take it down, but some of those people visit it for entertainment value and I don't take lightly making fun of other people's misfortunes."
Some people argue that the list discourages lawbreaking, but Carr isn't convinced.
"It doesn't seem to be a deterrent prior to a crime," he said. "It seems to be more of a regret after the fact. When people have already been arrested and are being booked into jail, that's when they worry about being on the inmate list or in the police blotter."
The Teton County Sheriff's Office inmate list was created in 2003 when Bob Zimmer was sheriff. It displays mug shots and charges alongside an inmate's name, age and hometown.
Mug shots are displayed only for inmates who are in custody. Photos are removed from the website when an inmate gets out of jail.
Carr said the idea of getting rid of the website first came up during the campaign that put him in office just weeks ago.
"It was brought to my attention during some very fair questions," he said. "Quite frankly, I didn't have a good answer."
Carr started doing some research and found only six other counties in Wyoming have some version of an inmate list.
The counties that don't have an online list provide mug shots and arrest information only when they are requested.
Teton County's inmate list website is by far the most public platform of the information in the state of Wyoming, he said. And since its inception the list has grown in popularity.
In the last five days the website has received nearly 15,000 views, according to Teton County Sheriff's Office IT Manager Marvin Arriola.
"We average about 2,500 unique visitors a day," Arriola said.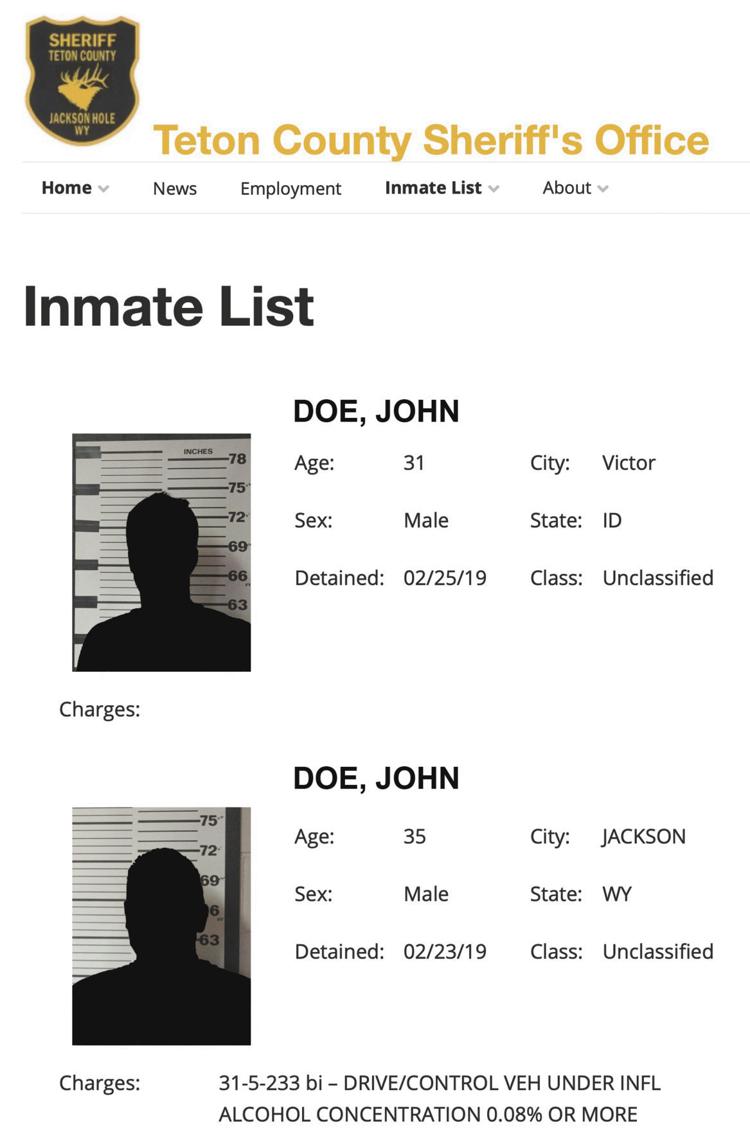 On Monday alone there were almost 5,000 views.
"It is public information," Carr said, "and I am not trying to withhold that, but I don't necessarily think we need to broadcast it."
Carr said there are many sheriffs' offices that use a private, third-party vendor that publishes mug shots.
Some of those are online and others are physical booklets that generate advertising dollars.
The controversy around the inmate list is a complex issue, which is why Jackson Hole High School teacher Jim Rooks and his AP Government and Politics class tackled the topic. We the People is a civic educational program that incorporates research, writing and critical thinking in understanding the concepts of law.
"You all are the future of Teton County and I value your input," Carr told the students during their class Tuesday.
Rooks asked his We the People students to raise their hands if they had visited the inmate list website — about 60 percent of the class visits the site on a regular basis.
Some said they look at it because the mug shots are sometimes funny. Others said it's used a lot in the service industry so employers can see if their employees are in jail when they don't show up to work. Some teenagers look at it if they hear a friend or former classmate was arrested.
Others said it helps them know about crime trends in Jackson.
"It lets you be more knowledgeable about what's happening in Teton County," student Jueliet Menolascino said.
Students say keep the list
The majority of students supported keeping the list online, but revising what is published.
"It's about balancing the individual's right to privacy with the need for transparency," student Donald Shelton said. "Because there are people who get caught up in a bad thing during a low time in their life, and bad social stigma can further alienate them from society."
Shelton's classmates argued that having a mug shot posted online could propel that person's recovery.
"I think it should stay the same because if you are doing something to get on the list you are putting the public in danger and you probably should be embarrassed about it," student Riley Mercer said.
After an hourlong in-depth debate, nine students voted that the inmate list should remain as is and 18 students voted that it should be revised to only include violent criminals or those who have been convicted.
No students voted for the inmate list to disappear completely.
But Carr said the issue is not straightforward, and if he decides to keep the list it would be hard to pick and choose which mug shots are published based on due process.
"Many first-time offenders might get deferred sentences," Carr said.
So if someone is convicted but not sentenced to jail, their mug shot wouldn't be posted.
Opening up the debate about what constitutes a violent crime, Carr said, would put pressure on his staff to make decisions that could open them up to legal jeopardy.
"They can't be the judge and jury," he said.
Getting rid of the inmate list will have a significant effect on Teton County Sheriff's Office employees, a concern his staff has brought up, Carr said.
"Anytime there's a glitch with the website the jail gets numerous calls," he said. "When you call our facility an actual person still answers."
Carr said a consequence of getting rid of the inmate list would be bogging down dispatch and jail phone lines with people calling to inquire about an inmate.
"That's a huge concern for me," Carr said.
That's why he is exploring a different way of allowing the public to access that information.
"Maybe we have a specific line to call where you press one to hear the inmate list," Carr said. "Or we post a physical booking sheet in the lobby of the jail."
Carr said he is working with his staff to modernize the sheriff's office website and, along with the inmate list, the less popular warrant list would also go away.
"Before making a final decision we are trying to anticipate all the challenges that might come up if we get rid of the lists," Carr said.