A short-circuiting electrical wire caused a quarter-acre fire that burned Sunday on Snow King Mountain, according to a Jackson Hole Fire/EMS investigation.
Including the Snow King fire, Jackson Hole Fire/EMS responded to four fires — all likely human caused — in a 30-hour period, Fire Chief Brady Hansen told town councilors at a Monday workshop.
The Station 1 crew was returning from another call, he said, and "we were very fortunate that they were close" and able to get there quickly.
Before firefighters arrived, Teddy Bond, a lift maintenance mechanic at Snow King Mountain Resort, heard a call on a work radio reporting the fire at 4:15 p.m. His coworker called 911 while Bond grabbed a fire extinguisher and ran up the hill.
He flagged down coworker Patrick Morris, 42, who was mowing grass nearby, and hopped on the mower to drive closer to the flames burning along a chainlink fence that separates Aspen Hill Cemetery from the resort.
"We just start ripping it up the hill as fast as we can," Bond said.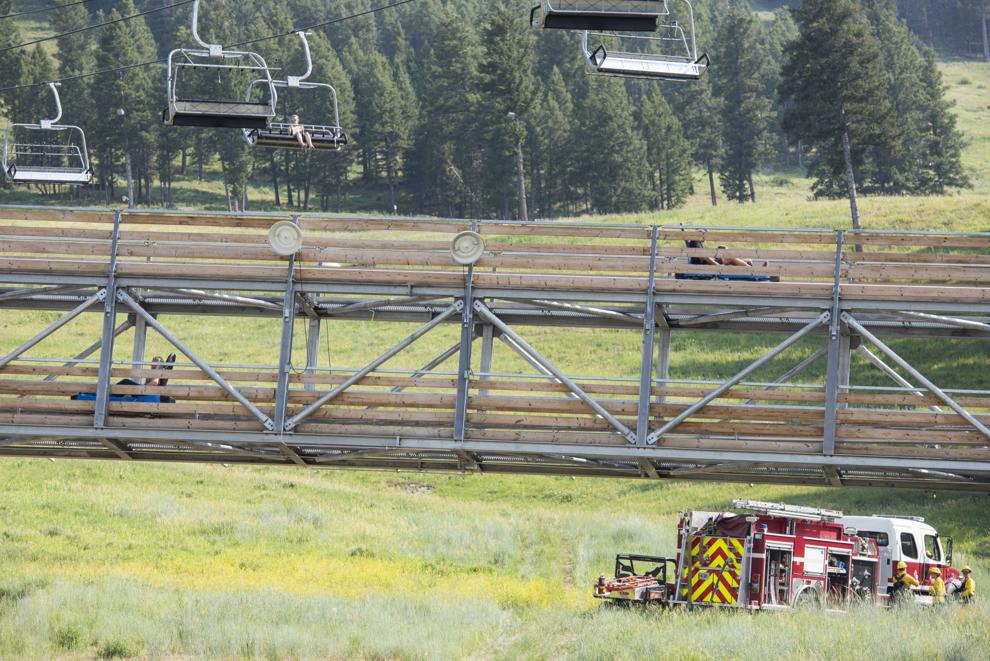 Once they got as close as they could drive with the mower, the 23-year-old headed to the fire while Morris took off to a nearby snow groomer to get another extinguisher.
"It was just instinct, being mountain utilities and lift maintenance, we know where all that stuff is at," Morris said.
Shaking with adrenaline after his uphill dash, Bond pulled the pin from the extinguisher and started dousing the flames not far from the Alpine Slide where guests had been enjoying rides before employees quickly evacuated the slide, Rafferty Chairlift and Alpine Coaster.
Like a modern bucket brigade, more employees started bringing up extinguishers grabbed from all over the mountain.
"Then it was a complete collective," Morris said. "It's our mountain. It's our future, our livelihood." In all, about a half-dozen employees responded, rounding up seven or eight extinguishers.
"I guess we got there right in the nick of time," Bond said. "We were probably fighting it for a good 10 minutes before the firefighters showed up. I was so exhausted, I had to get off the hill. I almost passed out."
Jackson Hole Fire/EMS doused the quarter-acre fire for good, making sure no heat remained to reignite it.
The fire burned resort property and town-owned land but did not reach the national forest.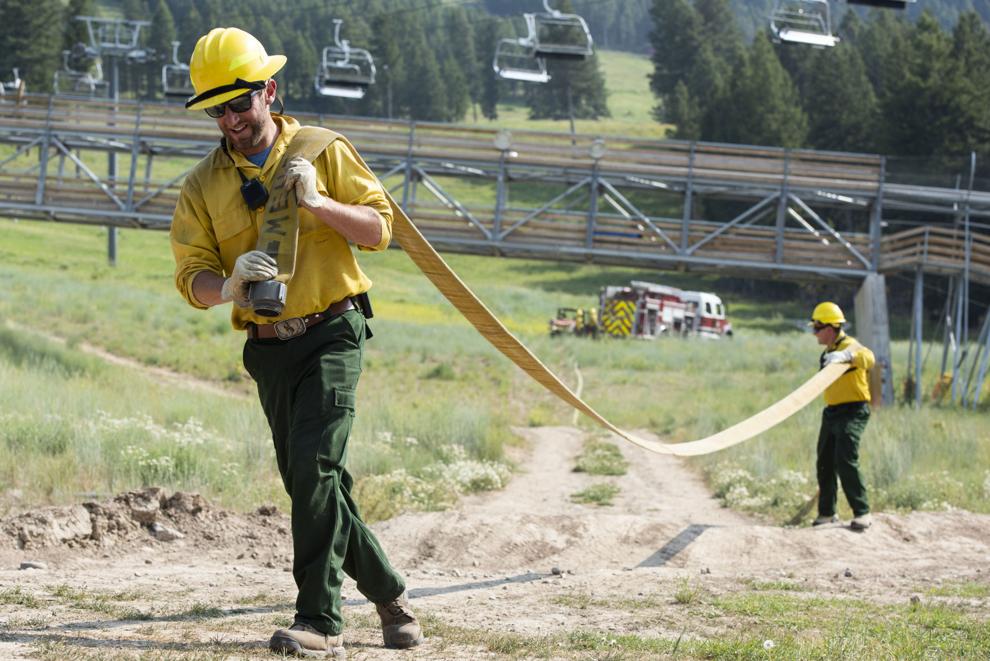 Resort staff have disconnected the electrical wire that started the small brush fire, according to Jackson Hole Fire/EMS and resort General Manager Ryan Stanley.
"We are very grateful that our staff and the fire department had such a swift response to the fire and [were] able to extinguish it rapidly," Stanley said Tuesday in an email. "We have been coordinating with Fire/EMS to improve our incident response on the mountain for the future."
Due to the "severe" risk of the fire's location near structures and town, Hansen said, firefighters responded from all around the valley, including the West Bank, National Park Service and Forest Service.
Due to the recent dry, hot conditions, any source of heat can become an ignition source, so firefighters are encouraging the public to check the connection and condition of extension cords, outdoor lighting and outdoor cooking equipment.
In addition, the fire department recommends signing up for possible future evacuation notices through Nixle by texting TETON_WY to 888777 or visiting www.nixle.com.