Vivian Smith dropped to her hands and knees on the Town Square to do as many pushups as her 4-year-old arms could muster.
"Can you hold this?" Vivian asked her mom, Emily, as she handed over her "The Future is Female" sign.
Other kids climbed on their parents' backs as the grown-ups muscled through reps of 10. The prone crowd of 50-some people wasn't participating in an exercise class — they were honoring Supreme Court Justice Ruth Bader Ginsburg, who died Friday.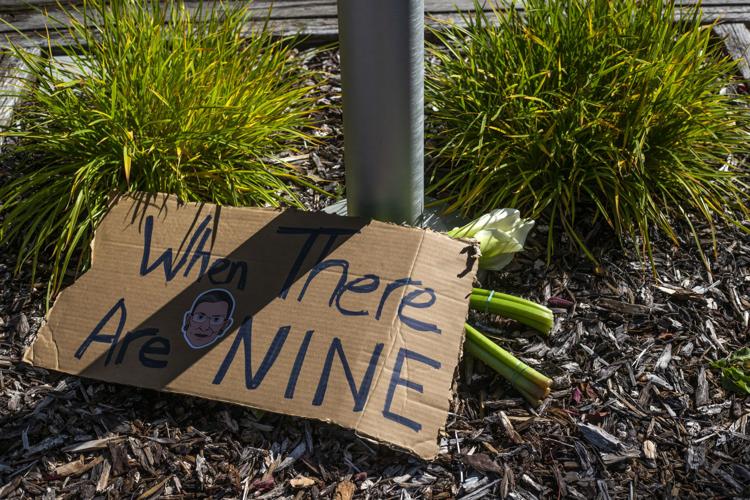 "She does 10 pushups and then she takes a breath, and then she does 10 more," said Natalia D. Macker, who led the crowd in impromptu pushups as a tribute to Ginsburg's exercise routine.
"I think that's very much a metaphor for the work we have in terms of achieving equality in our country, is that we do the work, take a breath — I think we took a little breath today to celebrate her — and then we'll get back to doing the work."
A Democrat who chairs the Teton County Board of County Commissioners, Macker organized the Sunday morning memorial, called Steps for RBG. The event also included discussing the justice's contributions and standing at the corner with "Thank you Ruth" and "RIP RBG" signs.
"I think it's important to honor her legacy," said attendee Jill Baldauf, "but also to make sure that we carry on that legacy of continuing dialogue and dissenting when we need to dissent but finding the consensus when we can."
Macker, whose mask read "DISSENT," was clad in all black, with a white ruffled collar and Ginsburg earrings. She said the Ginsburg quote that was especially resonating with her Sunday was "Real change, enduring change, happens one step at a time."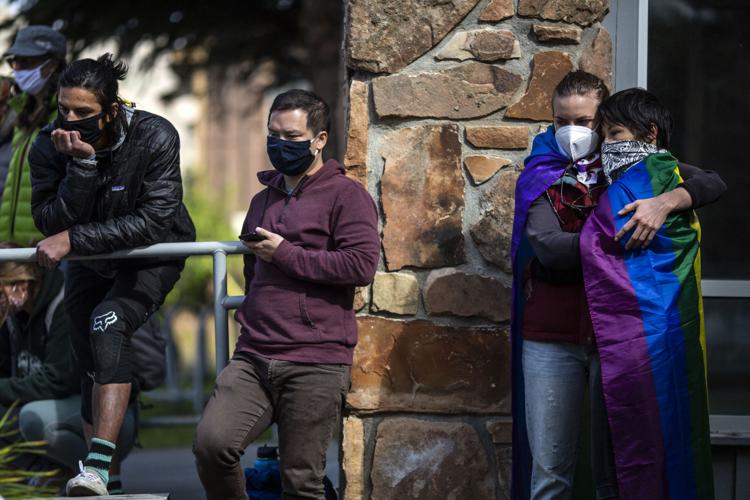 "I think if we think about all the things we want to do in our community and in our country right now, if we think about them all at once, it's overwhelming," Macker said, "but if we just break them down and think about them one step at a time and just start doing them one step at a time… all those steps will eventually add up."
Participants discussed several steps they could take to honor Ginsburg and participate in democracy, including voting, donating to causes and campaigns, taking action against injustice and running for office.
"I think what Ruth Bader Ginsburg has long done is recognize humanity and strive to protect the rights of humanity," said Libby Wood, who wore a "Rule Like Ruth" shirt. "She embodies and has always, for me, embodied justice."
The group finished the event at the Teton County Courthouse, where they read quotes from Mary Zaia's "You Can't Spell Truth Without Ruth" and finished their 87 pushups — a nod to Ginsburg's age — before placing their signs at the flagpole and taking a few minutes of silence.
The flag stood at half mast for Ginsburg.