Tyler Willis' red puffy jacket had soaked through, and as he felt the glacial cold set in, he realized he was in real trouble.
The 34-year-old schoolteacher and father of two had fallen into a crevasse and was in a tight spot with an uncertain outcome. In the ensuing minutes and hours, Willis felt excruciating pain and lost total control of his arms and hands. Unforgiving cold from being wedged between two wet ice walls cratered his body temperature, stripping him of his sensibilities and then consciousness. Unable to get himself out and fearing the worst, he started yelling desperately for help to come clattering from overhead.
"I could imagine the rope coming down from the helicopter and then the helicopter going up and just busting me out of that thing," a battered, though alive Willis told the News&Guide on a video call five days later. "Didn't happen."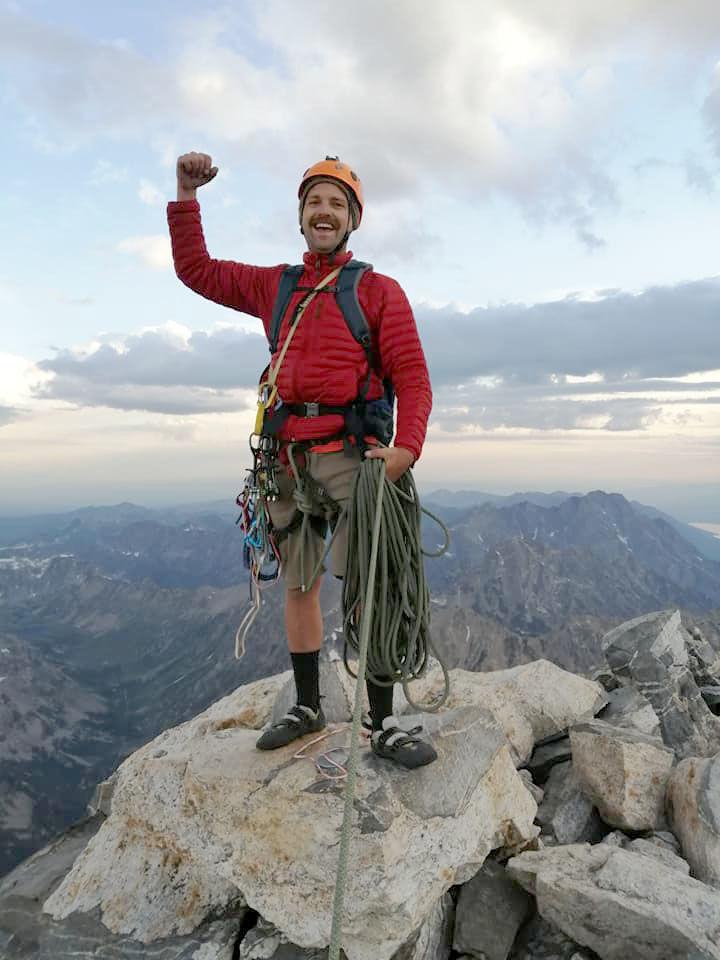 "But," he said, "I did have Josh, Ryan and Kia that busted me out of that thing."
This Teton Glacier rescue story has a happy ending.
It started two Saturdays ago in the early morning hours, when Willis and his good friend and frequent climbing partner Josh Anderson set off for their inaugural ascent of Mount Owen. The Evanston men were recovering from a 10-hour car-to-car Grand Teton summit 48 hours earlier, and the going along the most popular route up the Mount Owen, the 5.4-rated Koven Couloir, was slower than they had anticipated.
Not at the 12,927-foot-high peak's summit until 2:30 p.m., Willis texted his wife to inform her that they'd underestimated the day and wouldn't be out of the mountains until late.
Some six and a half hours of downclimbing and rappelling later, they were back at the bottom of the Koven. The sun had long set behind the Tetons and darkness neared, but it was not a problem for the seasoned mountaineers. All that remained was a walk across the low-angle snowy toe of the Teton Glacier and its moraine, then a hike out of Glacier Gulch, where they'd skirt Delta Lake on the way to the switchbacks leading to the Lupine Meadows trailhead.
Willis grabbed the duo's stashed trekking poles and took the lead on the Teton's largest glacier.
The snow surface was peppered with human footprints and too flat to sustain a running slide. They shuffled along with no worries.
"Just walking along, headed for the moraine," Willis recounted. "Next thing I know, pewwwwwww."
Anderson, 30 feet or so on the rear, watched the ground disappear from under one of his closest friends.
Where Willis had plunged, four trekking poles were splayed across a bathtub-size opening into the dense world of snow and ice underfoot.
Crevasses are to be expected higher on the roughly 50-acre Teton Glacier. But they weren't supposed to happen here, at least going by the wisdom of those who know the mountains best.
"If that thing opened up every year, we would know that it existed," said Scott Guenther, who has spent a decade leading Teton Park's Jenny Lake Subdistrict climbing rangers. "It's never been common knowledge in my own work group that you've got to worry about crevasses on the lower Teton Glacier."
The terrain, the veteran climbing ranger said, is relatively flat, and it's where people don't bother to rope up. It's similar terrain to the glacier in the gut of Garnet Canyon that's traversed and glissaded by hordes of hikers on their way to or from scrambles up the Middle and South Tetons.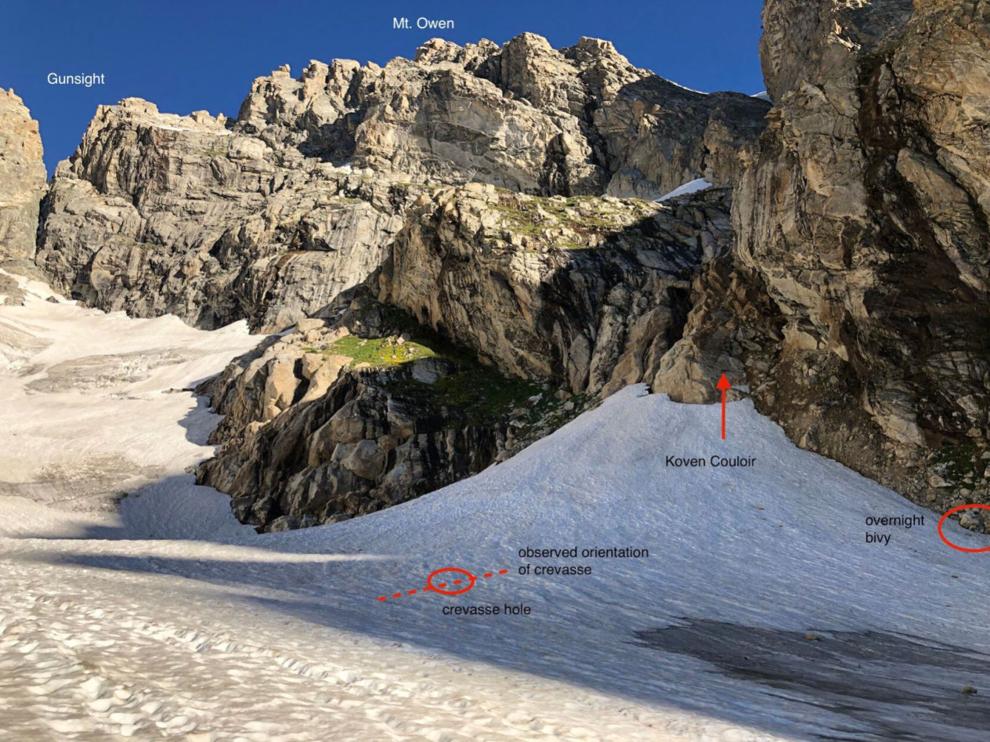 "If you've walked on that glacier," Guenther said, "you've walked on similar terrain to what these guys were on at the base of the Koven."
Willis caught a bad break, but he endured the plummet OK. He banged off the icy walls during the free fall, then was arrested by a constriction in the vertical ice walls that probably saved his life.
"I wedged in," he said, "and my feet were dangling."
It was almost totally dark except for where Willis broke through the crust, and he could hear water running quite a ways beneath him, deeper into the glacier. Not wanting to retreat any deeper himself, he thrust his stomach forward into the crevasse wall.
Up above, Anderson inched near but stopped within 5 or 6 feet, leery of befalling the same fate. He yelled down, taking stock of his buddy's situation, and within minutes had placed one of the ski poles near what he thought was the lip of the crevasse and then lowered their climbing rope over it, so Willis could try to tie in.
Willis hollered up that it was impossible for him to reach his harness, which was pinched into the ice wall. He was waiting for plan B, as the snow and ice and hailed down on his helmet from overhead and water seeped in from every point where his body touched the wall.
"I get wet really quick," Willis said. "Within probably 10 minutes of being in there, my down sweater soaked through. Once I felt the water penetrate, that was the first time I thought, 'I'm in trouble now, real trouble, and I don't know how this is going to play out.'"
It so happened Ryan Stolp and Kia Mosenthal were descending the Koven Couloir's last pitch, on the tail end of a day when the Jackson mountaineers completed the Teewinot-Owen traverse. The duo had intercepted and chatted with Willis and Anderson while they were nearing the Owen summit hours earlier, and they sporadically continued to see the Evanston climbers while rappelling down the mountain.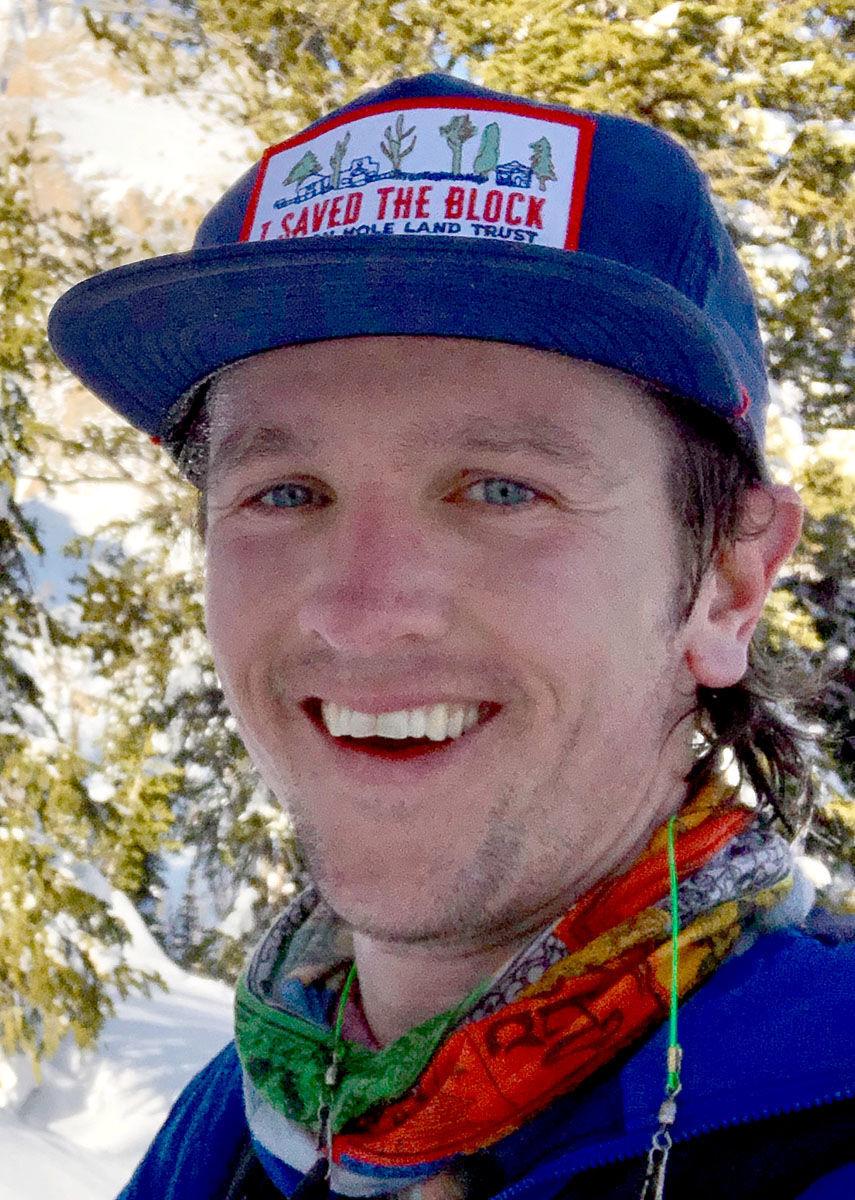 Now it was dusky, but they were again eyeshot of Anderson, who remained above the surface of the Teton Glacier.
"It looked like there was a single person who was looking for a headlamp or getting water," Stolp said. "He looked up at us and yelled to us, and I thought he said, 'Cross over.'"
Stolp thought it strange that a climber would shout to another climbing party about where to climb. He initially ignored the yells, which were dulled by a nearby waterfall.
"A minute or two later, I realized, 'Oh s---, he said crevasse,'" Stolp said.
Mosenthal and Stolp hustled down to the scene, learning Willis was about 25 feet into the crevasse and had been there for 15 or 20 minutes.
A decade earlier, Stolp had completed crevasse rescue training. With haste he took a climbing rope and started to build a 3-to-1 "Z-drop" system to give them a mechanical advantage to hoist Willis. Using crampons buried in the snow, they created an anchor. Because Willis couldn't access his climbing harness and belay loop, they dropped him a fixed loop on the end of the rope secured by a bowline knot.
In the depths of Teton Glacier, Willis received it and managed to secure the loop over his shoulders and under his armpits.
Slowly, they pulled up 165 pounds of person. It wasn't easy. The climbers would yell "Step!" in unison and then move forward with the rope, securing themselves with crampons and ice axes.
Willis, meanwhile, was just dangling, hanging by his armpits, with his arms pinched upward. With no way to ease the pressure from the rope, he felt "incredible pain." At the overhanging lip of the crevasse, the rescue hit a stumbling block. Stolp yelled down that they didn't know how they were going to get him over the edge and that he was just going to have to hang on.
But Willis couldn't feel his arms, because the circulation had been cut off. He couldn't take it.
"The pain was too much," he said. "I yelled, 'Lower me down, lower me down!' And they were like, 'What the crap, we can't do that.'"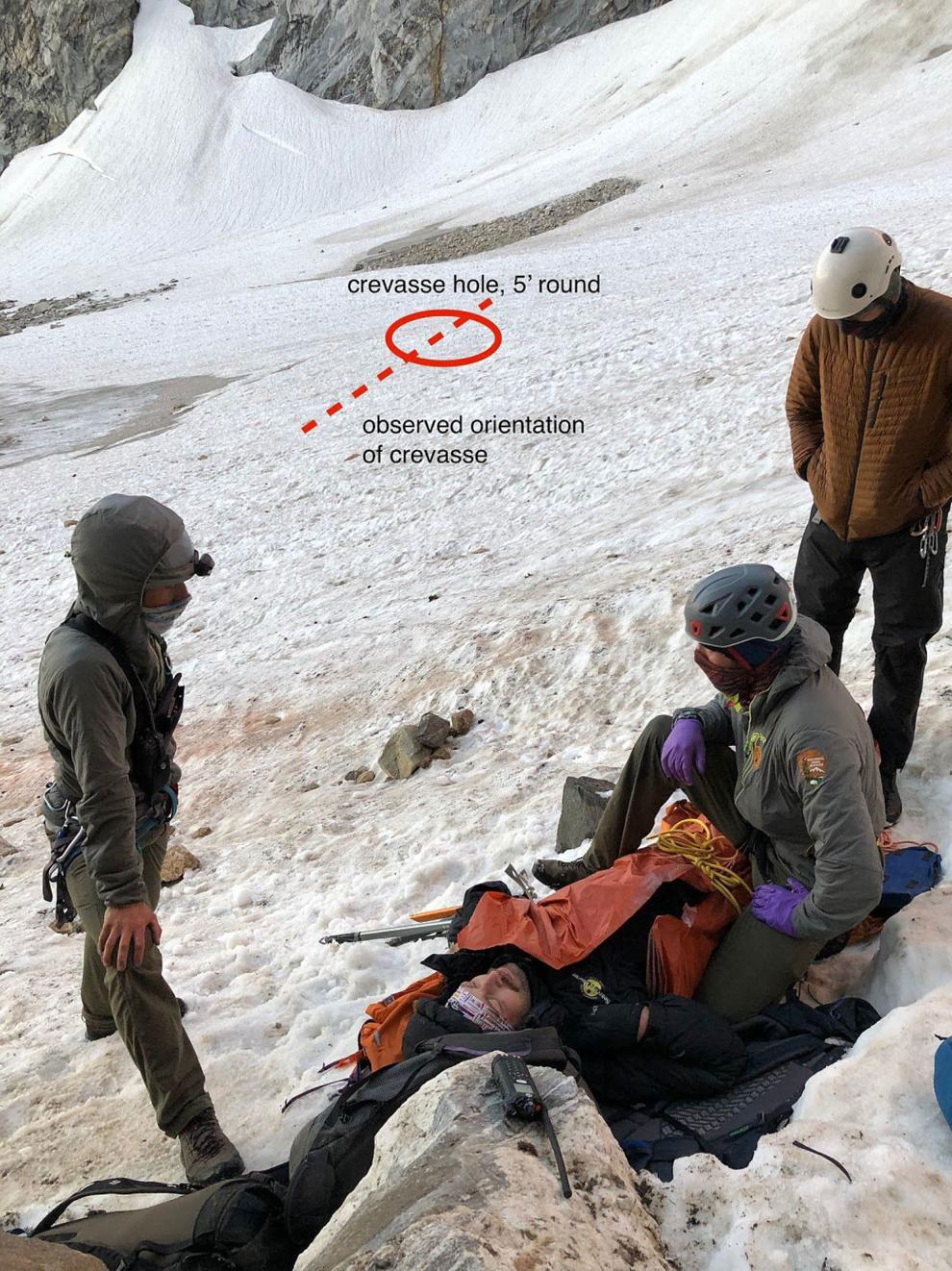 The three climbers heeded the request, however, dropping him back down for the constriction. While counterintuitive, Willis believes it was for the best, even in retrospect.
"It was probably the right call," he said, "because if I blacked out there dangling from my armpits I would have just fallen through the loop and fallen all the way down. I didn't have more time to hang on."
At that point, Willis had been in the crevasse for perhaps 45 minutes, and he was starting to seriously decline from hypothermia. On top of that, the first attempt at extracting him essentially paralyzed his arms. His memory of the ensuing hours is blurred or gone.
Seeing and hearing the rapid devolution of a human being was difficult.
"He went from talking to moaning to being unresponsive," Stolp said. "I thought we were doing a body recovery at that point, even if he came out with a pulse."
Although rappelling into a crevasse is not part of the conventional process of getting somebody out of a crevasse, Stolp went in. In the icy abyss Willis was covered in so much snow he couldn't initially tell his feet from his face.
Stolp cleared off his face. He got him talking, asking Willis about his family and job. But the real reason he was there was to tie him in. Quickly, he clipped his harness into the belay loop and then chimney-climbed out using crampons.
But back up top, the three conscious climbers were disheartened to find Willis wasn't really budging. Any progress they made was from the sopping wet climbing rope's stretch.
This time Anderson dropped down on belay to try to free his buddy, while Stolp and Mosenthal stayed on the surface to run and secure the rope through the Z-drop haul system. He saw Willis laying sideways in the crevasse's' constriction, again.
"As I got over the lip, I was like, 'Damn, that's a long ways down,'" Anderson said. "He was totally wedged sideways, covered in snow. It just was like worst-case scenario."
To boot, Anderson lost his headlight while in the depths. It was suddenly pitch black, though he could see a faint beacon shining in the water flowing another 20, 25 or so feet below.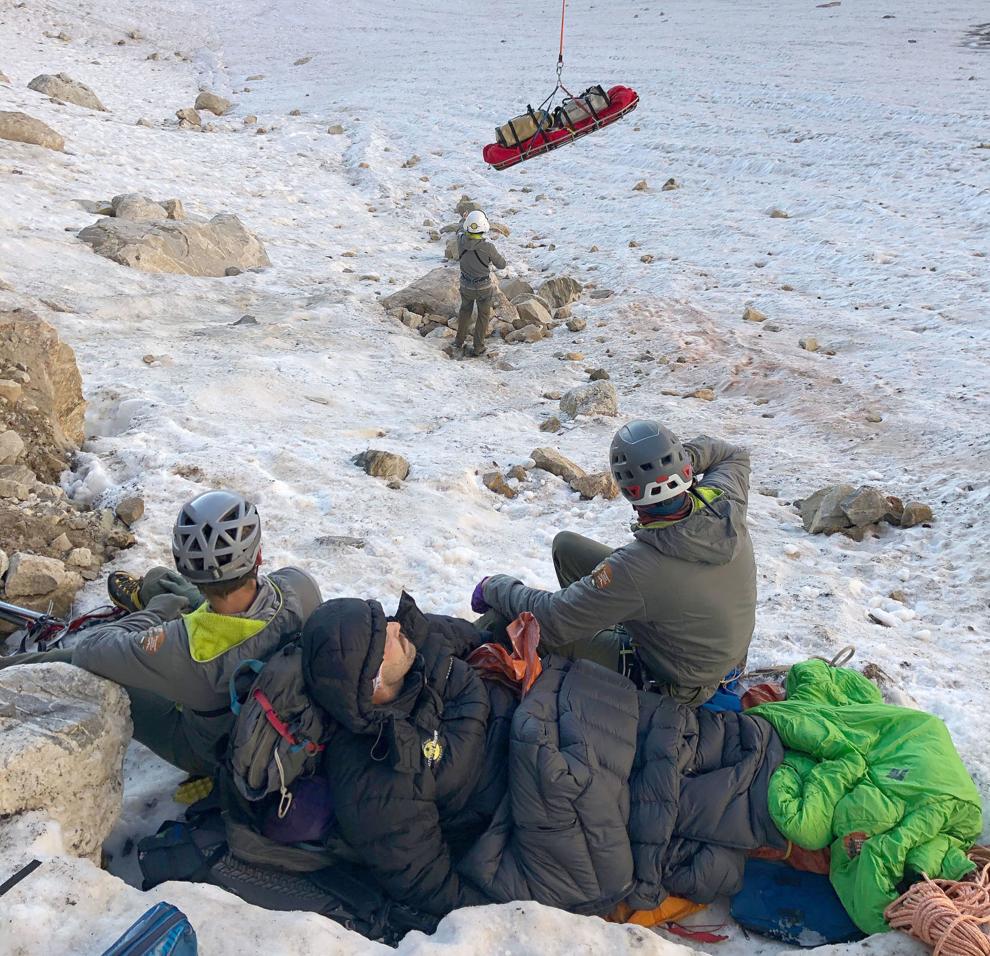 But another headlamp was lined down from above — Stolp had a spare — and Anderson went to work. He jerked at Willis' limp body until he was more upright, although his hips remained locked between the crevasse walls.
"We just gave him the old heave-ho until he broke free," Anderson said. "I remember doing it two or three times before he finally popped out."
Mosenthal and Stolp stepped in tandem with the rope again, incrementally raising Willis the 25 feet toward the opening again.
"The progress was so slow," Mosenthal said. "We were just digging in with our ice axes and coordinating our pulls together. Then we'd get to the top of the line and just run back down and reset the Prusik."
The process repeated time and again, with Anderson helping guide Willis and keep his head upright. At the overhanging entrance to the crevasse they encountered the same obstacle, struggling to easily maneuver 165 pounds of nearly lifeless person over the lip. Stolp made a shoulder harness to try to snake Willis onto the top of the glacier, and Anderson secured it. Anderson grabbed his seemingly unconscious friend's foot, placing it on his knee.
"I was like, 'Dude, stand,'" Anderson said.
Somehow, his friend's leg muscles firmed.
"I could feel him pushing on my knee," Anderson said, "and I remember him slipping over the edge."
Willis had been stuck in the crevasse while soaking wet, freezing cold and on the path toward death for two hours. But around 11:15 p.m., he was out.
"We definitely celebrated that moment for a second," Anderson said. "It was a huge step, just being out of the hole."
The momentary positivity gave way to a whole lot more work to save the life of a man who remained in dire straits. Although first responders had been messaged via a Garmin Inreach an hour earlier, a helicopter rescue anytime soon was out of the question due to the darkness.
"It's windy, he's completely soaked, completely unresponsive and he has contusions on his knees and his eye," Stolp said. "He's having muscle spasms and he's foaming at the mouth."
Willis' soaked shorts, cotton T-shirt and down jacket were cut off, and he was outfitted and surrounded with a spare synthetic sun hoodie, down vest, thin stocking cap and helmet and a couple of Gore-Tex coats. His feet went into a backpack.
The group knew they needed to get Willis off the Teton Glacier to some relative shelter, and they fashioned a litter out of backpacks, poles, buckle and rope and carried him a couple hundred feet away to the nearest rock field.
Once there, they hunkered in.
Although the GPS location pin that the Garmin device sent was spot on, rangers received only a single message.
"The person who was on the other end of the line interpreting the text message said, 'Fall into crevice," Guenther said. "That's what they read to our ranger."
Climbing rangers corresponded back that they had were sending two of their people up on foot and would be there by 4:30 a.m. Stolp wrote back asking for warm clothes for Willis and the rest of the team, but the request never went through.
In the open-air bivy, wearing the cobbled-together clothes, Willis wasn't getting better. On the upside, he also wasn't fading. Mosenthal, a certified wilderness first responder, kept tabs on his pulse and breathing, which hovered near the high 80s and low 90s heartbeats per minute and 16 to 18 breaths per minute.
"Seeing that maintain more or less steady throughout the night was encouraging," she said.
Willis was also snoring. Anderson, who straddled and snuggled up to his friend, appreciated the respiratory affirmations reminding them all that he was alive. The job of chief snuggler wasn't easy, both because of the terrain and Willis' convulsions and involuntary movements. Repeatedly, he fell off the backpack litter. Anderson stayed at it for hours.
"I definitely was having some conversations with a god that I may or may not believe in," he said. "I was like, 'Keep breathing until they get here.'"
Flashes from rangers Mik Shain and Cody Evans first started appearing at 3:30 a.m. By 4 a.m. they were at the scene — having just crossed the same unassuming lower reach of the glacier that contained the crevasse. They wrapped Willis in a thermal blanket and with puffy coats. Evans assumed the role of "human blanket," using his hands and rubbing all over his body as an active warming technique.
About a half-hour after being thoroughly bundled, Willis started coming to.
"The first thing I remember is him opening his eyes," Anderson said. "He was mumbling incoherently."
Evans, at one point, introduced himself to the hypothermic climber beneath him.
'This might work out for us'
"Tyler, in response, was just like, 'Wassuuuup?'" Anderson said.
It was a "Holy crap, this might work out for us" kind of moment, he said.
Willis soon started looking around, and said 'What's up?' to everybody. He answered questions about his name, his birth date. He even knew what had happened, assuaging fears of a traumatic brain injury.
Willis' first recollection of the day was at about 7 a.m. The morning light helped him comprehend what just happened.
"I thought, 'Oh my gosh, my wife is going to kill me,'" Willis said. "Fortunately she's still in the overjoyed state right now, but I'm waiting for the pain to start."
When rangers told him that a helicopter was on the way, he joked that he didn't want to pay for it — or even his deductible — and would walk off instead. There were actual anxieties about the often-hefty life flight bills, until the rangers assured him that the "first one's on the Park Service."
Willis and an accompanying ranger were slung from a short-haul rope that dangled from the Teton Interagency airship, and they were flown down to the rescue cache at Lupine Meadows. He blacked out the following flight, an on-board helicopter ride to the Eastern Idaho Regional Medical Center.
"My next real recollection is in the hospital in Idaho Falls, where a nurse was trying to get my temperature," Willis said. "She couldn't get a reading on it and just said 'You're cold, buddy.'"
As nurses rotated one heated blanket after the next, he realized his hands didn't work. His arms were OK, but he wasn't initially registering any movement of his digits due to serious nerve damage that's only slowly improving. (His family has set up a fundraising page to defray some of the medical expenses.) His knees were cut up and swollen from falling and scrambling for leverage in the crevasse. Within a few days he was discharged, but he faces a long road of rehabilitation, especially with his left hand.
But early on in the Idaho hospital, Willis decided that his crippled mitts weren't something worth dwelling on. He had been reading a book before the accident, "How to Stay Human in a F*cked-Up World," and summoned some mindfulness tips he'd recently learned.
"One of my takeaways from that book is that in any situation there are infinite things to complain about and infinite things to be happy about," Willis said. "I decided right then, I'm just going to be happy. I'm alive."
For that he has Stolp, Mosenthal and Anderson to thank. It was those three together, Teton Park ranger Guenther said, who saved Tyler's life.
"Kudos to those guys," Guenther said. "It was a really, really good job on their part to make that all happen."
(Ryan Stolp works as chief creative officer of Orijin Media, an independent business subsidiary of Teton Media Works, the parent company of the Jackson Hole News&Guide. — Ed.)