UPDATE, 5:45 p.m. Wednesday — Three people have been flown to Eastern Idaho Regional Medical Center following Tuesday's automobile accident in Grand Teton National Park.
Dorothy Ashby, the passenger in the Nissan, and Brian and Catherine Aubuchon, passengers in the minivan, are all listed in "critical condition."
The two children in the minivan, an infant and a toddler, are expected to be OK, though one broke a leg.
Original story — Two people were killed and five others are fighting for their lives after a head-on collision Tuesday afternoon in Grand Teton National Park.
Police said Craig Edward Aubuchon, 65, was driving a minivan southbound on Highway 89 when he veered into oncoming traffic.
"For reasons unknown he drifted into the northbound lane and a Nissan Xterra collided with it head-on, center to center," Wyoming Highway Patrol Lt. Matt Brackin said.
Aubuchon, of Town and Country, Missouri, was killed in the crash. His four passengers, two of whom were children, were rushed to St. John's Medical Center.
One of the adults in the van suffered life-threatening injuries, Brackin said.
The driver of the SUV, Carol Lynn Roemer, was also killed. The Riverton resident was 68 years old. Her passenger suffered life-threatening injuries and is being treated at St. John's Medical Center.
The wreck happened around 2:15 p.m. Tuesday, about half a mile north of the Jackson Hole Airport junction.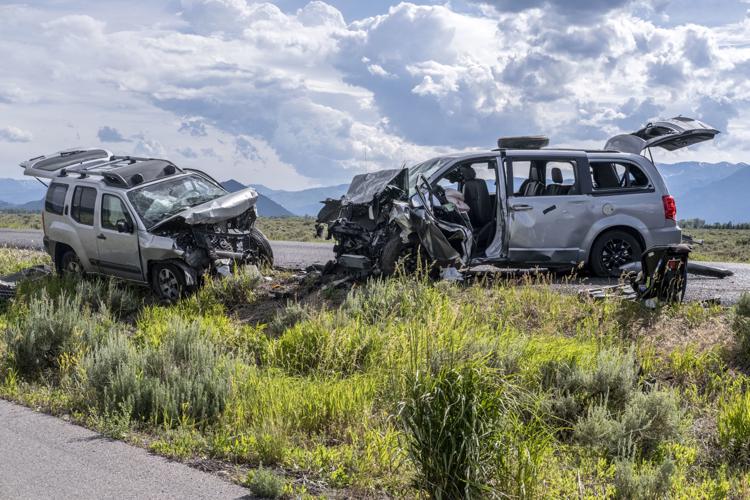 Grand Teton National Park rangers and Teton County sheriff's deputies directed traffic around the accident via the Antelope Flats and Gros Ventre roads during the four-hour closure.
The National Park Service and Wyoming Highway Patrol are investigating the cause of the accident.
Police don't believe drugs or alcohol were a contributing factor but autopsies will be done to rule it out, Brackin said.
Troopers were interviewing witnesses and surviving passengers Tuesday night at press time.
There were two children in car seats in the minivan, police said, both of whom were injured.
Police don't believe speed was a factor and it's unknown how fast the cars were going when they collided.
The posted speed limit on Highway 89 where the crash occurred is 55 mph.
The highway reopened around 6:30 p.m.