Deputy Andrew Roundy put on plastic gloves Thursday morning before reaching into an evidence bag full of vape pens and oils.
In his Jackson Hole High School office the school resource officer keeps a collection of e-cigarettes he has confiscated over the last three school years.
It's less of a brag bag and more of an educational display to show teachers, school administrators and parents that vape pens come in all shapes, sizes, colors and scents.
"Teachers who are not tobacco users don't recognize what the chargers look like," Roundy said. "They can look like an ink pen. There's one that looks like a cassette. The Juuls look like USB drives. Then the chargers look like a memory stick. A kid got caught charging one in class and the teacher didn't know what it was."
Roundy's collection is diverse, with several disposable and reusable vape pens that look like flash drives. One was red and shaped like a flattened egg.
"This one fits well in a front pocket," Roundy said.
The expansive collection shows just how prevalent vaping has become, even in a county with low tobacco use and even as more information surfaces about the potential health risks. Since 2016 Roundy has given 25 citations to teenagers for possession or use of tobacco products.
"Prior to last year the school would handle it on first offense," Roundy said. "But they have been more prevalent, so now we have a no-tolerance policy at the high school. So now they are getting school action and a criminal citation."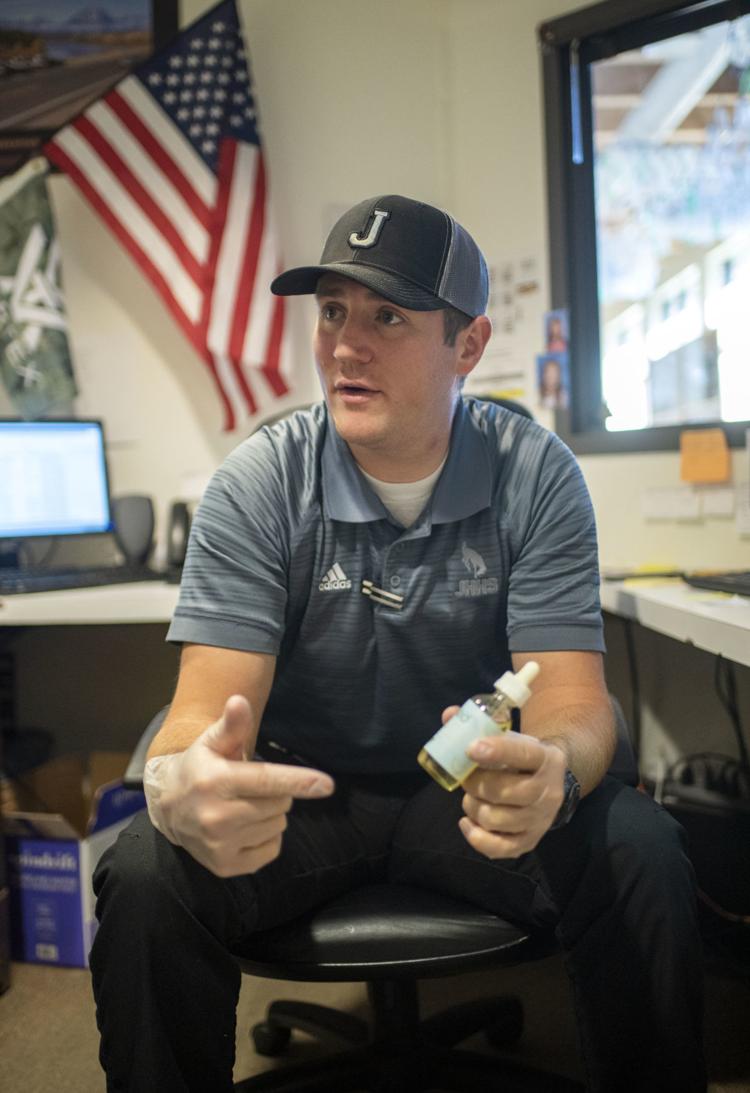 The number of possession of tobacco cases for minors cited into criminal court has more than tripled in the last few years, according to the Teton County Prosecutor's Office.
"The statistics we have seen in our office show a definite trend that's gotten significantly higher each year since 2016," Teton County Prosecutor Erin Weisman said. "This year is higher, and I think the trend continues to rise among our youth."
Some kids opt to plead guilty and pay the $50 fine for their first offense. Others wipe the misdemeanor charge off their criminal record by completing community service.
"The big concern I have is what's in the vape cartridges," Weisman said. "Is it THC or something else?"
Roundy said he doesn't test every e-cigarette he confiscates, only if the juice inside looks suspicious.
"Anything you can smoke you can put in it," he said. "If someone wanted to bust up meth really small and put it in their Juul pod that would work."
None of the vapes Roundy has taken from teens have tested positive for THC, he said. They've all contained tobacco oils.
The vape pens are just as popular at the middle school, police said.
A fifth grader was caught selling them to classmates. He was cited and later admitted to purchasing them online.
"The juvenile said the purchase was made with gift cards using the money of other students who wanted to purchase vapes, then ordered the vapes online," Jackson police Lt. Roger Schultz said.
In her short time as a school nurse Beth Shidner has seen her fair share of vaping. She's in her second year as a nurse at Jackson Hole High School and Summit Innovations School, but she has been on the front line of the national trend that may have serious health implications for Teton County students.
Little is known about the long-term health implications of vaping. What was originally billed as a way to wean adult smokers off cigarettes has blossomed into a craze that has swept up kids who may not have otherwise turned to tobacco products. And assertions that e-cigarettes are safer than cigarettes may be rooted in little more than ignorance.
"We have tons of young adults out there that have never smoked a cigarette but are using e-cigarettes," Shidner said.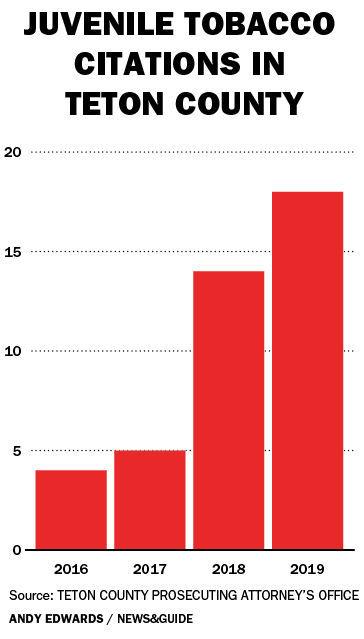 Vaping has been in the national news recently because of associated hospitalizations and deaths. Users have died because of respiratory failure, with some, like Portland, Oregon, man Justin Wilson, being diagnosed with vaping toxicity, or having oil coating their lungs and making them unable to breathe.
Shidner said those cases receive the most attention, but users who don't end up in the hospital are still at risk, especially younger users whose brains aren't fully developed. Nicotine affects younger brains differently than adults' because before the age of 25 a person's brain creates stronger synapses between cells. According to the Office of the Surgeon General, because addiction is a form of behavioral learning, the stronger synapses created when kids vape lead to a heightened risk of addiction.
"The nicotine affects the pleasure center in the brain," Shidner said. "It mimics brain chemicals like dopamine."
As nicotine changes brain chemistry, it can cause behavioral changes, like decreased impulse control and attention span, as well as shifts in mood. The surgeon general's office says the changes can be permanent, even if people stop vaping.
Vaping can have physiological effects, Shidner said, that include tachycardia — an arrhythmia in which the heart beats faster than normal at rest — and increased blood pressure. It can also create respiratory distress and shortness of breath because of the inhalation of aerosols.
The combination of danger and a lack of information led to a TED Talk on the emerging trend. Biobehavioral scientist Suchitra Krishnan-Sarin spoke about the ingredients found in vape pods. Each pod can contain roughly the same amount of nicotine as a pack of cigarettes, but because they are more enjoyable than cigarettes, users can easily go through a pod a day.
Some contain solvents like propylene glycol and glycerin, which are approved for human consumption as food but may have unknown effects when inhaled. Some of them also contain alcohol, which may be used as a thinning agent and is toxic if inhaled, Krishnan-Sarin said. The construction of a vape pen may also lead to particles of heavy metals being inhaled, because the metal in the heating coil or element may flake off into the aerosolized liquid.
"Let me make this very clear: What is produced is definitely not water vapor," Krishnan-Sarin said.
With 3.6 million middle and high school students reporting they have tried vaping, according to Krishnan-Sarin, educators and health care workers have partnered in an attempt to stem the tide. The Curran-Seeley Foundation and the school district have added information about vaping as part of the prevention education they already offer in schools.
Teachers are "asking me now to please incorporate it in fifth grade," Curran-Seeley social worker Heather Franklin said. "I was kind of shocked, but that's the people who are on the front lines asking for help."
Franklin teaches prevention classes in the schools, and she said awareness about vaping has skyrocketed among educators. Teachers who may not have known the health effects of vaping or what the devices looked like have quickly learned. She even carries a Juul device in her folder to show teachers when she visits schools.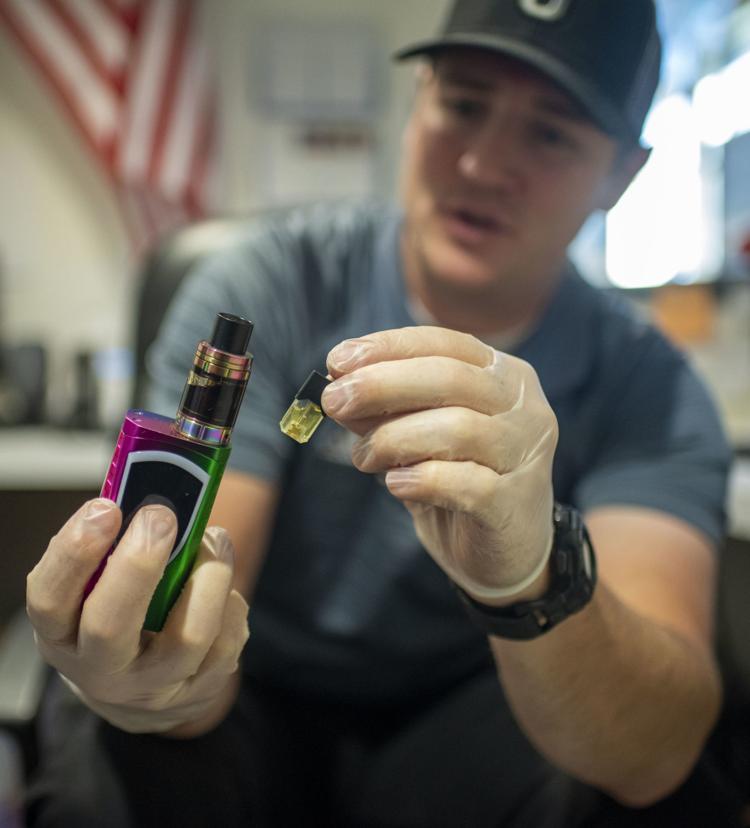 Parents also have a role in helping children stay away from vaping, she said, which is why Curran-Seeley social workers now attend parent-teacher conference nights and host educational nights for parents. She and Shidner said that as awareness has risen, parents have started paying more attention and students are looking for resources to quit, though it may not be as easy as quitting cigarettes.
"The amount of nicotine they're addicted to is more than someone who smokes cigarettes on a regular basis," Shidner said. "We're seeing students here that would like to quit, but they can't."
Shidner wants to form a support group at the school that will use apps and text coaching to help students quit. She encourages students to tell their parents if they come in to ask her advice on quitting, but she doesn't "force it upon them" unless she sees an immediate health risk.
In the meantime, educators and prevention workers like Franklin say every tactic should be employed. Education and awareness may help some students avoid starting, but with 21% of 12th graders saying they have vaped in the past 30 days, according to a 2018 University of Michigan study, enforcement has its place, too.
Roundy said he has started going into the boys bathrooms during passing periods at school, because unlike cigarettes, the smell of vaping doesn't cling to students' clothes or stay in the bathrooms as long, meaning students usually need to be caught in the act. He also encourages teachers to use student bathrooms instead of the staff ones so kids see more of a staff presence.
It may feel as though vaping has come out of nowhere, but modern e-cigarettes have been around since the early 2000s. Roundy said the mobilization of resources is needed but the signs of the trend and its potential risks have been evident for a while.
"It's appropriate timing," he said, "but it could have been sooner."