After 18-year-olds Matt Ellingson, Malu Gierau and Millie Peck finished their classes at Jackson Hole High School, the three first-time voters headed to the polls at Teton County Library to vote in their first general election.
"It's almost a rite of passage," Ellingson said. "It's a good feeling to participate."
Young adults have a reputation as no-shows in elections compared to older generations.
For example, only 143 people ages 18 to 24 voted in the primary election in Teton County. But many high school seniors — of whom 54 were eligible to vote — and college freshmen said they were excited to cast a ballot in their first election and couldn't imagine not doing so.
"I've never really thought about not voting," said Emery Rheam, 18. "I just knew I would. I never questioned it. As much as voting is a right, it's also a privilege that a lot of people in this world don't have."
Rheam, who's volunteering with the local Democratic Party in Hanover, New Hampshire, where she attends Dartmouth College, said it was difficult to hear people say they weren't voting.
"I struggle with not voting because there are so many people that would kill for that opportunity," she said.
First-time voter Mary Margaret Grassell, 18, said she too was raised to consider voting a no-brainer. She voted absentee from Washington and Lee University in Lexington, Virginia.
"My family has always told me how important it is," she said. "It's your own civic duty."
Jackson Pond, 19, a freshman at Lewis and Clark College in Portland, Oregon, said he considered voting to be a central part of being an American citizen.
"I know it sounds cheesy, but you have a voice," he said. "Even if you think it's a small voice, you should still use it. You can't be upset unless you actually participate."
College students who voted absentee said the process was fairly straightforward, even though "It's not the most fun thing to do," as Grassell put it.
"In the grand scheme of things, the entire process took two hours out of my life," Pond said. "And my case is an extreme example. That was definitely worth it."
Many requested a ballot before they headed to school in the fall, which came with a pre-addressed envelope.
"I think if you're on it, it's very easy," Rheam said.
As the students make their way into the world outside Wyoming, they're expanding their horizons and undergoing some culture shock along the way.
"I just assumed everybody voted," Rheam said. "In hindsight, that's a very single-minded view because growing up, my parents both voted and my parents encouraged me to vote. It's just what we do."
What got them to the polls
First-time voters said they were motivated by many local and national issues.
Although the teenagers are spread out across the country, many named Jackson issues like housing as a reason to vote. Alex Coosaia, 18, a freshman at Loyola Marymount University in Los Angeles, said he wanted to participate in his community.
"I like to have an idea of what's going on where I'm from," Coosaia said.
Voting was a little more time consuming than he anticipated, Coosaia said, because he had to do research to catch up on hometown news he'd missed. But focusing on where candidates stood on issues like the Tribal Trails Connector streamlined the process. Peck, a high school senior who lives in Indian Trails, also said she looked at how county commissioner hopefuls felt about the road before voting.
Rheam urged more people to pay attention to the school board race.
"I think that the school board election matters a lot regardless of whether or not you have kids or a kid in the public school system in Teton County," she said. "The school board is something that affects everybody regardless of if they're at all affiliated with the schools."
Many, like Rheam and Coosaia, said protecting public land was important to them. Other topics Rheam named as "the obvious ones" that influenced her vote were racial and gender equality and protections for the LGBTQ community.
"To me personally it's a little upsetting that's something I have to state as an issue," she said.
Overall, the first-time voters said it was important that their peers participate. Peck added a caveat — she said she hopes her generation educates themselves before heading to the polls. A student in her language arts class, she said, said he was voting for Rex "T-Rex" Rammell because he had a "sick name." Rammell ended up losing.
Social media, Peck said, is helping get out the youth vote.
"They say bad things about social media, but one good thing is the positive peer pressure," she said.
Pond said that even before attending a politically active college (one reason he chose Lewis and Clark), his friend group was "fairly aware of political issues and talked about politics regularly.
"We realized these issues affect us and are going to affect our kids and our futures," Pond said. "We take it pretty seriously."
His former classmate Rheam agreed.
"Alongside a lot of my peers, I was pretty angry with what happened in the 2016 presidential election and the 2016 elections in general," Rheam said. "I couldn't vote in that election, but my generation is the one that's going to be the most affected by that election. We were old enough to fully know what was going on and not be able to do anything."
Knowing names on the ballot
Gierau had a special reason to become involved in politics. Her dad, state Rep. Mike Gierau, D-Teton, was running to move on to represent Wyoming Senate District 17 and won.
"The election has been a big deal at my house," Gierau said. "We talk about it a lot. I just think it's interesting that as an 18-year-old, I get a chance to influence our politics and be able to change things, sway things, either more Republican or more Democrat just by going there and sitting at a table and voting. It's so awesome that I get to have a voice as an 18-year-old."
Gierau said education and women's health were her biggest voting issues.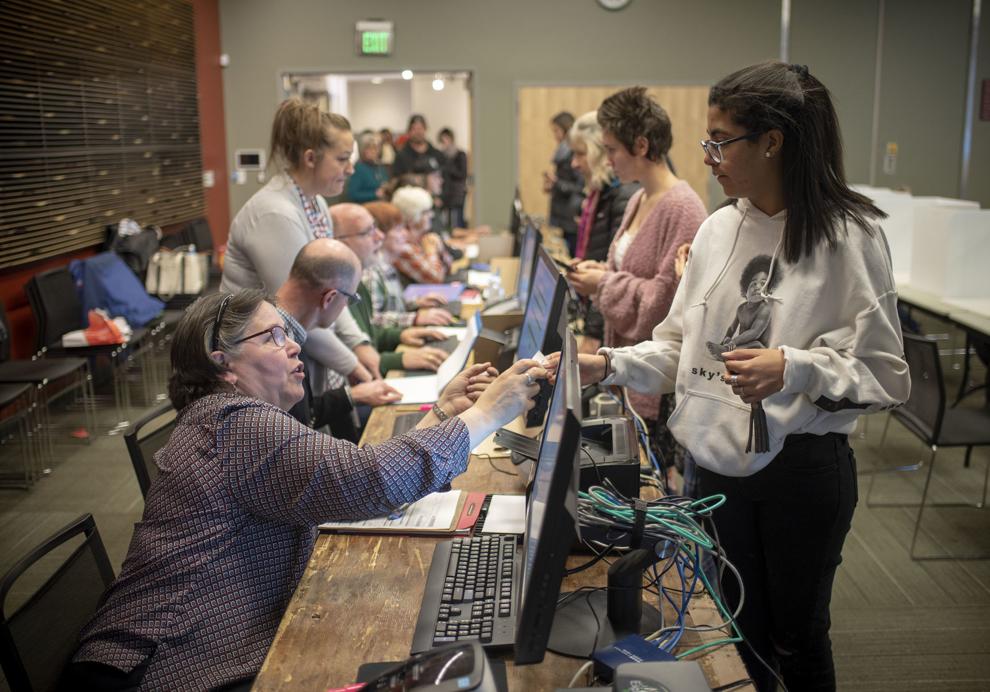 She tried to organize a school walkout like others across the country for students to vote. But there wasn't a lot of interest in missing class, she said, because the polls were open for so many hours after school. Instead, she worked with Jackson Hole High School Principal Scott Crisp to send an email to seniors who are 18, reminding them to vote.
Others said knowing candidates like Matt Carr, elected Teton County sheriff, or Gary Trauner, who attempted to defeat U.S. Senator John Barrasso and lost, made voting hit home.
"I wanted to vote because it was a personal connection," Grassell said.
She's been trading political texts back and forth with Trauner's son, Aaron.
"A lot of my friends and I love to debate about politics because we have very different political views," she said. "It's fun for me and a lot of my friends just to get a different perspective."
Pond also named Trauner as a reason he was excited to vote.
"I was really drawn to be able to vote for Gary Trauner because I think he has a lot of good ideas and can really make some positive changes," he said.
Pond said he tries to look past party and focus on "the person as a whole and what they stand for.
"There are these career politicians that are really in the game to further their party's agenda and their own personal gain," he said. "I think that Gary really stands against that and to me personally, that really matters."
Gierau and Peck both registered as unaffiliated for that reason.
"You want to keep your parents happy," Gierau said. "But it's what it is to you. It's not what your parents are."