8:08 p.m.: All the votes are in. Voters have approved nine projects totaling $75 million. The only project voters nixed was $2 million for planning for upgrades at the Teton County courthouse. Here are the final results:
Cache Creek tube (PASSED): 4,633 for (75%); 1,517 against (25%)
Vehicle maintenance facility (PASSED): 3,315 for (54%); 2,778 against (46%)
Courthouse improvements (FAILED): 2,587 for (43%); 3,451 against (57%)
Recycling infrastructure (PASSED): 4,586 for (74%); 1,589 against (26%)
Wildland fire trucks (PASSED): 5,308 for (86%); 880 against (14%)
Gregory Lane upgrades (PASSED): 3,612 for (59%); 2,480 against (41%)
Community housing (PASSED): 3,501 for (57%); 2,631 against (43%)
History museum land purchase (PASSED): 3,793 for (62%); 2,334 against (38%)
Rec Center expansion (PASSED): 3,556 for (58%); 2,597 against (42%)
Wildlife crossings (PASSED): 4,888 for (79%); 1,329 against (21%)
7:53 p.m.: Results from votes cast at the Teton County Library are in. Here are the results so far, though votes from the Wilson vote center are still pending.
Cache Creek tube: 4,083 for; 1,294 against
Vehicle maintenance facility: 2,907 for; 2,421 against
Courthouse improvements: 2,293 for; 2,991 against
Recycling infrastructure: 3,997 for; 1,400 against
Wildland fire trucks: 4,619 for; 785 against
Gregory Lane upgrades: 3,194 for; 2,134 against
Community housing: 3,046 for; 2,311 against
History museum land purchase: 3,330 for; 2,023 against
Rec Center expansion: 3,125 for; 2,256 against
Wildlife crossings: 4,246 for; 1,185 against
7:45 p.m.: Results from Wilson and Teton County Library vote centers are en route to the election HQ, county clerk Sherry Daigle confirmed.
7:33 p.m.: At Hole Bowl, Vance Carruth, one of the original wildlife crossings advocates, is "crossing my fingers and toes" that the project passes, but he's not too worried about its odds. With a nearly 4-1 ratio in early voting, the first set of results validate his confidence.
Town Manager Larry Pardee is hopeful all 10 projects will pass, but said he's long since learned to be ready for "whatever the community decides." So far the town's projects are all closer than not to passing, though some by a small margin.
7:24 p.m.: Representatives for almost all the SPET projects have gathered at Hole Bowl.
The movers and shakers behind the wildlife crossings campaign, leaders of the Historical Society, and local government officials are all chatting and awaiting the results.
7:15 p.m.: Early and absentee votes are being counted first: 2,988 people voted early. That's 2,428 voters who cast ballots early in person, and 560 mailed ballots. These are not final results, as two vote centers are still pending.
Cache Creek tube: 2,201 for; 735 against
Vehicle maintenance facility: 1,544 for; 1,358 against
Courthouse improvements: 1,310 for; 1,584 against
Recycling infrastructure: 2,128 for; 827 against
Fire apparatus: 2,509 for; 441 against
Gregory Lane: 1,725 for; 1,183 against
Community housing: 1,591 for; 1,341 against
History museum: 1,853 for; 1,068 against
Rec Center: 1,563 for; 1,368 against
Wildlife crossings: 2,287 for; 680 against
7 p.m. Tuesday: The polls are officially closed. News&Guide staff are stationed at the Teton County Administrative Building, awaiting the results.
Teton County Clerk Sherry Daigle is predicting high voter turnout based on preliminary numbers, as much as 50%. Both vote centers saw a "constant" stream of voters, she said.
The last SPET election in May 2017 saw 45% turnout.
5:30 p.m. Tuesday: John Orzechowski is a lieutenant with the Teton Village Fire Department, so the $1.6 million ballot measure for wildland firefighting equipment was one big reason he turned out to vote.
"I feel it's really important to protect our town from wildfires, the growing risk of fires, and our apparatus are pretty much ancient," he said.
5:20 p.m. Tuesday: Interviewed at the library vote center, Carl Shuptrine said all the projects on the ballot are worthwhile, but he cares most about $18.5 million for a maintenance facility for town vehicles and other infrastructure upgrades.
"Our town snow plows, they need a place to do all their maintenance and stuff so those guys aren't outside all the time, especially after a February like we had last year," he said. "I think it's important we recognize town government does a lot for making this town run. We need a place to keep up, ensure all our equipment is well maintained."
5:05 p.m. Tuesday: Kelli Petrick brought her two daughters with her to vote at the library Tuesday evening. The kids filled out yellow faux ballots, designed to teach kids how voting works. 
Petrick said she's most excited about the Rec Center project. 
"We are there twice a week pretty much all year 'round for swimming," she said. "I used to climb a lot at the climbing gym, so I've been sad since that's closed."
5:00 p.m. Tuesday: 1,956 voters have cast ballots at Teton County Library so far. Two more hours to vote. 
1:44 p.m. Tuesday: Wilson voter Shannon Troxler said she voted for all 10 tax measures.
"Because I'm a Democrat, because I feel they're all important," she said. "They're all essential things we need. I was just thinking what an easy election this was."
But wildlife crossings were most important for her.
"I live on the Village road and I have seen eight or 10 dead moose over the last year," Troxler said. "I hope it helps with that."
Attorney Ed Bushnell said he was at lunch at work, fully intending to cast a ballot before the polls closed, when someone stood up and announced: "If you haven't voted yet, shame on you."
"So I got guilted into it," he joked.
Bushnell, who is familiar with the intricacies of SPET projects from his days as a newspaper reporter in Jackson, checked yes down the ballot at the library.
"I have faith in the elected officials to make these calls," he said. "That's why we elected them."
Others are more skeptical. Many voters are echoing the concern, voiced frequently in the run-up to the election, that some of the ballot items should fall under the more traditional categories of government funding — namely, the town and county's general budgets.
Paralegal Payson Sword said she believes some of the street infrastructure projects, in particular, don't belong on the SPET ballot.
1:34 p.m.: Voters in Wilson are especially interested in supporting wildlife crossings in today's election. Many of them live near Highways 22 and 390, which see a substantial number of moose collisions.
Lisa Goldstein doesn't hesitate to say she showed up to the polls today to support wildlife crossings.
"We've lost so many moose since I've lived here," she said. "I've lived here a short time, three years. It's one of the most amazing parts of living here. To see them not being protected is ... we've got to change it."
1:22 p.m., Tuesday: Some voters showed up to support projects of special importance to them. Leesa Wilde, who works for Teton County School District's transportation department, said she came to the library to vote for updates to Gregory Lane, where the district says many children walk along the road to get to school.
"I see these kids," she said, "and it would be nice for them to have sidewalks to walk on."
Many people, though, head to the ballot boxes at every election "just because you should," as photographer Lindsay Linton Buk put it.
"I think in a small town in particular you can make an impact," she said, "so let your voice be heard."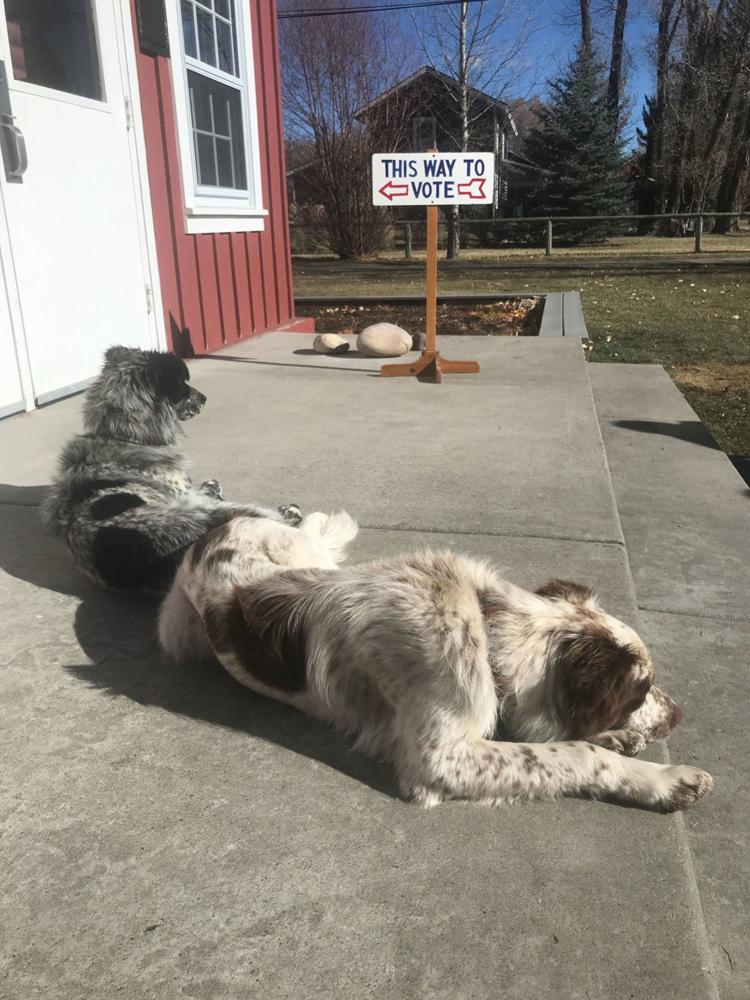 1:10 p.m. Tuesday: Dogs don't quite outnumber people at the Old Wilson Schoolhouse, but their poll presence is noted. Many good dogs are making the vote center part of today's walk. Dakota and Copper soaked up the sun on the front stoop this afternoon, sitting in as de facto greeters while their owner cast a ballot inside.
12:50 p.m. Tuesday: Wilson voter John Tozzi says he tries to vote every chance that is available.
This election, he was particularly interested in supporting $10 million for wildlife crossings and $22 million for expanding the Rec Center.
"I utilize the rec center and think some of the upgrades would be great," he said.
12:45 p.m. Tuesday: A team of election judges reported for duty at the Wilson Schoolhouse at 6 a.m. They also took a two-hour training course a couple weeks ago.
Charles Gulotta is greeting voters, accepting ballots into the machine and handing out stickers. It's his first time serving as an election official.
"I have the time and I believe in democracy and I wanted to come help a little bit," he said.
Albert Donald has served as an election official since 2006. He said it's hard to gauge how turnout is looking, but so far he predicts turnout is higher than the previous special SPET election in spring 2017.
The canine count continues. Blitzen, a three-legged terrier, arrived at the Old Wilson Schoolhouse to fulfill his civic duty. Still a no go.
12:30 p.m., Tuesday: Jonathan Desabris and Justin Fann showed up to vote in Wilson to exercise their civic duty. They said supporting $10 million for wildlife crossings, $5.5 million for affordable housing and $22 million for expanding the Rec Center were their priorities.
"We work in Wilson so we're always driving through that corridor of where people stop and watch animals and there's accidents," Desabris said.
"Housing obviously is continuing to be a more and more challenging feat, just to stay in this place," Fann added.
Earlier today, News&Guide Director of Visuals Brad Boner saw 3-year-old twins being given kids' ballots to fill out to keep them busy as their mom filled out an actual ballot. They were not allowed to put them in the electronic ballot filing machine. They both gave the election official, Bob Culver, a hug anyway.
In other news, Pearly the dog was turned away from the door of a polling place, not being registered to vote.
"No, you don't get to vote!" a voter chastised Pearly, who waited patiently for her owner to cast her ballot inside the Wilson Schoolhouse. She's one of several pups who have shown up to the polling place. Despite their attempts to enter and write in a dog park proposition, election judges have turned them away.
12:15 p.m., Tuesday: About 307 people had cast ballots by noon at the Old Wilson Schoolhouse. One was Chris Williams, a Wilson resident who biked over. He said he was driven to come out and support a $4.4 million measure for a home for the Jackson Hole Historical Society and Museum.
"This is the best tax because of course the visitors help us pay for it," Williams said. "It's a tax that eases the burden on the homeowner and the local residents to pay for so much infrastructure that's gonna be shared by visitors as well."
Williams also supported the biggest ticket item on the ballot, $22 million for expansion of the Rec Center. While he hasn't supported the Rec Center on previous ballots, he said over the years he's observed how many people use its amenities.
Bob Culver is scanning people's ballots into the machine and handing out stickers in Wilson.
At the Teton County Library, Franz Camenzind was manning a ballot machine.
10:45 a.m., Tuesday: A steady stream of voters are heading to the polls this sunny fall morning. 
As of 10:23 a.m. 473 people had voted at Teton County Library. The polling station at the Old Wilson Schoolhouse saw 195 voters by 10:15 a.m.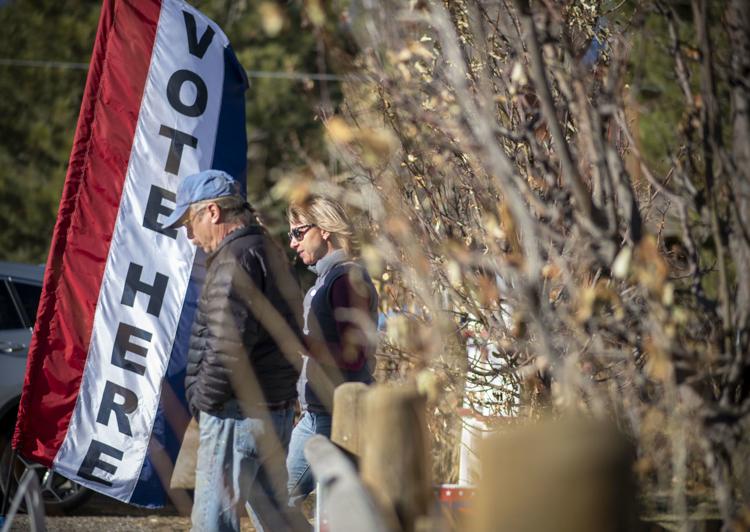 Original: Happy SPET Election Tuesday!
We've had our coffee and are ready to report on the day's specific purpose excise tax election.
For day-of voters ready to cast a ballot, the vote centers opened at 7 a.m. Remember: there are only two vote centers — Old Wilson Schoolhouse and the Teton County Library. Doesn't matter which precinct you're in, you can vote at either one.
We'll be covering action at the vote centers and sharing SPET coverage until the polls close at 7 p.m. If you're still deciding how you're going to vote, check out our in-depth pre-election coverage. Otherwise, stay tuned!
— Rebecca Huntington, SPET blog wrangler