Though some initially worried that the pandemic would negatively impact voter turnout, Teton County surpassed 2016's total by 1,992, with 14,787 ballots cast, an incredible percentage of the record number of voters who are registered in the county this year.
One of those voters was Teton County Affordable Housing Director April Norton. On Tuesday morning — after discussing the importance of voting over her Election Day chocolate chip pancakes — she and her two young children, Nell, 6, and Hank, 3, bundled up patiently in a long line that went out the door and wrapped around into the Teton County Library parking lot.
Living across the street from the library, Norton said, she normally just walks straight inside without a wait.
"Based on this morning's line, this election is unlike years past in many ways," Norton said.
Teton County Clerk Maureen Murphy confirmed that this year's election was indeed unique. This year, she said, Teton County had the largest number of registered voters in history. Not counting those who registered on Election Day, 93% of the total 15,966 registered voters submitted their ballots.
"This is by far the highest turnout — not the highest percentage turnout — but the highest turnout of people voting, and the highest number of registered voters we've ever had," Murphy said.
Similar to the uptick in voter registration and turnout, 7,144 in-person or by-mail absentee ballots were cast in 2016. That number increased by nearly 5,000 this year, totaling 12,071 absentee ballots.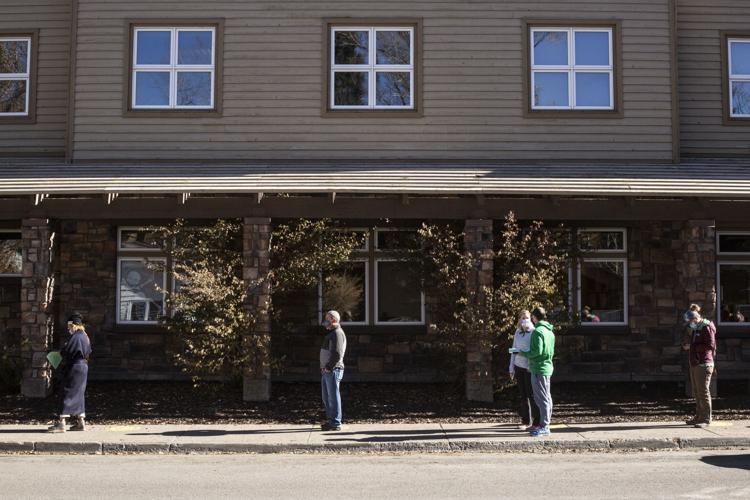 Seventy-year-old first-time voter John Gregg said he believed this election needed his vote. Due to a speech impediment, Gregg felt too intimidated in past elections to vote by himself. On Tuesday, inspired to change the country's leadership, he asked Community Entry Services Director Carolyn Worth to help him cast his very first ballot.
"I'm voting for the guy that his name begins with a B, but I can't pronounce it," Gregg said.
Also favoring a change in the presidency, landscape architect Jason Snider said he was happy seeing the long line at the library polling place. Snider said he was willing to wait patiently regardless of how long it takes for the final presidential race results.
"It's all just part of what needs to happen," he said. "Counting every vote is important to me, and however long that takes, I think that's just fine."
While neither presidential candidate was Snider's ideal pick, he said he felt fortunate to have some great women on the local ballot.
"There's a lot of exciting, dynamic women on the ballot this year that I'm excited to vote for," he said.
Voters at the Teton County Weed and Pest polling place Tuesday were largely of a different mindset, with many saying their primary goal in casting their ballots was to keep President Trump in the White House.
Chris McGee, a Wyoming native and 58-year resident of Teton County, was among those who said another Trump term was his focus.
"Republicans should get out and try to retain the best president we've had in a long time," McGee said. "Just trying to retain our president; to keep the philosophy and try to keep America united instead of this other business."
Also at the Weed and Pest vote center, civic duty and family tradition trumped Trump for at least one voter, as Garrick Hart said he was happy to vote alongside his 19-year-old son, who was voting for the first time.
Asked why he felt it was important to vote Tuesday, Hart replied, "I think both the president and then getting my son — he's 19 and it's his first time voting — so, getting him started with that habit."
With female candidates Hailey Morton Levinson, who ran for and won the Jackson mayor race, Natalia Macker (Teton County Board of County Commissioners) and Jessica Sell Chambers (Jackson Town Council) also winning their respective races, Teton County voters continue taking steps from 2018 toward representation that more closely mirrors population demographics.
However, Macker — who garnered the highest vote total for the board of county commissioners — said there's still plenty of work ahead.
"Certainly, in our community I want to see more women running and more women getting elected, but [also] in our state," Macker said. "Women can run and win. And it takes, you know, support and hard work, but we can't elect more women if we don't have more women running."