Former President Donald Trump and other Republicans who rallied Saturday in Casper used a wave of rhetoric about transgender people and LGBTQ folk that drew cheers from the crowd.
But it turned off some conservative listeners who felt the Republicans could be shooting themselves in the foot by zeroing in on LGBTQ people as a matter of politics.
The rhetorical barrage comes amid a flurry of activity in Wyoming related to LGBTQ people and their protections under the law.
The Fremont County School Board voted in mid-May to remove gender identity- and sexual orientation-based protections from its non-discrimination policy. School board members said those classes of people — and others it removed, like veterans' status — were already protected under federal law and the matter was a housekeeping item. But it started a conversation about hostility towards LGBTQ people, Wyofile reported. And it came after parents pushed the Campbell County Library to remove books about sex, gender and LGBTQ issues. The Wyoming Legislature also considered new legislation this winter that would have barred transgender athletes from competing on women's sports teams in the Equality State.
Wyoming's Republican U.S. Sen. Cynthia Lummis was also booed at the University of Wyoming for saying "even fundamental, scientific truths such as the existence of two sexes, male and female, are subject to challenge these days." She later apologized, saying in an email to the Casper Star-Tribune that the comment "was intended to highlight the times in which we find ourselves, times in which the metric of biological sex is under debate with potential implications for the shared Wyoming value of equality."
Trump said he wanted to keep "men the hell out of women's sports," part of a five-minute aside in his 90-minute speech in which the former president criticized transgender women who seek to participate in women's sports. He called that "discriminatory to women."
Trump said that if he coached a women's basketball team, he'd approach basketballer LeBron James — "who I don't like at all," he said — to ask if he ever thought about "becoming a woman" so he could have the "greatest women's basketball team in history."
"We are on such a bad and stupid path," Trump said afterward. "And the world is laughing."
Proponents say restricting transgender people from participating in women's sports ensures the integrity of women's sports, which are protected under Title IX, federal law that prohibits sex-based discrimination in educational activities that receive federal funds.
But opponents, like the American Civil Liberties Union, argue such measures are discriminatory and would violate Title IX because of related legal precedents saying the legislation prevents discrimination based on sexual orientation and gender identity.
Janna Farley, communications director for the ACLU of Wyoming, South Dakota and North Dakota, said rhetoric targeting LGBTQ and transgender people who want to participate in women's sports is about solving a "problem that doesn't exist."
"They're intending to inflame a political reaction," Farley said, "not, in this case, to protect fairness in women's sports."
Advocates of such bills say people with male biology have an unfair advantage over biological females.
The Legislature's Fairness in Women's Sports Act died after it wasn't introduced in the Wyoming House. Similar measures passed in Idaho in 2020 and in Utah this year, when the Legislature overrode Republican Gov. Spencer Cox's veto. As justification for his veto, Cox cited the relatively small number of transgender kids playing sports in Utah (four out of 75,000 high school athletes, and only one playing in girls sports), and the relatively high rates of suicidal ideation among trans youth.
"Rarely has so much fear and anger been directed at so few. I don't understand what they are going through or why they feel the way they do," Cox wrote in a letter to the Utah Legislature shortly before it convened to override his veto, saying that he understood the desire to preserve the integrity of women's sports. "But I want them to live. And all the research shows that even a little acceptance and connection can reduce suicidality significantly."
Trump's comments Saturday were consistent with other speakers' rhetoric.
Harriet Hageman, the Republican attorney Trump has endorsed to oust Wyoming U.S. Rep. Liz Cheney, said Wyomingites are "fed up with boys competing in girls sports," her only mention of the issue.
Lauren Boebert, a Republican congresswoman from Colorado who has made a name for herself with controversial tweets, introduced herself and then said, "I'm the mother of four boys that I'm teaching to be men before liberals teach them to be women."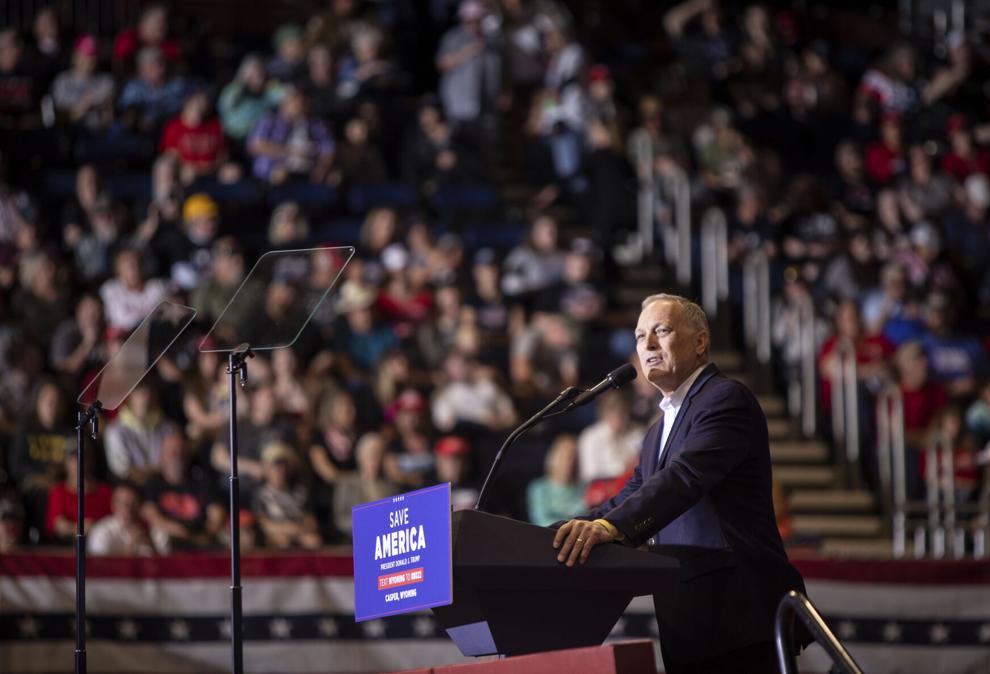 "I gotta tell you something, folks, with all this stuff going around, I want you to know I identify as being non-Bidenary," Biggs said at the Casper Events Center rally.
The crowd applauded in every instance.
Keith Gingery, the chairman of the Teton County School District No. 1 Board of Trustees and chief deputy attorney in the civil division of the Teton County Attorney's Office was in the audience Saturday.
Gingery was a Republican legislator representing Teton County for over a decade. He said he's not a Trump supporter, and he was attending solely because he said he promised an elderly friend from Lander that he would bring him to the rally. The News&Guide asked whether Gingery would support a measure like the one the Fremont County school board passed last week.
"No, no, not at all," Gingery said.
"We work very hard to assist all of our children and help our children that identify different ways," he said. "We work hard in this district to make sure that everyone's treated fairly and equally.
"We're the Equality State," Gingery said of Wyoming. "What we should be doing is making sure everybody is treated equally and support the LGBT community.
"There'll be pushback if we don't moderate some of our positions," Gingery said of the GOP.
Amid the scuffle in Campbell County, the Teton County Library and its board implemented in December a new anti-censorship policy that supports librarians' right to keep disputed titles on shelves. But in 2020 library board members came under fire after an openly transgender library director departed with no explanation.
Paul Vogelheim is a Jackson Hole Republican and former Teton County commissioner who's running for a seat in the Wyoming House of Representatives. He didn't attend the rally, and said the "continued attempt to divide and label and have this close-minded judgementalism" saddens him.
"It's just very depressing to hear that kind of judgementalism that is permeating through the Casper discussions," Vogelheim said.
But he wasn't sure where, exactly, he would land on a bill like the Fairness in Women's Sports Act.
He said he wanted to have "respect and compassion for individual choices." But, he said, "I want there to be fairness for the young women potentially that are competing against a young man that's transitioning."
Vogelheim said he has more to learn.
"I need some help, and I'm trying to get my arms around this issue," he said.
Some at the rally felt trans women shouldn't be allowed to participate in women's sports, and that parents, not teachers, should choose what to teach kids about gender and sexuality.
Kim Heil, 59, of Riverton, objected to teachers telling students about their gender identity or sexual orientation: "Have you ever had a teacher come to you and, first thing they say is, 'Good morning. I'm a transgender and I like both? Or like men? Or I'm a woman and I was a man?'"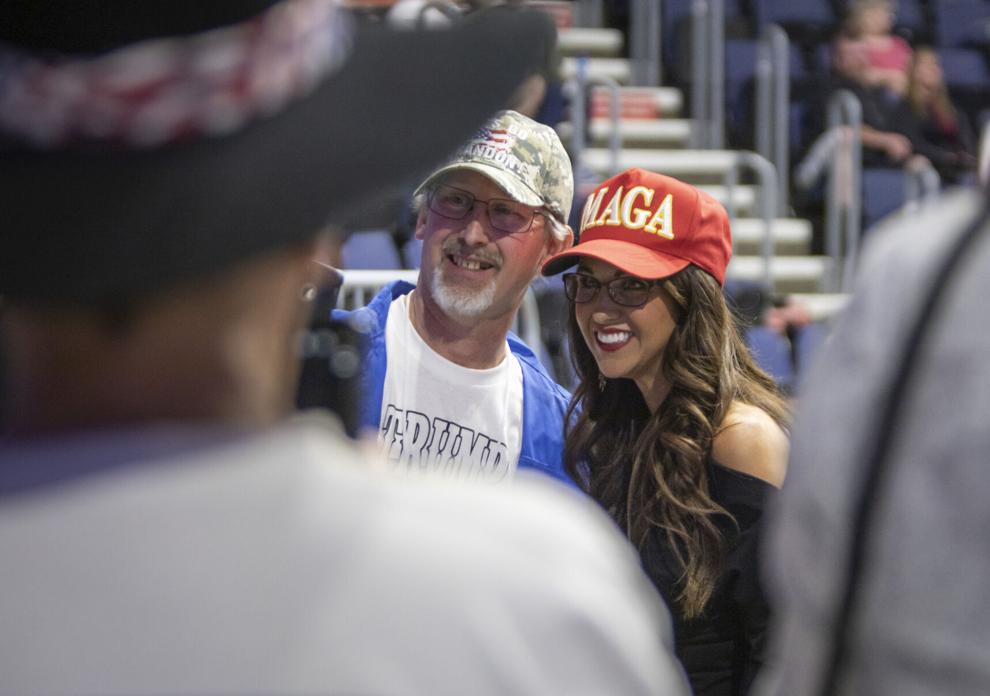 That should never happen, Heil said.
But she and her husband, Rod, 61, didn't object to people identifying in different ways.
"They can be whatever they want," she said. "They just don't have to bring it to you."
Rod Heil said Wyomingites don't want others to "push any of your stuff on us.
"You can do what you need to do," he said. "I don't need to have your stuff pushed on me."
Kim Heil said she thought Democrats, not Republicans, were making LGBTQ issues an issue in the culture wars, and Rod Heil said he felt they were doing so to divide people. Kim Heil also lamented businesses engaging with social issues.
But one younger Republican felt differently.
Brittany Fillingham, 21, is a political science major at the University of Wyoming.
She, like others present at the rally, wanted to oust Liz Cheney for her vote in favor of impeachment, and she believed that the 2020 election was stolen from former President Donald Trump. But she also said she was "pro-choice" and "pro-LGBTQ."
She speculated as to why the LGBTQ rhetoric has become a talking point for conservatives.
"Boomers just don't want new stuff. And they're stuck in their old ways," she said. "They just don't consider it normal. So they're against it. It doesn't affect them. So it shouldn't matter."
Fillingham worries that conservatives' stances on social issues like transgender women's ability to play on women's sports teams and abortion will drive younger voters away from the party.
And she feels they're inconsistent with Wyoming's libertarian strain of Republican politics.
"You want your freedoms? You have to let other people have what they want," Fillingham said.