It just so happened that Christina Liou, 30, and Grizzly 399, 26, were in the same place Friday.
"This was a very lucky moment for us on this bachelorette party," Liou said.
She was visiting from Chicago. It was her party. And Liou, like many other bear watchers gathered along Highway 390 that evening, was seeing the famous bear and her four cubs for the first time. She had no idea that the fivesome are some of the most famous grizzlies in the world — or, at first, that they were bears.
"We thought we were looking at moose and then we realized it was bears, and we pulled over," Liou said.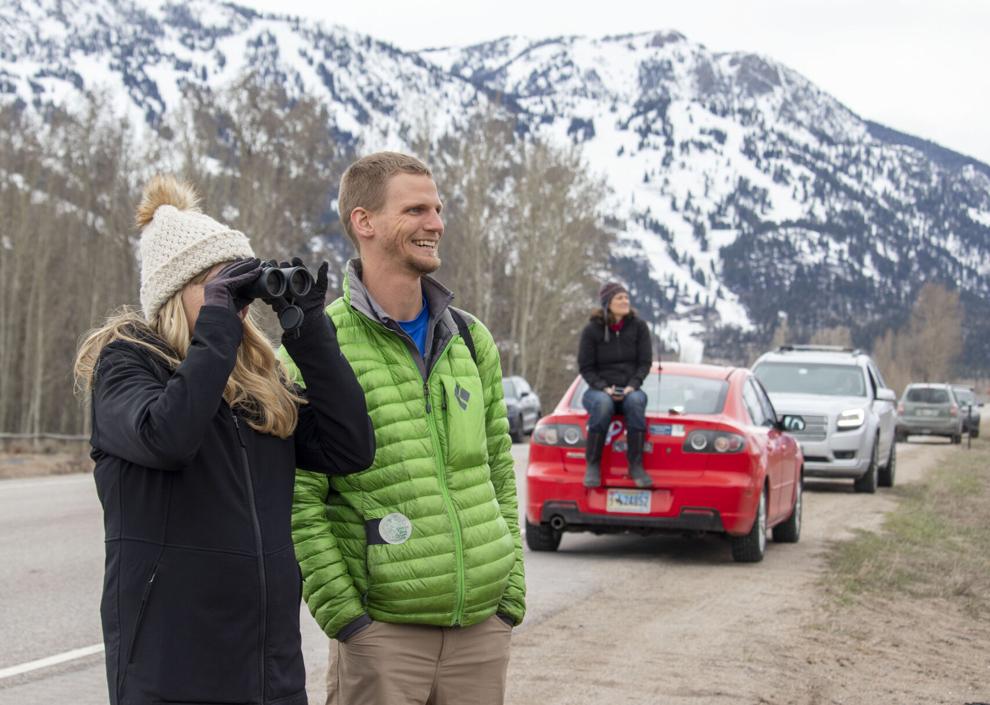 Fair enough. 399 and her four cubs were out in the fields of the Snake River Ranch, digging around and foraging in the topsoil on the far side of a fence. From the road they looked like moving brown blobs.
But Liou's confusion could also be justified because it's only the end of April, which Grand Teton National Park and Wyoming Game and Fish Department officials said is the earliest 399 has ever been documented moving south of Jackson Hole Airport. That, paired with the matriarch and her cubs' recent history of traveling south, entering developed areas and getting into human-related foods has people worried.
Bears that repeatedly access human-provided food can be aggressive in trying to get to them, presenting a safety hazard for humans. That increases the potential for more invasive management actions: hazing, relocation and live or lethal removal.
Wildlife managers are currently focusing on conflict prevention, asking people in Teton County to lock up attractants like trash, beehives, compost and chicken coops. Teton County passed an update to its land development regulations requiring the same that will go into effect July 1. And, in the meantime, nonprofits are trying to move the needle on locking up attractants. Wyoming Wildlife Advocates has raised $200,000 to purchase bear-resistant trash cans and offer some to residents at reduced costs.
But wildlife mangers have said the more severe management options are on the table this year for the five bears, and Grand Teton Chief of Staff Jeremy Barnum said 399's early southern movements increase "the imperative that she not get food rewards."
So as 399 and her cubs foraged only a few hundred yards from a growing line of cars Friday, less than half a mile from the glitzy John Dodge subdivision, onlookers greeted them with a mixture of awe and trepidation.
"It's pretty mind-blowing to think that these bears are right here in our neighborhood," said Wilsonite Kim Hunt, 56, who has lived in the valley since 1976. "But I'm also very worried for them."
Hunt, the P.E. teacher at Wilson Elementary School, said Friday was the first time she'd seen 399 with her four cubs. She was standing next to Clinton Weaver, 29, who is the music teacher at the school.
Neither Hunt nor Weaver tail 399 around the valley, like some of her human entourage do. And it was happenstance that brought them together Friday. Hunt's friend let her know the bears were out and about.
"I was like, 'I know I'm not supposed to do this but I need to go,'" Hunt said. "I got lucky. I got to see them."
"I was just on a bike ride after work," Weaver said. "Saw a bunch of cars, decided to take a look."
Wildlife managers have asked people to give 399 and her cubs — as well as any other bears — space.
Ditto the people who manage them.
But that didn't stop people from gathering Friday, including local workers who happened upon the scene accidentally. For many it was a first. A sheriff's deputy patrolled the area a few times, and onlookers reported that Wyoming Game and Fish Department officials were out earlier in the afternoon. Department biologist Mike Boyce said he was on the Snake River Ranch, monitoring things until dark.
Dan Thompson, the department's large carnivore supervisor, asked the public last week to not be "selfish or ignorant about these bears or any wildlife."
"Give these bears space, give the wildlife space, give the people on the ground space," Thompson said. "Don't put yourself in a position that's going to be bad for you or bears."
The public generally kept its distance and, after the bears made a brief foray towards Moose-Wilson Road, they ventured back into the trees and continued moving farther out of sight until dusk fell.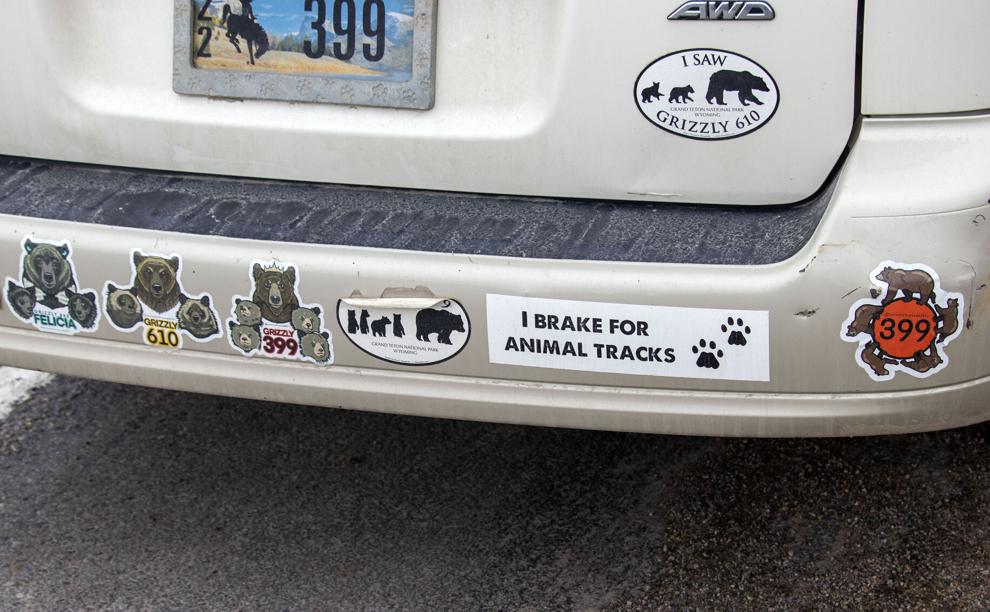 Dave Miller, 65, who works as a ski guide at Jackson Hole Mountain Resort and lives in the Village, was in the same boat as Hunt and Weaver. His wife's friend called and said the bears were out, so they ran down.
It was Miller's first time seeing the five bears out and about.
"Very cool," he said. "That's all you can say."
But Miller, like Hunt, thought the bears' proximity to humans wasn't such a good sign.
He worried about them getting into human-related foods, being hit by a car or preying on livestock.
Thompson told the News&Guide Tuesday afternoon that the department had not documented any conflicts and would not be providing the bears' location to protect them and the humans who might follow them.
"The bears are naturally foraging outside of public view and we continue active monitoring," he said in a text.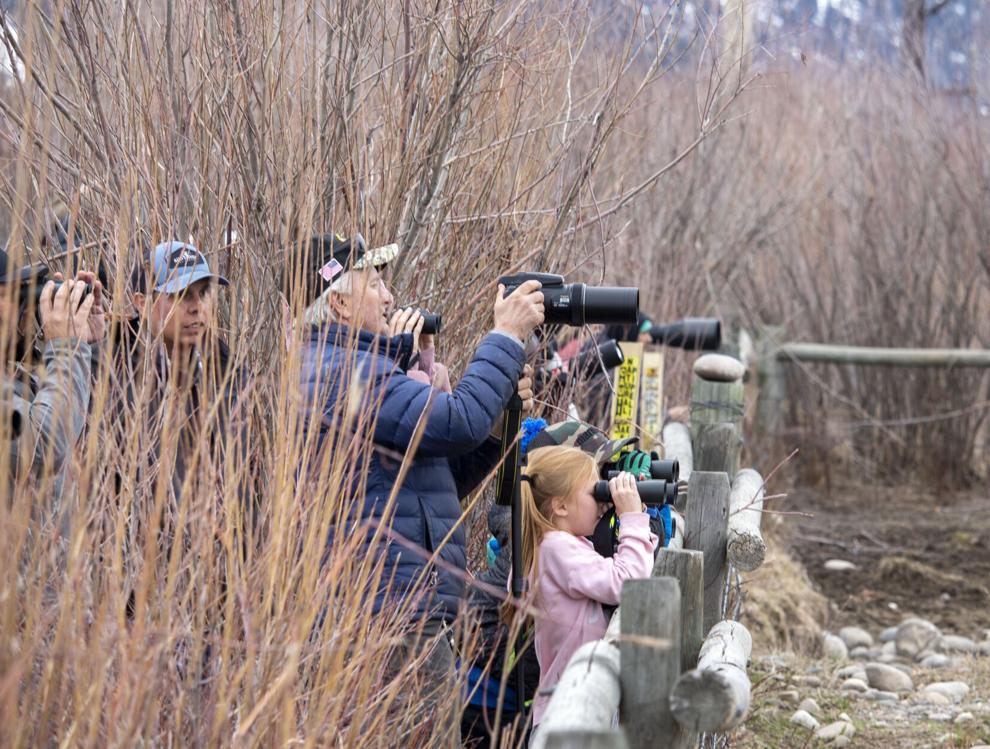 So, for now, all is quiet.
For the people watching 399 and her cubs Friday, the experience was equal parts amazing and alarming.
But even for the alarmed, the awe took over.
"To see a grizzly anywhere is a big deal," Miller said.
"That's amazing," Miller said, watching as the troupe retreated into the aspens across the field.
This story has been updated to clarify that Wyoming Game and Fish officials were in the area until dark Friday. — Eds.