TOGWOTEE PASS — After moving from one clump of newly emergent green grass to the next, an adorable little grizzly bear cub plopped itself onto the ground and grazed away.
For one serene hour early Monday, the process repeated itself. The bruin would shear off the greenest parts of a clump of grass with its little grizzly teeth, get up, lay down, then do it again.
Frequently the young grizzly would peer around. Once, he or she pooped.
"She's found a good patch of salad there," wildlife photographer Tom Mangelsen said from the driver's seat of his SUV. "She's just sitting on her rump, chowing down."
Just months old, the grizzly sports an easily identifiable white "natal collar" under her neck and chest. It was noticeably small: From a few dozen yards away the cub appears no larger than an overweight housecat.
When the cub's head turned toward the only two onlookers, the Nikon at the base of Mangelsen's large, camo-sleeved lens went into rapid-fire mode.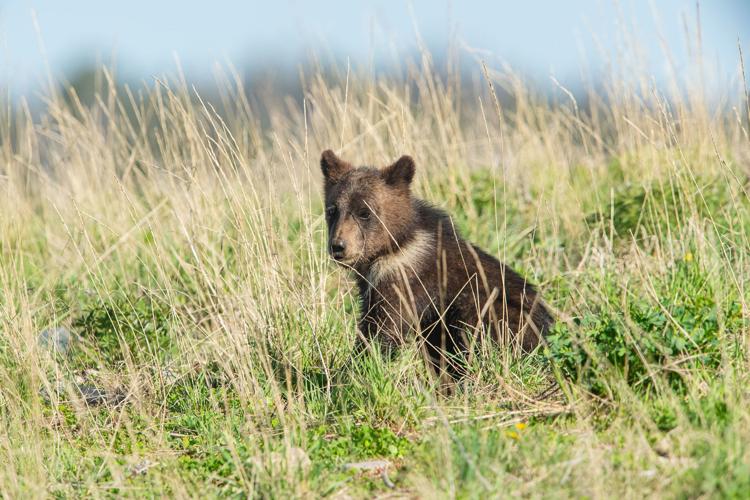 Watching the tiny grizzly out there on its own, it's tough not to root for it.
For much of most days over the past two weeks, it has been living within a stone's throw of a highway that sees a constant stream of passenger vehicles and semi trucks barreling into and away from Jackson Hole at 60-plus mph. The cub is totally on its own, severed from its mother for unknown reasons two years earlier than grizzly cubs are usually cast away.
"They're just so damned cute," Mangelsen said. "Anybody would like to help out a cub in a situation like this, but you just can't do it."
Feeding the bear, like some have suggested, would interfere with Mother Nature's not-always-happy script, he said. That could also doom the cub by furthering its habituation, and threaten its life by drawing in larger, toothy animals.
Because of its visibility and vulnerability the lonesome cub and its equally habituated grizzly mother have garnered lots of attention.
The advocacy website Grizzly Times recently posted a 2,700-word essay, "Felicia's Fate: The Trials of a Grizzly Bear Mom," that dove into the saga of the 6-year-old sow grizzly known by her research number, 863, which led two cubs out of the den for the first time this spring. A Native American-led nonprofit called Protect the Wolves has circulated an online petition that calls for U.S. Fish and Wildlife to intercede and rescue the bear cub. Locally, the drama of the cub and its separated mother has drawn in wildlife photographers who are filling up social media feeds in the valley and well beyond.
Last week, photographer Jack Bayles posted an almost day-by-day rundown of everything that's confirmed to have occurred. His aim, he wrote, was to set the record straight due to misinformation that's run rampant.
Mangelsen listed off some of the dubious theories that the rumor mill has churned out. One is that the cub some are calling Pepper is reconvening with mom at night in order to feed on her milk.
It's a "nice thought," he said, "but it just doesn't work that way."
Another unfounded report was that the sow, Felicia, was hit by a car, and that the collision prompted the mother-cub split. A recent rumor is the Wyoming Game and Fish Department has made plans to capture and euthanize the adult.
Land and wildlife managers contacted for this story made no mention of those plans, but they did say that the Togwotee Pass grizzly-watching scene has been a challenge to supervise. One Wyoming Game and Fish Department's biologist's decision to haze the agitated sow away from the people-packed highway the day she lost her cubs last month ignited controversy. Afterward, the agency reasoned the step was necessary for the safety of both people and the bear.
"In this particular situation there are times when we're seeing people approaching her," Game and Fish large carnivore supervisor Dan Thompson said. "There were times when we saw people between her and her offspring."
Unlike in Grand Teton and Yellowstone national parks, the state wildlife officials and Bridger-Teton National Forest don't have a cadre of employees and volunteers to slow traffic and defuse dangerous situations.
"We can't manage it the same way the park does, just because it's not as controlled of a setting," Thompson said.
"Where it gets difficult is when there are people who are there for a few days," he said, "and they'll do anything to get closer to the bears."
The Bridger-Teton doesn't regulate viewing like the national parks, but wildlife biologist Jason Wilmot does advise people to maintain the same distance of 100 yards. Wilmot echoed Thompson's frustrations.
"It's a really dangerous situation," he said, "and it's just amazing that we have to remind people that grizzly bears are dangerous and you should not approach them."
Togwotee Pass has proven to be dangerous for grizzlies, too: At least two of the federally designated "threatened" bears, one a young cub, have been run over in the past five years.
Mangelsen enjoyed an exclusive viewing Monday, but he recalled that some of encounters in weeks past have drawn a crowd of perhaps 30 or so vehicles.
On this day — thanks to a shallow hill that obscured the bear, which grazed outside of cell range — his only company was a Hyundai SUV full of Coloradans. They rolled down their window, took pictures, watched for a minute and drove off.
There are competing schools of thought on why Felicia and her surviving cub remain separated. The two bears have inched near each other, last week coming within 400 yards, eyewitnesses say. The gap Sunday was a half-mile. Some believe the cub was purposely abandoned, but Mangelsen is not ready to agree.
"I think they just keep missing each other," he said. "That's my theory."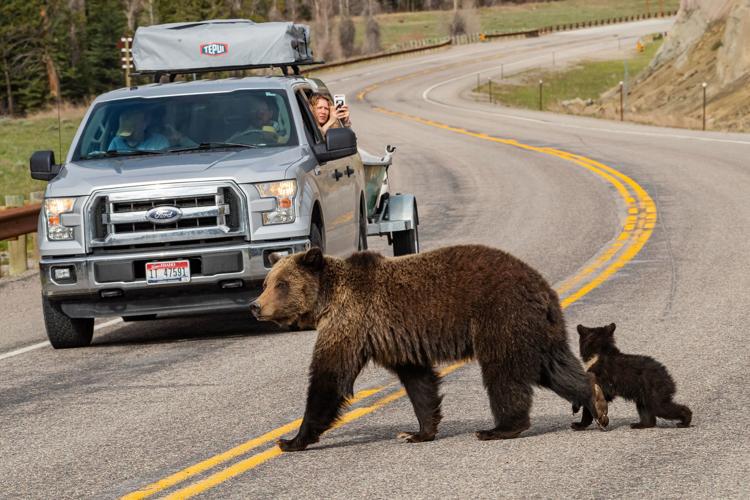 When stressed for food or because of other reasons, grizzly sows will walk away from their offspring earlier than is ideal for the little ones, Thompson said.
"That happens," Thompson said. "Bears do that. It's just not always right next to the road when it happens."
A reunion after two weeks apart, Thompson said, is unlikely, but it's the outcome he's hoping for. If they remain split, the young grizzly's chances of survival are quite low, though over recent Greater Yellowstone Ecosystem history a half-dozen orphaned or abandoned young cubs have lived to see the next year, he said.
"What I want to see is a reunion, and those bears walk into the woods and live their lives happily ever after," Thompson said. "Maybe they'll stick their heads out so that people can see them every once in a while."
Mangelsen, like almost everyone else's who's paying attention, longs for the same conclusion to the story.
"We just need mom to come walking over here," he said. "Where's Felicia, Mike?"
One hour and one minute after first laying eyes on the little grizzly, Mangelsen decides to call it a morning. He points west, and wishes the cub would do the same, heading in the direction of where he photographed mom the day before.
"Just keep going that way, sweetie," Mangelsen muttered. "Just keep going that way."
Hitting cell range above Hatchet Resort, the veteran lensman who's spent a career photographing grizzly bears fingered at his iPhone. He considered sending word of the little bear's whereabouts to friends and colleagues but then thought better of it.
"We're just going to leave it alone, I think," Mangelsen said. "She doesn't need to be crowded."