Hollee Armstrong got off the Thunder lift around 9:55 a.m. Saturday and immediately encountered a child pointing to what she thought he said was a bear. When she asked the child to repeat himself, she heard "burial."
Armstrong peeked over the edge, looking toward the southern end of the Expert Chutes at Jackson Hole Mountain Resort. She saw avalanche debris and a person in desperate need of help.
"My first attention was grabbed by a man who was waving his hand," Armstrong said. "Real quick and precise he said, 'I need help.' I put on my board and went straight down to him, and we started digging out the girl who was fully buried."
Armstrong, the buried woman's husband and skier Scotty Lyons began to dig through the debris with their hands. The woman's husband was able to clear his wife's airway right after Armstrong arrived. It was a moment that Armstrong said will be forever be etched in her memory.
"It was a relief, she's gonna make it," Armstrong said. "She's alive. She's here."
Fifteen to 20 people were in the area, according to resort spokesperson Anna Cole, when a roughly 150-foot-wide slab with a 2-foot crown released at the southern end of the Expert Chutes. Five people were buried to varying degrees. Those in the area who were unburied rushed to make sure everyone got out alive.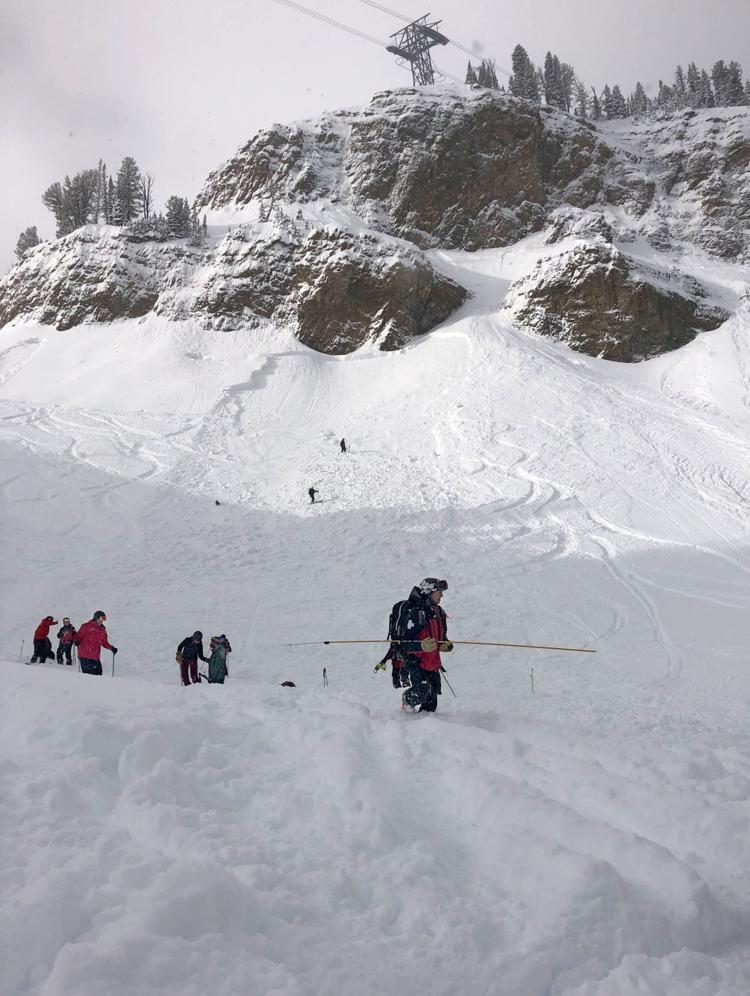 "There was a huge critical moment where it could have gone in a bad way," Armstrong said. "Everybody pulled it together and worked together, and everyone did their job. It just was crazy. Everybody was there for a purpose."
Five minutes after the snow slid each of the five beneath it were accounted for. Jackson Hole Ski Patrol conducted a large-scale search and probing of the area to ensure no other skiers or riders were buried. At 11:20 a.m. ski patrol concluded the search.
Lyons saw the slide follow a group of skiers who were wearing Jackson Hole Ski and Snowboard Club jackets, some of whom were caught in the wave of snow.
"One of the kids was buried almost completely, and I think he was the first one to be uncovered," Lyons said. "As I saw it happen I knew I needed to keep my eyes out and start scanning for anybody who had been buried."
Lyons spotted mittens and ski poles above the debris and soon met Armstrong and the buried woman's husband at the scene to begin the rescue.
"She was completely buried," Lyons said. "Her face was covered. She was choking on snow. She had snow in her mouth."
The happy ending to the near tragedy was a result of everyone in the area taking action. Cole said the Ski Club deserves a heap of credit for ensuring its members came out unscathed.
"The Ski Club kids and their instructor did an amazing job keeping their cool, following protocol, attending to the kids in the avalanche, making sure everyone was accounted for," she said.
Ski Club Executive Director Brian Krill commended the coach, who was with the kids and ensured their safety.
"Most importantly I am glad everyone is OK," Krill said. "I also want to recognize the incredible care, concern and professionalism exhibited by our coach, Kevin Keane, and the swift action, follow through and follow up of the JHMR team.
"While the outcome could have been worse this ended up providing a learning experience for all and is testament to a strong community — and some young athletes with strong character," Krill said.
Ski Patrol Director Drew Kneeland said the area where the slide occurred had been bombed repeatedly this season.
"We ran those routes on Nov. 25, 26, 28 and then that morning, Dec. 1," Kneeland said. "So that wasn't obviously the first day we'd run that particular route in the Expert Chutes. We did run that route."
Kneeland said the mountain's snowpack had a faceted layer that formed between Nov. 8 and 21, and the slab failed on that weak layer.
Three to four patrollers at a time follow a prescribed route and coordinate their efforts with the routes adjacent to them to address hazards that they identify in that terrain. They identify starting zones for avalanches and set the slides off by using explosives in a variety of ways.
"I think we probably put the effort in that we assumed would be effective for the hazard that was there," he said. "Shots had been thrown in that particular location a fair bit already this season and also that morning."
Avalanche danger in the area was "considerable" Saturday above 7,500 feet, according to the Bridger-Teton Avalanche Center. The resort announced that morning via social media that it had received 12 inches of snow in the previous 24 hours and 7 inches since the lifts closed Friday.
Avalanches at ski areas in the United States are a rare occurrence, and resulting fatalities are even more uncommon. There have been 17 guest fatalities resulting from inbounds avalanches at U.S. ski areas since 1980, according to the National Ski Areas Association. That's an average of well below one avalanche fatality every two ski seasons.
Cole said the last significant inbounds avalanche at Jackson Hole Mountain Resort that involved the public was in 2008, when Wilson skier David Nodine was killed after a slide in the Paintbrush run buried him under 8 feet of snow.
Armstrong said the actions of all involved Saturday ensured that Saturday's slide didn't come with the consequences of 2008.
"The response was immediate," Armstrong said. "If that little kid hadn't have said something. If we wouldn't have been there right at that moment, who knows what would have happened?"