NEWDALE, IDAHO — Distressed members of an elk herd clung together, storming out of the bottomlands of Enterprise Canal onto an agricultural field covered in deep, crusted snow.
An Idaho Department of Fish and Game-contracted helicopter clattered overhead, and after the herd was flushed out of the canal canyon, one task remained: spooking one of the weary wapiti away from the bunch. Quickly a cow peeled off, and a "thwap" audible from hundreds of yards away alerted biologists and technicians in waiting that a net had sailed out of the airship and onto its tawny target below.
"She's hit!" biologist Josh Rydalch shouted.
Three Fish and Game snowmobiles tore toward the net-tangled cow across the frozen private pastureland north of Newdale, Idaho, about three-dozen straight-line miles from the core of the Teton Range. By the time rigs chauffeuring journalists inched up to the scene, the cow was on the ground, with three wildlife professionals piled on top trying to hobble her powerful hindquarters. Grunts and snorts, of both the cervid and hominid variety, signaled the struggle.
It was the morning of Jan. 22, and the Idaho Fish and Game crew was wrapping up its second season capturing animals from one of the last Western elk herds whose basic ecology is still only scantly understood.
A joint venture of Idaho Fish and Game, the Middleton Lab at University of California-Berkeley and the Wyoming Game and Fish Department, the tracking project aims to map the migrations and seasonal ranges of the Targhee Elk Herd. That map already exists for other elk herds that fan out across the plains encircling the Yellowstone region, Wyoming Game and Fish Wildlife Biologist Aly Courtemanch said.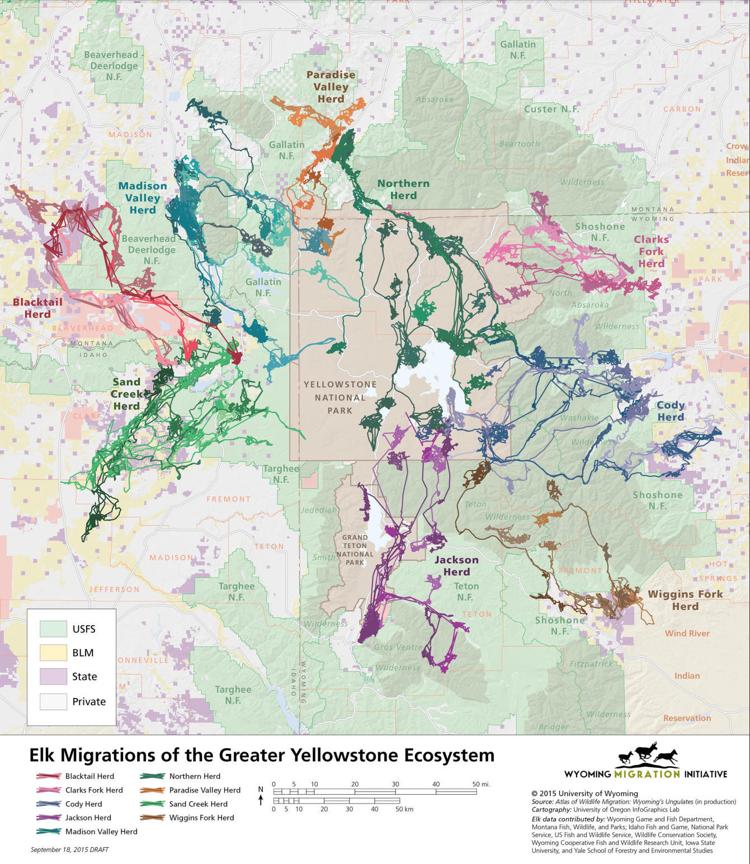 "If you look at that map there's this gaping hole in the southwestern corner of Yellowstone," Courtemanch said. "We've suspected that there's likely a migration there, and so the whole purpose of the project is to fill that gap."
So far 30 elk over the past two winters have been fitted with GPS tracking collars to follow the Targhee Elk Herd, which generally summers in Wyoming but winters in Idaho. In pencil the map is beginning to fill in, Courtemanch said.
The most ambitious travelers among the wapiti that call Teton Valley, Idaho, home head as far east as Grassy Lake and southern Yellowstone, making an approximately 40-mile journey that traverses protected forest and park land and also private Idaho agricultural fields.
Other west-slope Teton elk mostly stay put, summering right up along the Wyoming-Idaho state line in the aspen-studded foothills. Another cohort treks high into the hills.
"The only ones that we've had that go up high were elk that were caught around Victor," Courtemanch said. "They migrated up basically onto the top of Teton Pass for the summer. None went up into the Tetons themselves."
Some of those elk wound up a casualty of the thousands of commuters and visitors who drive over the Tetons every day. Two cow elk with GPS collars were hit and killed on the pass last summer, Courtemanch said, and another cow was killed by a hunter, bringing the total number of collars online today down to 27.
The University of California's Arthur Middleton took an interest in the Targhee Herd because he's been rounding up data for an ongoing holistic study of the 20,000 or so elk that drift into the core of the Greater Yellowstone Ecosystem each summer. The work has been featured by the likes of National Geographic, popularized in the 2017 short film, "Elk River."
The starting point was Middleton's Yale University graduate research, which examined the Cody-area Clarks Fork Herd's shift away from migratory behavior. Fast forward a decade, and he realized that two of the 11 Yellowstone-area elk herds' movements had still not been clearly delineated. One was a herd that migrates from the Beartooth Plateau, which Montana Fish, Wildlife and Parks has since examined. The last to be studied is the Targhee Herd.
"We don't have objectives right now beyond making sure that herd isn't slipping through the cracks," Middleton said. "We want to get the Targhee Herd on the map, and then in the future be able to include that herd in our analyses of the broader ecology and conservation needs of the Greater Yellowstone Ecosystem elk."
When it comes to attention the Targhee Herd has historically been the odd man out among the Yellowstone region's elk. It's small, for starters, at perhaps just a few hundred animals, though neither Idaho nor Wyoming has attempted to census the herd, which is held in check by hunting and substandard habitat.
"I would call the winter range in Teton Valley limited," Idaho Fish and Game Biologist Paul Atwood said. "It's not fantastic in terms of habitat, period. There's deep snow in Teton Valley."
Some of the west-slope Teton elk, he said, migrate well to the west into higher-grade winter range where the snowpack is skinnier, such as to the 48-square-mile Sand Creek Wildlife Management Area near Saint Anthony. Others stay put, trying to make it within Teton Valley's developed landscapes.
"We've probably always had that situation: where some of them would stay there and some of them would keep moving to the west," Atwood said. "Certainly now there are additional obstacles, like private lands, cattle operations, highways, subdivisions. Each additional thing that you add on decreases the value of the winter range, but this was never a situation where this was ever a large, fantastic, highly desirable elk winter range that thousands of animals went to."
It was Courtemanch who spearheaded the effort to take a closer look, and she corralled a pot of money that made it possible to deploy the 30 costly GPS tracking collars. A National Geographic grant focused on migration provided the biggest chunk, but Rocky Mountain Elk Foundation and the Teton Conservation District also chipped in.
Like their Idaho counterparts, Wyoming Game and Fish biologists have relatively limited baseline knowledge of the Targhee Herd. It's not managed for a population objective, which is the custom, and instead managers rely on hunter surveys to gauge whether people are getting into elk.
"Hunters have been happy," Courtemanch said, "which is great."
At last assessment in 2017, 84 percent of hunters said they were "satisfied" or "very satisfied" with their time in the Teton foothills, and 43 percent of the 37 hunters who took the voluntary survey reported killing an elk.
But otherwise, there's next to no data. The Targhee Herd is about the antithesis of the Jackson Herd, which is much larger and closely studied by seminal elk biologist Olaus Murie dating back to the late 1920s.
"We know very little about where they are during the summer, during the hunting season and what their vulnerabilities are," Courtemanch said. "There's few herds out there that have this little data on them, at this point.
Despite the tracking efforts the picture remains grainy for the Targhee herd's movements.
"Everything we now know about their migration is so important for identifying priority areas to conserve," Courtemanch said. "That could be through trying to prevent wildlife-vehicle collisions on the roads or trying to determine where conservation easements should go. It's super important to prioritize our work."
Relatively recent discoveries of long-distance ungulate passageways like the Path of the Pronghorn and Red Desert-to-Hoback mule deer migration have thrust migration into the spotlight in Wyoming. Game and Fish created a system to designate and, ideally, protect the corridors, which the U.S. Department of the Interior emulated when Interior Secretary Ryan Zinke issued a secretarial order aspiring to improve habitat along big game migration routes and on winter ranges.
In Idaho, however, the mechanisms for protecting migrations aren't as developed, though the professionals whose boots are on the ground would like to see them preserved.
"Migrations are certainly important to us," Atwood said. "As a hunter, a sportsman and biologist I'd like to see migrations be protected and exist in the future much the way they do now."
From Middleton's seat, the data that's about to pour in on the Targhee Herd will help answer long-term research questions about the phenomenon of elk migration in the Yellowstone Ecosystem.
"We're just starting to think about getting data together that treats these herds as a super herd, if you will," Middleton said.
Through his own research and that of his students, he hopes to learn more about the basic ecology of why wapiti migrate to where they do. What are the environmental factors that trigger movements uphill, and how do they vary across the ecosystem? There's also a goal to understand whether "residency" — elk using lower elevations year-round — is increasing and, if so, why.
"The bigger, broader question is, is that a trend across all of these herds," Middleton said, "or is it only a few? And do migrant-to-resident ratios just naturally fluctuate over time?"
Many of the questions will take a long time to answer, partly because the research often requires lots of resources, from manpower-intensive surveys to costly equipment. There's also the need for long-term baseline data.
Middleton's big picture hypothesis is that ungulate migration is a critical behavioral phenomenon that has ecological ripple effects throughout the Mountain West.
"In some ways that's stating the obvious," Middleton said, "but the more pieces you uncover and put together on the big map, I think, the more striking it is that we're looking at a defining fundamental feature of these Western landscapes."
The cow elk that Rydalch helped subdue with a firm interspecies hug now wears a yellow eartag numbered 19731. If she survives, her tracking collar will automatically disengage come January 2024.
From the helicopter, Atwood's netgun made quick work of three more cows that had peeled off from their herd on the snow-covered pasture above Enterprise Canal. Although there are no assurances, the hope is that each animal heads east toward the Tetons and Yellowstone come spring.
Besides fitting the collars snug — but not too tight — Idaho Fish and Game crews drew blood and surveyed each animal's condition by feeling for the fat built up on the rump and rib.
"She in good shape?" Rydalch asked his colleague, Atwood, before letting the third elk go.
The answer was straightforward: "No. Kind of skinny."
"She had a little baby sucking the life out of her," Rydalch said. "She's lactating now. Last year's calf."
Hobbles and blindfold removed moments later, the new Targhee Herd research subject bounded off. On her way out her hooves gave a "love tap" clap goodbye to the biologist's Ski-Doo parked nearby.